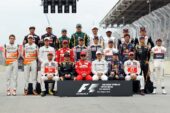 See all F1 drivers that ever participated at one or more Formula 1 Grand Prix events.
The splash page covers all F1 drivers since the start of Formula 1 in the year 1950. You can click on the driver names to see detailed F1 driver pages with biographies and statistics of the drivers Formula 1 race career. You can search the page by pressing CTRL+F.
We also have an all time F1 driver rankings list.
You can also see current 2015 F1 drivers and check 2016 F1 driver changes according to our F1 silly season updates.