Hockenheimring Details
Location:
Hockenheim, Germany
Race:
German Grand Prix
Used Since:
1970
Type:
Closed Circuit
 Lap Dist.:
4.574 km
Lap Record
| | |
| --- | --- |
| Lap Record: | 1:13.780 min |
| Date: | 25 July 2004 |
| F1 Driver: | Kimi Räikkönen |
| F1 Car: | McLaren MP4/19B |
| Speed: | 223.182 km/h |
Pole Record
| | |
| --- | --- |
| Record Pole: | 1:13.306 min |
| Date: | 24 July 2004 |
| F1 Driver: | Michael Schumacher |
| F1 Car: | Ferrari F2004 |
| Speed: | 224.626 km/h |
Hockenheimring Circuit Layout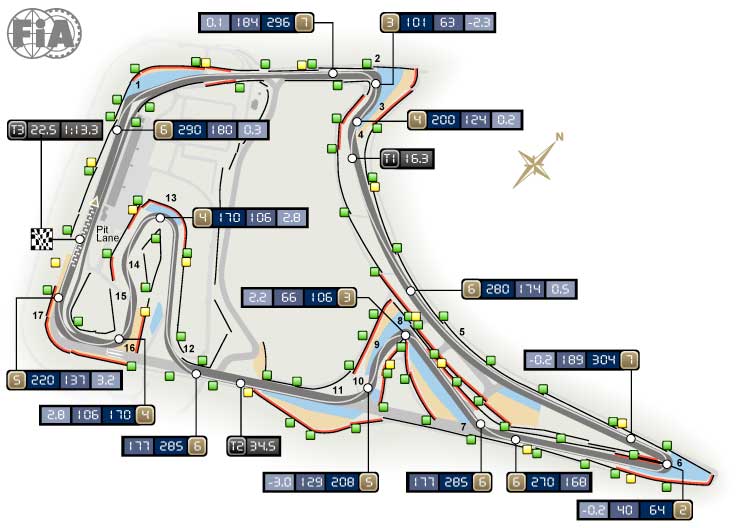 Biography
Hockenheim is a prime example of how Formula One has changed.  The legendary German circuit is a shadow of its former self after its re-design in 2002 that stripped away its soul and left a comparatively lifeless shell.
The new circuit, which alternates with the Nurburgring to stage the German Grand Prix, is an average circuit. There is nothing wrong with it, just like there is nothing overly wrong with Bahrain, China and USA. But Hockenheim was a circuit that used to be feared, loved, respected and enjoyed. Like Belgium it was a gem. But like Austria the stone has been scuffed.
Traditionally, Formula One in Germany has been dominated by one circuit, the infamous Nurburgring. But when drivers boycotted the race in 1970 in a demand to improve safety, they were sent to Hockenheim, a circuit in the forests of south-west Germany. The track was already famous, as it was the place where legendary driver Jim Clark died in a Formula 2 race.
The circuit was fast. Three long straights formed a circular shape in the forest and met in a small technical section at the end of the lap, known as the Grandstand section as it was the main place for spectators. Chicanes were added over time for safety purposes, but Hockenheim remained one of the great challenges of motor sport. Some drivers loved it, some didn't but it was a welcomes fixture on any calendar.
As the Nurburgring stunted over their track changes, Hockenheim took control and hosted the German Grand Prix from 1977-2006. Once the Nurburgring had done as it was told it was given a lesser role. It hosted the European Grand Prix and Luxembourg Grand Prix in patches until its regular return in 2007.
As time progressed and Formula One was lifted into an era of money and entertainment, it became apparent that Hockenheim didn't quite fit the bill. Spectators couldn't venture too far into the forest, meaning much of the action and overtaking was missed. And safety concerns continued to be raised.  Despite this, Hockenheim played host to some classic races including the 2000 Grand Prix, won by Rubens Barrichello. In the wet conditions he went from 18th to 1st, with some outstanding driving and a lot of luck.
But after the race in 2001, Bernie Ecclestone decided the track needed to change. He hired renowned track designer Hermann Tilker to re-design Hockenheim. Tilker designed a track that is unrecognisable. Only the grandstand section remains. The long straights in the forest were dismantled, guaranteeing that no cars can ever go racing along them again. The track he created was decent. There are overtaking opportunities, fast straights and technical sections. Grandstands litter the track, giving viewers a better experience.
It is now a modern Formula One track and it fits right in. Races are interesting, more so than other circuits that have already been mentioned. But were all those changes entirely necessary? Surely there was a way that F1 could incorporate the old to fit the new? Sadly they didn't and the old Hockenheim is gone. There has been much criticism for their decision despite the fine racing seen at the new, shorter track.
In 2006, it was decided that the circuit would alternate with the Nurburgring. Today, there are rumours we may not see Hockenheim at all. From once being one of the jewels in the crown, to now fighting for its F1 life, Hockenheim has gone through it all. Let's hope it can stay for a while longer and give us all a chance to fall in love with the new design, even if it's not as great as the old.
[/full]
Previous F1 GP Winners on Hockeheimring