Race Results 2018 German F1 Grand Prix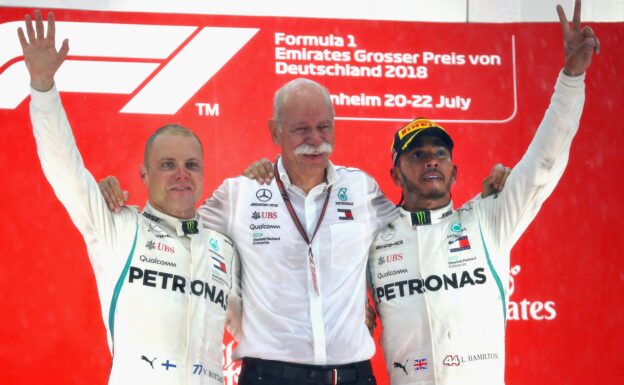 Event: German Grand Prix
Track: Hockenheimring
Weather:  Dry/Wet  25.4ºC
Tarmac: Dry/Wet 41.1ºC
Wind speed: 6.5 km/h
Humidity: 56.2%
Lewis Hamilton won the 2018 German Grand Prix today. It was Hamilton's 66th F1 victory and the 80th win for the Mercedes F1 team. It was also his 4h win of the 2018 F1 season.
All cars got away clean at the start again. Max Verstappen who started as 4th almost passed the Ferrari of Kimi Raikkonen in lap 1.
Lewis Hamilton who started from P14 was charging through the field and in lap 14 he already was driving on P5.
It was Kimi Raikkonen who pitted first to get a new set of Soft tyres. He came back on the track just before Lewis Hamilton's Mercedes.
Red Bull driver Ricciardo had to start from P19 due to replacing of power unit elements. He also was passing a lot of cars and got P10 from Sauber driver Charles Leclerc in lap 21.
In lap 26 race leader Sebastian Vettel switched to Soft tyres and returned to the circuit on P4, behind his teammate Kimi Raikkonen and just before his title rival in the Mercedes: Lewis Hamilton.
In lap 30 Riciciardo again was hit by bad luck, when his Red Bull RB14 broke down, after he already had to start from the back because of replacing power unit elements earlier this weekend.
Half way the race Vettel was discussing team orders with his Ferrari pit wall to let him pass race leader Raikkonen because he was ruining his tires driving on 2nd place behind him.
In lap 39 Raikkonen let his Ferrari team mate through after a very awkward radio transmission by his team, at the hairpin (turn 6).
A cloud of rain was approaching the Hockenheimring from the North in lap 44 and hit the track in turn 6. McLaren driver Fernando Alonso  and Charles Leclerc (Sauber) switched to Intermediate tyres. Pierre Gasly even got full wet tyres.
Because the rain didn't fell long enough to make the track wet, a few laps later all drivers who switched over to rain tyres came back to get rid of the much slower rain tyres.
More rain came down in lap 53 and it was race leader Sebastian Vettel who lost control of his Ferrari in low speed turn 13 and crashed his car in the barrier. Vettel walked away and was very disappointed and angry, while the safety car was deployed.
During the safety car period Lewis Hamilton got into the lead, when Raikkonen and Bottas pitted. Both Williams drivers Sirotkin and Stroll retired their car.
The rain disappeared and all drivers who were driving on rain tyres switched back to slick again.
Ten laps before the finish the safety car period was ended and Lewis Hamilton could ride to the finish with his team mate Bottas behind him for a great 1-2 finish.
✅ Check out 2018 German F1 GP Pictures
✅ Check out 2018 F1 Championship Standings
✅ Check out 2018 F1 Calendar
✅ Check out All Time F1 Drivers Rankings
✅ Check out All Time F1 Teams Rankings
✅ Check out All F1 driver records
F1 classification 2018 German GP
| P | No | Driver | Team | Time | Laps | Grid | Pts |
| --- | --- | --- | --- | --- | --- | --- | --- |
| 1 | 44 | Lewis Hamilton | Mercedes | 01:32:29.845 | 67 | 14 | 25 |
| 2 | 77 | Valtteri Bottas | Mercedes | 01:32:34.380 | 67 | 2 | 18 |
| 3 | 7 | Kimi Räikkönen | Ferrari | 01:32:36.577 | 67 | 3 | 15 |
| 4 | 33 | Max Verstappen | Red Bull | 01:32:37.499 | 67 | 4 | 12 |
| 5 | 27 | Nico Hülkenberg | Renault | 01:32:56.454 | 67 | 7 | 10 |
| 6 | 8 | Romain Grosjean | Haas | 01:32:58.716 | 67 | 6 | 8 |
| 7 | 11 | Sergio Pérez | Force India | 01:33:00.401 | 67 | 10 | 6 |
| 8 | 31 | Esteban Ocon | Force India | 01:33:01.595 | 67 | 15 | 4 |
| 9 | 9 | Marcus Ericsson | Sauber | 01:33:02.207 | 67 | 13 | 2 |
| 10 | 28 | Brendon Hartley | Toro Rosso | 01:33:04.042 | 67 | 16 | 1 |
| 11 | 20 | Kevin Magnussen | Haas | 01:33:04.764 | 67 | 5 | 0 |
| 12 | 55 | Carlos Sainz | Renault | 01:33:12.914 | 67 | 8 | 0 |
| 13 | 2 | Stoffel Vandoorne | McLaren | 01:33:16.462 | 67 | 18 | 0 |
| 14 | 10 | Pierre Gasly | Toro Rosso | 01:33:08.490 | 66 | 20 | 0 |
| 15 | 16 | Charles Leclerc | Sauber | 01:33:10.282 | 66 | 9 | 0 |
| 16 | 14 | Fernando Alonso | McLaren | Gearbox | 65 | 11 | 0 |
| DNF | 18 | Lance Stroll | Williams | Rear brakes | 53 | 17 | 0 |
| DNF | 5 | Sebastian Vettel | Ferrari | Crash | 51 | 1 | 0 |
| DNF | 35 | Sergey Sirotkin | Williams | Oil leak | 51 | 12 | 0 |
| DNF | 3 | Daniel Ricciardo | Red Bull | Power unit | 27 | 19 | 0 |
Penalties:
Carlos Sainz (Renault car 55) - 10 second time penalty - Overtaking under Safety Car conditions
---
Fastest lap: 1:15.545 min by Lewis Hamilton (Mercedes W09) lap 66 @217.968 km/h
Highest speed: 346.9 km/h by Lewis Hamilton (Mercedes W09)
---
✅ Check out more posts with related topics: