Starting Grid 2017 Chinese F1 GP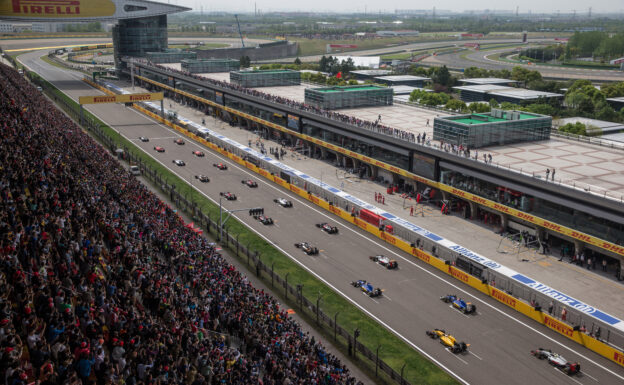 Event: Chinese Grand Prix
Track: Shanghai International Circuit
2017 Chinese Grand Prix Tyre Compounds
Shanghai imposes unique and quite high demands on the tyres, which has led to close racing as well as plenty of overtaking in the past. But the weather can also never be predicted, ranging from bright sunshine to heavy rain: sometimes in the same weekend. This will have a significant effect on tyre behaviour and strategy, as less degradation for this season theoretically means fewer pit stops. Last year, the winner stopped twice during the 56-lap race, although most drivers did a three-stopper.
THE THREE NOMINATED COMPOUNDS THE CIRCUIT FROM A TYRE POINT OF VIEW


Track always feels 'green' and slippery during the first sessions of the weekend, There's a roughly equal split of corners and straights on the track, inaugurated in 2004. Corners that demand most from tyres are Turn 1 (a long right-hander) and Turn 13. The front-left tyre is worked hardest. The long straight means tyres can cool down and subsequently provoke graining. Straight also provides chances to overtake, so teams can opt for the quickest strategy. Pirelli will supply wet weather tyres in a different compound with better performance on low severity tracks and smooth asphalt.
MARIO ISOLA - HEAD OF CAR RACING "We're bringing the middle selection of compounds, but we expect teams to use mainly soft and supersoft, depending of course on the unpredictable weather: especially as the allocation is just two sets of medium. In the past, there has been some graining in China due to the long straights followed by tight corners, but we've seen in Barcelona testing that graining is generally reduced this year, so it will be good to have that confirmed. In case of wet and possibly cool conditions, we will supply wet weather tyres in a different compound, with the target of giving the drivers more grip."
F1 Grid 2017 Chinese Grand Prix
| | | | | |
| --- | --- | --- | --- | --- |
| Pos | No | Driver | Team | Lap Time |
| 1 | 44 | Lewis Hamilton | Mercedes | 01:31,7 |
| 2 | 5 | Sebastian Vettel | Ferrari | 01:31,9 |
| 3 | 77 | Valtteri Bottas | Mercedes | 01:31,9 |
| 4 | 7 | Kimi Räikkönen | Ferrari | 01:32,1 |
| 5 | 3 | Daniel Ricciardo | Red Bull | 01:33,0 |
| 6 | 19 | Felipe Massa | Williams | 01:33,5 |
| 7 | 27 | Nico Hülkenberg | Renault | 01:33,6 |
| 8 | 11 | Sergio Pérez | Force India | 01:33,7 |
| 9 | 26 | Daniil Kvyat | Toro Rosso | 01:33,7 |
| 10 | 18 | Lance Stroll | Williams | 01:34,2 |
| 11 | 55 | Carlos Sainz Jr. | Toro Rosso | 01:34,2 |
| 12 | 20 | Kevin Magnussen | Haas | 01:34,2 |
| 13 | 14 | Fernando Alonso | McLaren | 01:34,4 |
| 14 | 9 | Marcus Ericsson | Sauber | 01:35,0 |
| 15 | 2 | Stoffel Vandoorne | McLaren | 01:35,0 |
| 16 | 33 | Max Verstappen | Red Bull | 01:35,4 |
| 17 | 31 | Esteban Ocon | Force India | 01:35,5 |
| 18 | 36 | Antonio Giovinazzi | Sauber | no time |
| 19 | 8 | Romain Grosjean | Haas | 01:35,2 |
| 20 | 30 | Jolyon Palmer | Renault | 01:35,3 |
Penalties:
Car 8 - Romain Grosjean (Haas) - 5 place grid penalties - Failing to slow for double waved yellow flags
Car 30 - Jolyon Palmer (Renault) - 5 place grid penalties - Failing to slow for double waved yellow flags
Car 36 - Antonio Giovinazzi (Sauber) - 5 place grid penalty - Replacement Gearbox
---
Check out more items on this website about: