Race Results 2017 Chinese F1 Grand Prix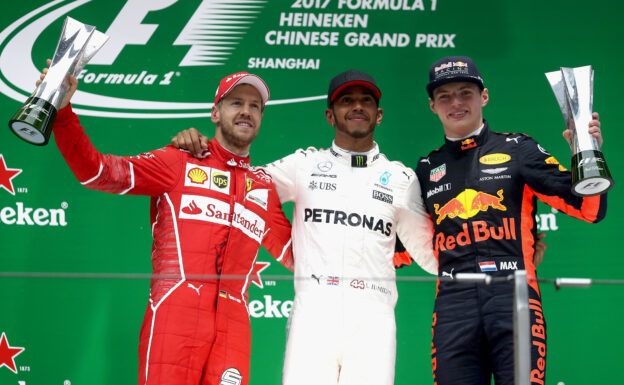 Event: Chinese Grand Prix
Track: Shanghai International Circuit
Weather: 12ºC
Tarmac: 15ºC
Lewis Hamilton won his 54th Formula 1 race in China today. It was the 65th win for the Mercedes F1 team.
The race was started in damp conditions which made it hard to choose the right tyre compound at the start of the race. Some drivers got it wrong and some drivers made good decisions at the start.of the race.
One of those drivers was Dutchman Max Verstappen who drives for Red Bull Racing. He started 16th on the grid due to an engine problem in qualifying and could show his unbelievable talent to the world.
He passed 9 cars in the first lap! And kept on passing almost every car in front of him. He got all the way through to 2nd place and even started to push Lewis Hamilton for the lead.
He than had to settle to safe his tyres for the rest of the race. Ferrari driver Sebastian Vettel who was stuck behind his team mate Kimi Raikkonen than passed him and driver in front of them Daniel Ricciardo. After he passed them he could charge and gain time to Verstappen and Hamilton. He passed Verstappen and also could fight the Mercedes of Hamilton for the lead.
F1 classification 2017 Chinese GP
| P | No | Driver | Team | Time | Laps | Grid | Pts |
| --- | --- | --- | --- | --- | --- | --- | --- |
| 1 | 44 | Lewis Hamilton | Mercedes | 01:37:36.158 | 56 | 1 | 25 |
| 2 | 5 | Sebastian Vettel | Ferrari | 01:37:42.408 | 56 | 2 | 18 |
| 3 | 33 | Max Verstappen | Red Bull | 01:38:21.350 | 56 | 16 | 15 |
| 4 | 3 | Daniel Ricciardo | Red Bull | 01:38:22.193 | 56 | 5 | 12 |
| 5 | 7 | Kimi Räikkönen | Ferrari | 01:38:24.234 | 56 | 4 | 10 |
| 6 | 77 | Valtteri Bottas | Mercedes | 01:38:24.966 | 56 | 3 | 8 |
| 7 | 55 | Carlos Sainz | Toro Rosso | 01:38:24.966 | 56 | 11 | 6 |
| 8 | 20 | Kevin Magnussen | Haas | 01:37:45.844 | 55 | 12 | 4 |
| 9 | 11 | Sergio Pérez | Force India | 01:38:00.090 | 55 | 8 | 2 |
| 10 | 31 | Esteban Ocon | Force India | 01:38:06.668 | 55 | 17 | 1 |
| 11 | 8 | Romain Grosjean | Haas | 01:38:19.297 | 55 | 19 | 0 |
| 12 | 27 | Nico Hülkenberg | Renault | 01:38:36.150 | 55 | 7 | 0 |
| 13 | 30 | Jolyon Palmer | Renault | 01:38:38.199 | 55 | 20 | 0 |
| 14 | 19 | Felipe Massa | Williams | 01:38:44.386 | 55 | 6 | 0 |
| 15 | 9 | Marcus Ericsson | Sauber | 01:39:12.856 | 55 | 14 | 0 |
| DNF | 14 | Fernando Alonso | McLaren | Drive shaft | 33 | 13 | 0 |
| DNF | 26 | Daniil Kvyat | Toro Rosso | Hydraulic failure | 18 | 9 | 0 |
| DNF | 2 | Stoffel Vandoorne | McLaren | Fuel problem | 17 | 15 | 0 |
| DNF | 36 | Antonio Giovinazzi | Sauber | Crashed | 3 | 18 | 0 |
| DNF | 18 | Lance Stroll | Williams | Collision | 0 | 10 | 0 |
Fastest lap: 1:35.378 min (205.745 km/h) lap 44 by Lewis Hamilton, Mercedes W08
✅ Check out 2017 F1 Championship Standings
✅ Check out 2017 F1 Teams & Drivers
✅ Check out All Time F1 Drivers Rankings
✅ Check out All Time F1 Driver Records
✅ Check out All Time F1 Teams Rankings
---
✅ Check out more posts with related topics: