Lap times 1st practice 2014 Belgian F1 Grand Prix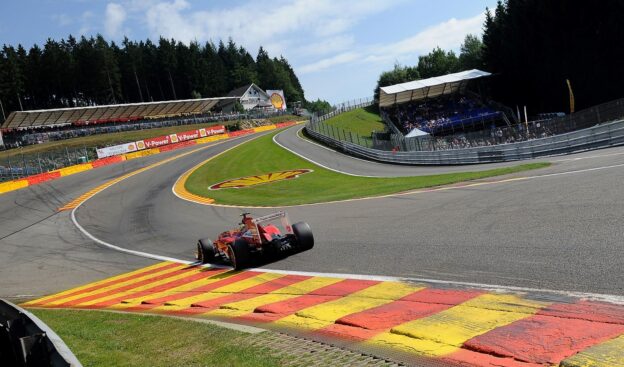 Event: Belgian Grand Prix
Track: Spa Francorchamps Circuit
After the long summer break the F1 circus drove the 1st practice for the upcoming Grand Prix of Belgium. The usual suspects of the Mercedes F1 team, Nico Rosberg and Lewis Hamilton were the fastest.
Ferrari had a good summer break and were able to be 3rd and 5th fastest. Looks like Raikkonen is on steam now...
During the practice session we saw every driver looking for the limits of their car and the circuit and a new nose for Caterham with Lotterer behind the wheel..
FP1 Lap Times 2014 Belgian GP
| | | | | | | |
| --- | --- | --- | --- | --- | --- | --- |
| Pos | No | Driver | Team | Lap Time | 1st Gap | Laps |
| 1 | 6 | Nico Rosberg | Mercedes | 1:51,577 |  - | 25 |
| 2 | 44 | Lewis Hamilton | Mercedes | 1:51,674 | 0,097 | 24 |
| 3 | 14 | Fernando Alonso | Ferrari | 1:51,805 | 0,228 | 16 |
| 4 | 22 | Jenson Button | McLaren | 1:52,404 | 0,827 | 21 |
| 5 | 7 | Kimi Räikkönen | Ferrari | 1:52,818 | 1,241 | 17 |
| 6 | 11 | Sergio Pérez | Force India | 1:52,903 | 1,326 | 24 |
| 7 | 20 | Kevin Magnussen | McLaren | 1:52,922 | 1,345 | 23 |
| 8 | 27 | Nico Hülkenberg | Force India | 1:52,937 | 1,360 | 22 |
| 9 | 3 | Daniel Ricciardo | Red Bull | 1:52,972 | 1,395 | 19 |
| 10 | 77 | Valtteri Bottas | Williams | 1:53,172 | 1,595 | 20 |
| 11 | 1 | Sebastian Vettel | Red Bull | 1:53,369 | 1,792 | 11 |
| 12 | 26 | Daniil Kvyat | Toro Rosso | 1:53,594 | 2,017 | 21 |
| 13 | 8 | Romain Grosjean | Lotus F1 | 1:53,597 | 2,020 | 20 |
| 14 | 99 | Adrian Sutil | Sauber | 1:53,703 | 2,126 | 14 |
| 15 | 19 | Felipe Massa | Williams | 1:53,968 | 2,391 | 20 |
| 16 | 25 | Jean-Eric Vergne | Toro Rosso | 1:54,189 | 2,612 | 20 |
| 17 | 36 | Giedo van der Garde | Sauber | 1:54,335 | 2,758 | 16 |
| 18 | 13 | Pastor Maldonado | Lotus F1 | 1:55,336 | 3,759 | 21 |
| 19 | 17 | Jules Bianchi | Manor | 1:55,782 | 4,205 | 19 |
| 20 | 42 | Alexander Rossi | Manor | 1:57,232 | 5,655 | 20 |
| 21 | 45 | Andre Lotterer | Caterham | 1:57,886 | 6,309 | 24 |
| 22 | 9 | Marcus Ericsson | Caterham | 1:57,977 | 6,400 | 24 |
---
✅ Check out more posts with related topics: