2014 Hungarian Grand Prix F1 Race Results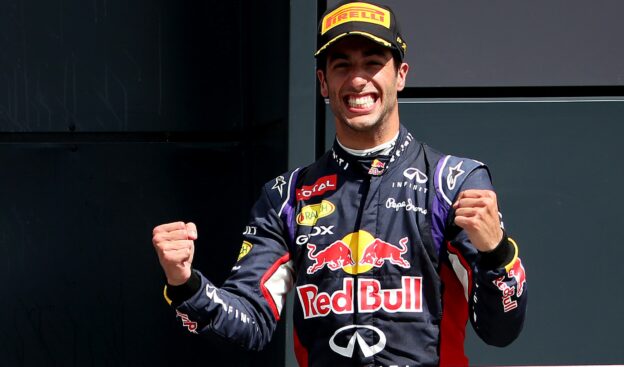 Event: Hungarian Grand Prix
Track: Hungaroring

Daniel Ricciardo won his second Grand Prix at Hungary in a sensational race. The race started on a drying track. All F1 cars had intermediate tyres on the start grid.
Lewis Hamilton started out of the pit lane, because of his car was on fire during yesterday qualifying session. He was able to drive one of his strongest races in his career to finish 3rd.
Fernando Alonso was able to drive a lot of laps on his slick tyres to drive on first place until 5 laps before the finish flag, when Ricciardo who was on much fresher tyres, was able to pass him at the end of the main straight.
Classification 2014 Hungarian F1 GP
| P | No | Driver | Team | Time | Laps | Grid | Pts |
| --- | --- | --- | --- | --- | --- | --- | --- |
| 1 | 3 | Daniel Ricciardo | Red Bull | 01:53:05.058 | 70 | 4 | 25 |
| 2 | 14 | Fernando Alonso | Ferrari | 01:53:10.283 | 70 | 5 | 18 |
| 3 | 44 | Lewis Hamilton | Mercedes | 01:53:10.915 | 70 | 22 | 15 |
| 4 | 6 | Nico Rosberg | Mercedes | 01:53:11.419 | 70 | 1 | 12 |
| 5 | 19 | Felipe Massa | Williams | 01:53:34.899 | 70 | 10 | 10 |
| 6 | 7 | Kimi Räikkönen | Ferrari | 01:53:36.549 | 70 | 16 | 8 |
| 7 | 1 | Sebastian Vettel | Red Bull | 01:53:46.022 | 70 | 2 | 6 |
| 8 | 77 | Valtteri Bottas | Williams | 01:53:46.402 | 70 | 3 | 4 |
| 9 | 25 | Jean-Eric Vergne | Toro Rosso | 01:54:03.585 | 70 | 8 | 2 |
| 10 | 22 | Jenson Button | McLaren | 01:54:12.338 | 70 | 7 | 1 |
| 11 | 99 | Adrian Sutil | Sauber | 01:54:13.227 | 70 | 11 | 0 |
| 12 | 20 | Kevin Magnussen | McLaren | 01:54:23.523 | 70 | 21 | 0 |
| 13 | 13 | Pastor Maldonado | Lotus F1 | 01:54:29.082 | 70 | 20 | 0 |
| 14 | 26 | Daniil Kvyat | Toro Rosso | 01:53:23.731 | 69 | 10 | 0 |
| 15 | 17 | Jules Bianchi | Manor | 01:53:53.390 | 69 | 15 | 0 |
| 16 | 4 | Max Chilton | Manor | 01:53:53.894 | 69 | 18 | 0 |
| DNF | 21 | Esteban Gutierrez | Sauber | ERS | 32 | 13 | 0 |
| DNF | 10 | Kamui Kobayashi | Caterham | Fuel system | 24 | 18 | 0 |
| DNF | 11 | Sergio Pérez | Force India | Spun off | 22 | 12 | 0 |
| DNF | 27 | Nico Hülkenberg | Force India | Spun off | 14 | 9 | 0 |
| DNF | 8 | Romain Grosjean | Lotus F1 | Spun off | 10 | 14 | 0 |
| DNF | 9 | Marcus Ericsson | Caterham | Spun off | 7 | 19 | 0 |
Note:
Lewis Hamilton (Mercedes) en Pastor Maldonado (Lotus) failed to set times within 107% Q1 requirement, but where allowed to race at stewards' discretion.
Kevin Magnussen (McLaren) & Lewis Hamilton (Mercedes) started from pit lane after chassis changes
Fastest lap: 1:25.724 min Nico Rosberg (Mercedes W05) on lap
✅ Check out 2014 F1 drivers championship
✅ Check out 2014 F1 constructors championship
✅ Check out 2014 F1 Teams & Drivers
✅ Check out All Time F1 Drivers Rankings
✅ Check out All Time F1 Driver Records
✅ Check out All Time F1 Teams Rankings
---
✅ Check out more posts with related topics: