Webber no longer 'at odds' with Vettel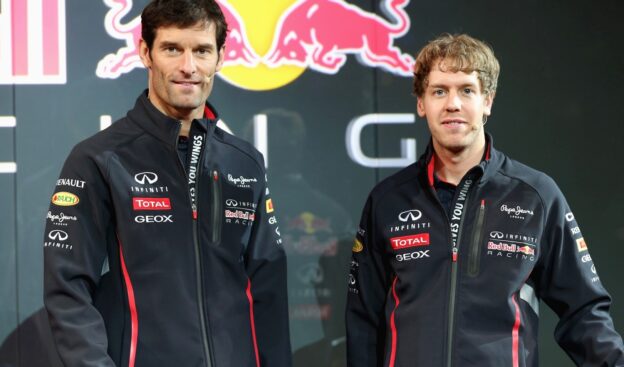 Mark Webber has admitted the venom has gone from his relationship with former F1 teammate Sebastian Vettel.
The pair were teammates at Red Bull until the Australian's retirement at the end of 2013.
Webber, now a leading Le Mans prototype driver for Porsche, told a Dubai radio station it was Vettel's "trophy cabinet" that looked best after their time together.
"With that comes some tension to the friendship I suppose on the professional front and obviously that might creep into the personal stuff as well," said the 38-year-old.
Webber said the team orders affair that became known as 'Multi 21' was the "icing on the cake" for the disintegrating relationship, but "Now it's different".
"We're not competing, we're not inside the boxing ring anymore," he explained.
"We actually flew from Melbourne to Dubai after the (2015) Australian grand prix and were pretty much sitting together and had a good chat.
"Time's a great healer," said Webber. "When you are in there going for it and want the same territory it's very hard to come up for air, and every season rolls into one.
"We were at odds but I suppose we're not at odds when we've got our helmets off."
Interestingly, it is the now Ferrari driver Vettel's easy relationship with his current teammate, Kimi Raikkonen, that could help keep the pair together into 2016.
Finn Raikkonen confirmed to CNN: "There's no politics, if there's something wrong we can say it to each other and work it out."
---
✅ Check out more posts with related topics: