Second Free Practice Results 2023 Australian F1 GP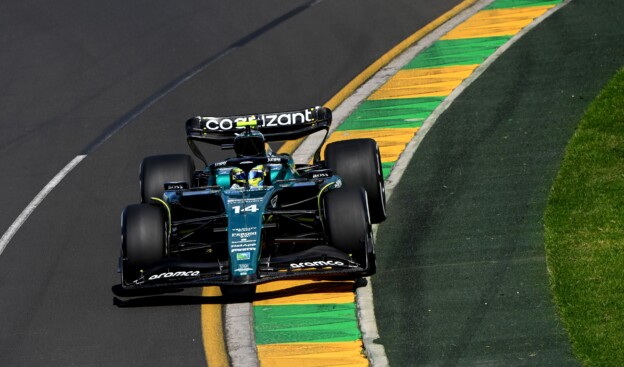 Event: Australian Grand Prix
Track: Albert Park Circuit
Weather: dry/wet 26.6°C
Tarmac: dry/wet  26°C
Humidity: 73%
Wind: 2 km/h SE
Pressure: 1013.0 bar
As the second practice session for the 2023 Australian Formula 1 Grand Prix commenced, teams hastily dispatched their cars onto the track in anticipation of an imminent rain shower.
Ferrari's Carlos Sainz led the charge, closely followed by Lando Norris, who executed a stylish drift as he exited the McLaren pit box. As Sainz clocked his first timed lap at 1:20.378 on medium tyres, Mercedes' George Russell reported light rain at Turn 3.
Williams faced challenges, as it took them five minutes to send Alex Albon out for FP2. Meanwhile, rookie teammate Logan Sargeant remained in the pits for the first 15 minutes due to an apparent electrical issue. At that point, Fernando Alonso topped the timesheets with a 1:18.887 on mediums in his Aston Martin, Ferrari driver Charles Leclerc was second (+0.445s). Max Verstappen was third (+0.615) on Mediums with the Red Bull.
As the rain intensified, drivers retreated to the pits, awaiting more favorable conditions. The downpour only grew heavier midway through the session, with few cars venturing out on track.
With 15 minutes remaining, Sargeant was still in the pits as other drivers experimented with intermediate tyres under the wet conditions. Australian native Oscar Piastri emerged as the fastest in the McLaren, recording a 1:30.1, while Russell and Albon trailed closely with a 1:30.5. Notably, both Red Bull and Ferrari opted against pursuing fast laps on the intermediate tyres.
The fastest sector times during this FP2 for the 2023 Australian F1 GP were:
Sector 1: 27.191 sec. by Sergio Pérez(Red Bull)
Sector 2: 17.817 sec. by Sergio Pérez (Red Bull)
Sector 3: 33.500 sec. by Fernando Alonso (Aston Martin)
Last years quickest lap in FP2 was a 1:18,978 min driven by Charles Leclerc with the Ferrari F1-75.
FP2 Times Table 2023 Australian GP
| | | | | | | | |
| --- | --- | --- | --- | --- | --- | --- | --- |
| P | No | Driver | Team | Time | 1st Gap | Laps | Tyres |
| 1 | 14 | Fernando Alonso | Aston Martin | 1:18,887 | | 13 | 🟡M |
| 2 | 16 | Charles Leclerc | Ferrari | 1:19,332 | +0,445s | 10 | 🟡M |
| 3 | 1 | Max Verstappen | Red Bull | 1:19,502 | +0,615s | 12 | 🟡M |
| 4 | 63 | George Russell | Mercedes | 1:19,672 | +0,785s | 20 | ⚪H |
| 5 | 55 | Carlos Sainz | Ferrari | 1:19,695 | +0,808s | 12 | 🟡M |
| 6 | 31 | Esteban Ocon | Alpine | 1:19,725 | +0,838s | 12 | 🟡M |
| 7 | 11 | Sergio Pérez | Red Bull | 1:20,083 | +1,196s | 15 | 🔴S |
| 8 | 4 | Lando Norris | McLaren | 1:20,176 | +1,289s | 20 | ⚪H |
| 9 | 27 | Nico Hülkenberg | Haas | 1:20,194 | +1,307s | 19 | ⚪H |
| 10 | 10 | Pierre Gasly | Alpine | 1:20,206 | +1,319s | 12 | ⚪H |
| 11 | 22 | Yuki Tsunoda | AlphaTauri | 1:20,220 | +1,333s | 18 | ⚪H |
| 12 | 24 | Zhou Guanyu | Alfa Romeo | 1:20,312 | +1,425s | 22 | 🟡M |
| 13 | 44 | Lewis Hamilton | Mercedes | 1:20,323 | +1,436s | 17 | ⚪H |
| 14 | 81 | Oscar Piastri | McLaren | 1:20,380 | +1,493s | 24 | 🟡M |
| 15 | 23 | Alex Albon | Williams | 1:20,470 | +1,583s | 22 | 🟡M |
| 16 | 18 | Lance Stroll | Aston Martin | 1:20,579 | +1,692s | 15 | ⚪H |
| 17 | 21 | Nyck de Vries | AlphaTauri | 1:20,600 | +1,713s | 8 | ⚪H |
| 18 | 23 | Alex Albon | Williams | 1:21,182 | +2,295s | 18 | 🔴S |
| 19 | 20 | Kevin Magnussen | Haas | 1:21,266 | +2,379s | 18 | 🟡M |
| 20 | 2 | Logan Sargeant | Williams | no time | - | 0 | - |
✅ Check out our 2023 Australian F1 GP preview
---
✅ Check out more posts with related topics: