F1 looking into pitstop safety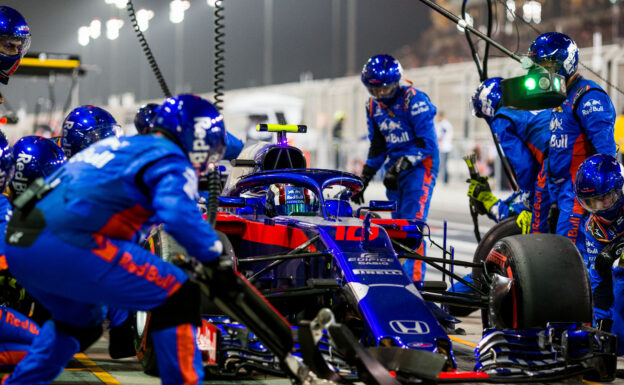 Apr.14 - 'Unsafe release' is a major buzzword in the paddock ahead of the Chinese grand prix.
In Australia, both Haas cars were released from pitstops with loose wheels.
Then in Bahrain, a Ferrari mechanic's leg was sickeningly snapped in an incident, and already in China, an incident has occurred during a practice pitstop involving Stoffel Vandoorne.
The FIA is investigating, but Haas driver Kevin Magnussen denied it is time for the governing body to impose a mandatory minimum 5 second pitstop time.
"No, it's not (time for that)," said the Dane.
"When you're striving for the maximum, you reach the limit and then maybe you have to go back a little," Magnussen explained.
"We're approaching the time when it's impossible to change the tyres faster, but maybe it's time to stop looking for more fractions of a second and focus more on reliability and safety."
Renault technical boss Bob Bell said teams have been improving techniques and technology to speed up pitstops in past years.
"This year something has changed," he admitted, "although I think it's nothing more than evolutionary.
"But when you're gradually reducing the pitstop time, you can reach a certain limit when the situation gets out of control more often," said Bell.
Asked if F1 authorities should intervene, Bell admitted that the FIA and FOM will be looking into the matter.
"It might be argued that certain standards would be safer and also less expensive, so I have no doubt that FOM and the FIA are looking at it," he said.
Haas boss Gunther Steiner, though, agrees with Magnussen that intervention is not necessary.
"Of course you have to take a look when things get dangerous, but I don't think we need to change the rules," he said.
"Why would anyone even watch formula one anymore if everything is 100 per cent safe? We need that human element and the risk that mistakes can happen.
"If everything is controlled and executed by robots, fast pitstops would not be a problem anymore. But who would watch it?" Steiner added.
Kimi Raikkonen was the driver at the wheel when the Ferrari mechanic's leg was snapped, and he said in China: "Of course it would be safer if we had no pitstops at all.
"So whenever we do have them, something can go wrong," said the Finn.
---
✅ Check out more posts with related topics: