Qualifying results 2017 Austrian F1 Grand Prix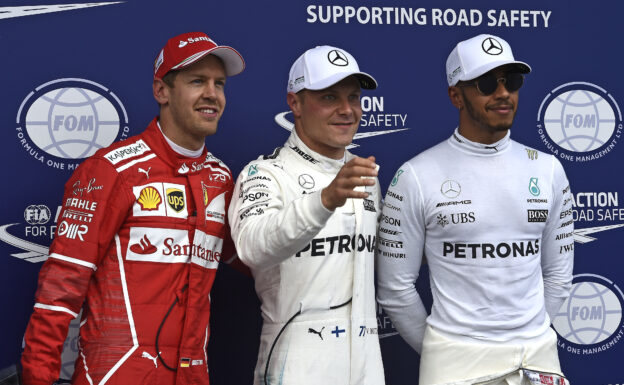 8 July 2017 by
MBR
1 min read
Event: Austrian Grand Prix
Track:  Red Bull Ring
Weather: Sunny, Clear Sky, 28ºC
Tarmac: Dry 39ºC
Valtteri Bottas won his 2nd F1 career pole position today at Spielberg.
He will start tomorrow's 2017 Austrian Grand Prix from 1st place in front of Ferrari driver Sebastian Vettel (Ferrari) and his Mercedes team mate Lewis Hamilton.
See an overview of all 2017 F1 drivers with pictures and all statistics.

Qualifying results 2017 Austrian F1 GP
| | | | | | | |
| --- | --- | --- | --- | --- | --- | --- |
| 1. |  V. Bottas | Mercedes | 01:05.760 | 01:04.316 | 01:04.251 | 18 |
| 2. |  S. Vettel | Ferrari | 01:05.585 | 01:04.772 | 01:04.293 | 17 |
| 3. |  L. Hamilton | Mercedes | 01:05.064 | 01:04.800 | 01:04.424 | 17 |
| 4. |  K. Raikkonen | Ferrari | 01:05.148 | 01:05.004 | 01:04.779 | 17 |
| 5. |  D. Ricciardo | Red Bull | 01:05.854 | 01:05.161 | 01:04.896 | 22 |
| 6. |  M. Verstappen | Red Bull | 01:05.779 | 01:04.948 | 01:04.983 | 16 |
| 7. |  R. Grosjean | Haas | 01:05.902 | 01:05.319 | 01:05.480 | 30 |
| 8. |  S. Perez | Force India | 01:05.975 | 01:05.435 | 01:05.605 | 21 |
| 9. |  E. Ocon | Force India | 01:06.033 | 01:05.550 | 01:05.674 | 22 |
| 10. |  C. Sainz Jr. | Toro Rosso | 01:05.675 | 01:05.544 | 01:05.726 | 23 |
| | | | | | | |
| 11. |  N. Hulkenberg | Renault | 01:06.174 | 01:05.597 | | 16 |
| 12. |  F. Alonso | McLaren | 01:06.158 | 01:05.602 | | 14 |
| 13. |  S. Vandoorne | McLaren | 01:06.316 | 01:05.741 | | 14 |
| 14. |  D. Kvyat | Toro Rosso | 01:05.990 | 01:05.884 | | 16 |
| 15. |  K. Magnussen | Haas | 01:06.143 | | | 14 |
| | | | | | | |
| 16. |  J. Palmer | Renault | 01:06.345 | | | 10 |
| 17. |  F. Massa | Williams | 01:06.534 | | | 8 |
| 18. |  L. Stroll | Williams | 01:06.608 | | | 11 |
| 19. |  M. Ericsson | Sauber | 01:06.857 | | | 12 |
| 20. |  P. Wehrlein | Sauber | 01:07.011 | | | 11 |
---
✅ Check out more posts with related topics: