Proud Jos stayed in Spain after Verstappen win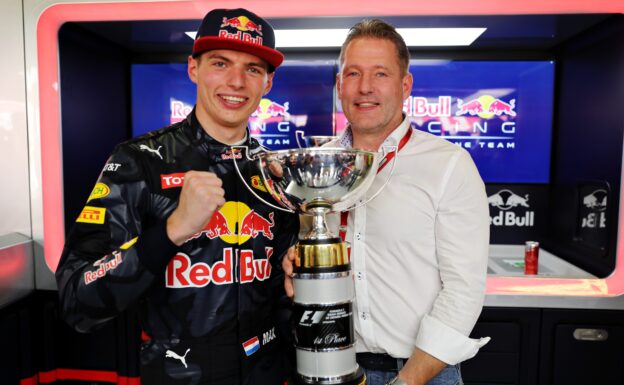 May 18 - Jos Verstappen is still in Barcelona, even though his original plan was to fly out of the sprawling city immediately after the Spanish grand prix.
But that was before his 18-year-old son made F1 history on Sunday.
"This is so special, so I want to be with Max," the Dutchman and former F1 driver told De Telegraaf.
Max was always scheduled to stay in Barcelona after the race, as he is testing his new RB12 cockpit on Wednesday, following his shock switch from Toro Rosso.
"He has to test on Wednesday so he could be drunk only one night," Jos smiled to De Telegraaf. "Wednesday he should be fit again.
"I can be drunk the whole week!" Verstappen snr added.
Young Verstappen's rise to F1 glory has been meteoric, but Jos admitted that breaking through so quickly was never the plan.
"You can't plan for that," he said. "Our first goal was always to end up with a top team, then we got the call from Red Bull and knew that the podium was closer.
"But for it to happen immediately in the first weekend is very special. I don't know what will happen for the rest of the season but this can't be taken away from us."
Many were surprised after the race on Sunday, when Jos - known in his own F1 career as 'the boss' - was crying. He even had a blood nose.
Jos admits the win made him think of the hard road to F1.
"I helped Max of course," he said. "Pushed him. But he's the one who should carry it all. I know for myself that I have not always been the easiest for him, but he has not put a foot wrong. I think it's unbelievable."
At the same time, Jos said he was not surprised that his son could handle the spotlight of leading a grand prix and resisting the pressure from veteran Kimi Raikkonen.
"For him everything is normal," he is quoted by La Gazzetta dello Sport, "because his whole life has always been about competition.
"The first win is always special, but even more is the way he did it -- always in control, doing nothing wrong. He really deserves it.
"In the last two weeks a lot has happened, but the important thing is that Max was able to handle everything, getting to work with a top team and showing once again all his ability to adapt to situations.
"Getting in a new team and winning right away is incredible," said Jos.
---
Check out more items on this website about: