Race results 2018 Canadian F1 grand prix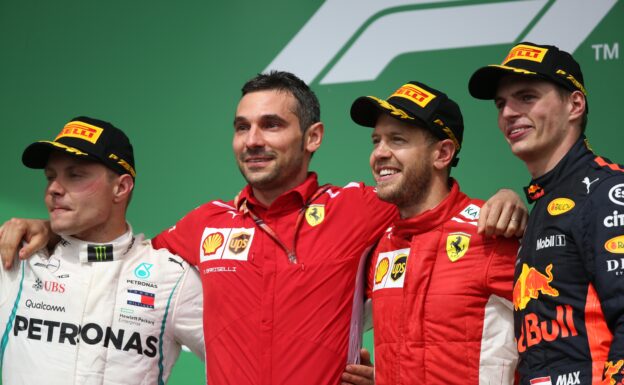 Event: Canadian Grand Prix
Track: Circuit Gilles Villeneuve
Weather:  Dry  20ºC
Tarmac: Dry 41ºC
Wind speed: 4.4 km/h
Humidity: 28%
Sebastian Vettel won the Canadian Grand Prix from start to finish. He won his 50th F1 race win. It was the 233rd race win for Scuderia Ferrari and his 3rd win of the 2018 F1 season.
In the opening lap all cars got away clean. Max Verstappen passed the Mercedes of Valtteri Bottas in turn 1, but could not hold P2 in turn 2.
Daniel Ricciardo who started from 6 did pass the Ferrari of Kimi Raikkonen for P5 in coming out of turn 2.
In turn 4 Lance Stroll collected the Toro Rosso of Brandon Hartley with his Williams. Both cars retired with a lot of damage. The safety car came out and after a few laps the race was on again.
Verstappen and Hamilton pitted in at the end of lap 16. Both drivers got the Super soft tyres (red).
A lap later Ricciardo also pitted and changed from Hypers to Super soft and passed Hamilton for P4.
In lap 37 Bottas pitted to switch from ultra's to super soft tyres. A lap later Vettel did the same to drive to the finish without a threat to lose his lead and won his 2nd Canadian GP.
✅ Check out 2018 Canadian F1 GP Pictures
✅ Check out 2018 F1 Championship Standings
✅ Check out 2018 F1 Calendar
✅ Check out All Time F1 Drivers Rankings
✅ Check out All Time F1 Teams Rankings
✅ Check out All Time F1 Driver Records
F1 Classification 2018 Canadian GP
| P | No | Driver | Team | Time | Laps | Grid | Pts |
| --- | --- | --- | --- | --- | --- | --- | --- |
| 1 | 5 | Sebastian Vettel | Ferrari | 01:28:31.377 | 68 | 1 | 25 |
| 2 | 77 | Valtteri Bottas | Mercedes | 01:28:38.753 | 68 | 2 | 18 |
| 3 | 33 | Max Verstappen | Red Bull | 01:28:39.737 | 68 | 3 | 15 |
| 4 | 3 | Daniel Ricciardo | Red Bull | 01:28:52.269 | 68 | 6 | 12 |
| 5 | 44 | Lewis Hamilton | Mercedes | 01:28:52.936 | 68 | 4 | 10 |
| 6 | 7 | Kimi Räikkönen | Ferrari | 01:28:58.561 | 68 | 5 | 8 |
| 7 | 27 | Nico Hülkenberg | Renault | 01:28:55.353 | 67 | 7 | 6 |
| 8 | 55 | Carlos Sainz | Renault | 01:28:57.115 | 67 | 9 | 4 |
| 9 | 31 | Esteban Ocon | Force India | 01:29:00.910 | 67 | 8 | 2 |
| 10 | 16 | Charles Leclerc | Sauber | 01:29:10.898 | 67 | 13 | 1 |
| 11 | 10 | Pierre Gasly | Toro Rosso | 01:29:15.278 | 67 | 16 | 0 |
| 12 | 8 | Romain Grosjean | Haas | 01:29:15.806 | 67 | 20 | 0 |
| 13 | 20 | Kevin Magnussen | Haas | 01:29:18.756 | 67 | 11 | 0 |
| 14 | 11 | Sergio Pérez | Force India | 01:29:18.774 | 67 | 10 | 0 |
| 15 | 9 | Marcus Ericsson | Sauber | 01:28:41.105 | 66 | 19 | 0 |
| 16 | 2 | Stoffel Vandoorne | McLaren | 01:28:43.242 | 66 | 15 | 0 |
| 17 | 35 | Sergey Sirotkin | Williams | 01:28:58.502 | 66 | 18 | 0 |
| DNF | 14 | Fernando Alonso | McLaren | Air cooler pipe | 40 | 14 | 0 |
| DNF | 28 | Brendon Hartley | Toro Rosso | Collision Stroll | 0 | 12 | 0 |
| DNF | 18 | Lance Stroll | Williams | Collision Hartley | 0 | 17 | 0 |
Fastest lap: : 1:13.864 min by Max Verstappen (Red Bull RB14) on lap 65 @212.547 km/h
Highest speed: 349.7 km/h by Sergio Perz (Force India VJM11)
---
✅ Check out more posts with related topics: