Race results 2016 Canadian F1 Grand Prix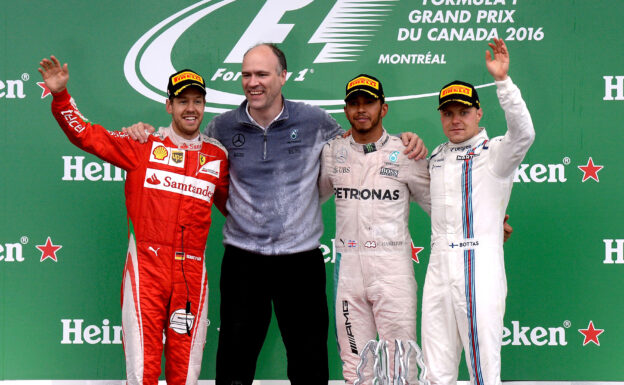 Event: Canadian Grand Prix
Track: Circuit Gilles Villeneuve
Weather: 13°C Dry & Clouded
Tarmac: 27°C Dry
Humidity: 55%
Lewis Hamilton won his 44th Formula 1 Grand Prix in Canada today.
Ferrari driver Sebastian Vettel finished 2nd and scored his 83rd podium.
He could have won the race if he did the same tyre strategy as Hamilton.
Williams driver Valtteri Bottas was able to steel 3rd place from Max Verstappen who was driving an epic race by holding off Nico Rosberg in his much faster Mercedes for 4th place.
Read more in our 2016 Canadian F1 GP report.
See all details about F1 statistics in current 2016 F1 championship standings and our Top 100 all time driver rankings list.
F1 classification 2016 Canadian GP
| P | No | Driver | Team | Time | Laps | Grid | Pts |
| --- | --- | --- | --- | --- | --- | --- | --- |
| 1 | 44 | Lewis Hamilton | Mercedes | 01:31:05.296 | 70 | 1 | 25 |
| 2 | 5 | Sebastian Vettel | Ferrari | +0 laps | 70 | 3 | 18 |
| 3 | 77 | Valtteri Bottas | Williams | +0 laps | 70 | 7 | 15 |
| 4 | 33 | Max Verstappen | Red Bull | +0 laps | 70 | 5 | 12 |
| 5 | 6 | Nico Rosberg | Mercedes | +0 laps | 70 | 2 | 10 |
| 6 | 7 | Kimi Räikkönen | Ferrari | +0 laps | 70 | 6 | 8 |
| 7 | 3 | Daniel Ricciardo | Red Bull | +0 laps | 70 | 4 | 6 |
| 8 | 27 | Nico Hülkenberg | Force India | +1 lap | 69 | 9 | 4 |
| 9 | 55 | Carlos Sainz | Toro Rosso | +1 lap | 69 | 15 | 2 |
| 10 | 11 | Sergio Pérez | Force India | +1 lap | 69 | 11 | 1 |
| 11 | 14 | Fernando Alonso | McLaren | +1 lap | 69 | 10 | 0 |
| 12 | 26 | Daniil Kvyat | Red Bull | +1 lap | 69 | 16 | 0 |
| 13 | 21 | Esteban Gutierrez | Haas | +2 laps | 68 | 13 | 0 |
| 14 | 8 | Romain Grosjean | Haas | +2 laps | 68 | 14 | 0 |
| 15 | 9 | Marcus Ericsson | Sauber | +2 laps | 68 | 21 | 0 |
| 16 | 20 | Kevin Magnussen | Renault | +2 laps | 68 | 22 | 0 |
| 17 | 94 | Pascal Wehrlein | Manor | +2 laps | 68 | 18 | 0 |
| 18 | 12 | Felipe Nasr | Sauber | +2 laps | 68 | 19 | 0 |
| 19 | 88 | Rio Haryanto | Manor | +2 laps | 68 | 20 | 0 |
| DNF | 19 | Felipe Massa | Williams | Overheating | 35 | 8 | 0 |
| DNF | 30 | Jolyon Palmer | Renault | Water leak | 16 | 17 | 0 |
| DNF | 22 | Jenson Button | McLaren | Engine | 9 | 12 | 0 |
✅ Check out 2016 F1 Championship Standings
✅ Check out 2016 F1 Teams & Drivers
✅ Check out All Time F1 Drivers Rankings
✅ Check out All Time F1 Driver Records
✅ Check out All Time F1 Teams Rankings
---
✅ Check out more posts with related topics: