2014 Chinese Grand Prix F1 Race Results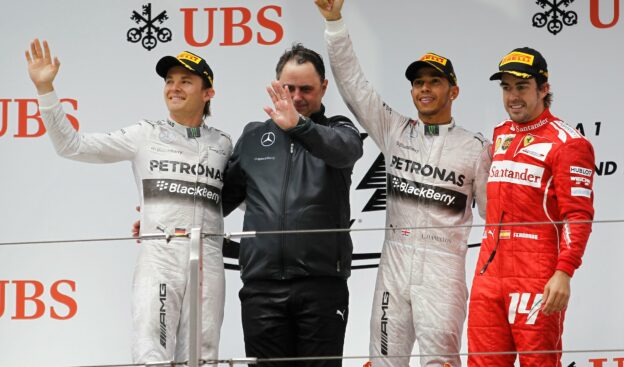 Event: Chinese Grand Prix
Track: Shanghai International Circuit
The 11th Chinese F1 Grand Prix ever is won by Lewis Hamilton for Mercedes. It's Hamiltons 25th F1 victory and the 17th victory for the Mercedes F1 team.
The race wasn't as entertaining as the last one In Bahrain. At the start both Williams drivers almost wreaked their FW36. Later on in the race Felipe Massa had a very slow pit stop because of this collision damage with Fernando Alonso's Ferrari at the start.
Read more in our 2014 Chinese F1 race report.
Classification 2014 Chinese F1 GP
| P | No | Driver | Team | Time | Laps | Grid | Pts |
| --- | --- | --- | --- | --- | --- | --- | --- |
| 1 | 44 | Lewis Hamilton | Mercedes | 01:33:28.388 | 54 | 1 | 25 |
| 2 | 6 | Nico Rosberg | Mercedes | 01:33:46.400 | 54 | 4 | 18 |
| 3 | 14 | Fernando Alonso | Ferrari | 01:33:51.942 | 54 | 5 | 15 |
| 4 | 3 | Daniel Ricciardo | Red Bull | 01:33:55.474 | 54 | 2 | 12 |
| 5 | 1 | Sebastian Vettel | Red Bull | 01:34:16.116 | 54 | 3 | 10 |
| 6 | 27 | Nico Hülkenberg | Force India | 01:34:22.633 | 54 | 8 | 8 |
| 7 | 77 | Valtteri Bottas | Williams | 01:34:24.035 | 54 | 7 | 6 |
| 8 | 7 | Kimi Räikkönen | Ferrari | 01:34:44.673 | 54 | 11 | 4 |
| 9 | 11 | Sergio Pérez | Force India | 01:34:50.985 | 54 | 16 | 2 |
| 10 | 26 | Daniil Kvyat | Toro Rosso | 01:34:50.985 | 53 | 13 | 1 |
| 11 | 22 | Jenson Button | McLaren | 01:33:40.258 | 53 | 12 | 0 |
| 12 | 25 | Jean-Eric Vergne | Toro Rosso | 01:33:45.301 | 53 | 9 | 0 |
| 13 | 20 | Kevin Magnussen | McLaren | 01:33:49.141 | 53 | 15 | 0 |
| 14 | 13 | Pastor Maldonado | Lotus F1 | 01:33:59.501 | 53 | 22 | 0 |
| 15 | 19 | Felipe Massa | Williams | 01:34:07.633 | 53 | 6 | 0 |
| 16 | 21 | Esteban Gutierrez | Sauber | 01:34:14.186 | 53 | 17 | 0 |
| 17 | 17 | Jules Bianchi | Manor | 01:34:55.939 | 53 | 19 | 0 |
| 18 | 10 | Kamui Kobayashi | Caterham | 01:34:54.713 | 53 | 18 | 0 |
| 19 | 4 | Max Chilton | Manor | 01:33:40.693 | 52 | 21 | 0 |
| 20 | 9 | Marcus Ericsson | Caterham | 01:33:56.192 | 62 | 20 | 0 |
| DNF | 8 | Romain Grosjean | Lotus F1 | Gearbox | 28 | 10 | 0 |
| DNF | 99 | Adrian Sutil | Sauber | Engine | 5 | 14 | 0 |
Notes:
Pastor Maldonado (Lotus) started as last because of the 5 grid places penalty for causing collision during the Bahrain Grand Prix
Fastest lap: 1:40.402 min by Nico Rosberg on lap 39
✅ Check out 2014 F1 drivers championship
✅ Check out 2014 F1 constructors championship
✅ Check out 2014 F1 Teams & Drivers
✅ Check out All Time F1 Drivers Rankings
✅ Check out All Time F1 Driver Records
✅ Check out All Time F1 Teams Rankings
---
✅ Check out more posts with related topics: