Chinese F1 GP race report: Hamilton completes victory hat-trick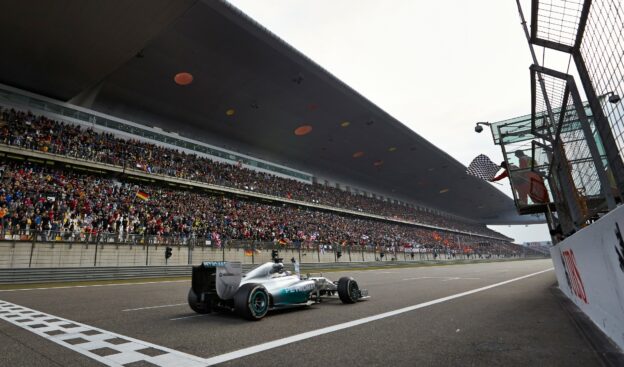 Lewis Hamilton again showed his superior speed with a dominant win in the China grands prix. In an uneventful race at the front he won by almost 20 seconds to claim his third straight win. Nico Rosberg again came second but after a difficult start he fought back impressively to preserve his slender championship lead.
Fernando Alonso scored his first podium of the season for Ferrari but ultimately they were a league behind Mercedes at the front. He will take solace in beating Red Bull's Daniel Ricciardo who, again, upset the odds by outperforming Sebastian Vettel.
The world champion is struggling with the cars down force and cut a frustrated figure in the car. His radio messages were full of annoyance after being asked to move aside for the faster Ricciardo; which wassomething he flatly refused. This made no difference to the Australian, who blasted past soon after.
It was a dry race and at the start, Vettel outgunned his new team-mate by shoving his way into second from fourth. Hamilton at the front, retained his lead and started to build a huge gap that he was adding to at one second a lap. Alonso settled into third but was lucky to escape unscathed after contact with the fast starting Felipe Massa. Massa looked fast early on but his race was ruined after a pit-stop disaster which saw the team fail to fit rear tyres.
The most impressive drive of the day arguably came from Nico Rosberg who clawed his way up from 8th to 2nd. After a poor start, his second in a row, he quickly dispatched Nico Hulkenberg and benefited from Massa's pit-stop failure. From there he used pit-stops to negotiate his way past both Red Bulls and then caught Alonso late in the race and battled past. He had the disadvantage of no telemetry data and so a fourth straight top two finishis a great result. His championship lead over Hamilton has been cut to four points but after his team-mates dominance in the early races he will be happy he still retains the overall lead.
Another fascinating inter-team rivalry is developing at Ferrari where Kimi Raikkonen is struggling against the forceful Alonso. The Spaniard, who sits third in the championship but over 30 points behind the Mercedes pair, finished over 30 seconds clear of the Finn who needs to find some form fast. Raikkonen finished 8th, along way behind the battling Nico Hulkenberg in 6thand Valtteri Bottas in 7th.
A startling feature of the race was the strong reliability shown by all the cars. Only two drivers retired, which is a testament to the engineering work that has been done over the winter months as F1 gets used to its new era. The sport now returns to its European roots and the familiar early summer races in Spain and Monaco. The next three weeks gives the teams a chance to develop major updates and the grid could see a real shake-up in the coming weeks. One thing is for sure, they all have to catch Mercedes and Lewis Hamilton.
See 2014 Chinese F1 Grand Prix Classification
---
✅ Check out more posts with related topics: