Race Results 2018 Australian F1 Grand Prix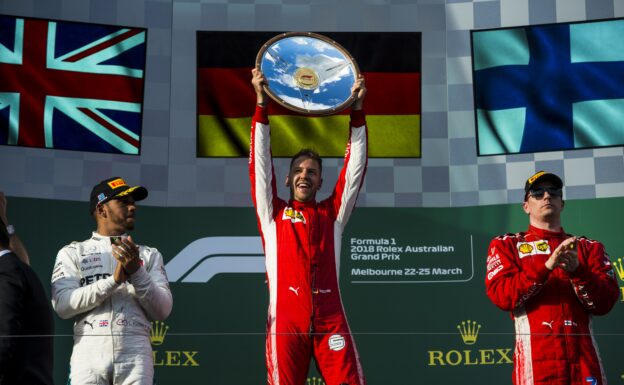 Event: Australian Grand Prix
Track: Albert Park Circuit
Weather: 23,9°C dry & sunny
Tarmac: 39,2°C dry
Humidity: 38,5%
Sebastian Vettel won the first grand prix of 2018 in Australia. It was his 48th F1 victory, podium no. 100 of his Formula 1 career and his 3rd win in Melbourne.
The Australian Grand Prix started without any incident. Max Verstappen (Red Bull) lost his 4th place to Haas driver Kevin Magnussen in the first corner.
In the 5th lap Williams driver and rookie Sergey Sirotkin retired his car due to a brake problem in the FW41. Marcus Ericsson had to come back to the pit, because his Sauber lost it's power steering that was caused by an hydraulic problem and also retired.
Verstappen was chasing down Magnussen but overheated his rear tires on that and spun in the first corner of lap 10. This spin costed him 2 places. His team mate Daniel Riccardo who started on 8th place also passed him on that moment.
The Toro Rosso fitted with the Honda engine this year pitted in lap 15 with engine problems. Kimi Raikkonen was the first car that pitted just to get fresh tires. He got soft Pirelli tires on his Ferrari SF71H and resumed his race.
Lewis Hamilton pitted the next lap and also got soft tires on his Mercedes W09. Sebastian Vettel pitted in lap 26 and got back on the track in front of a surprised Lewis Hamilton. The British drivers asked on the radio: "What happend? Did I make a mistake?"
Vettel was lucky to be able to pit in a virtual safety car period that was triggered by the retired VF-18 Haas car of Romain Grosjean who had a lose front left wheel after his first pit stop. A lap before the Haas car of Kevin Magnussen retired with exactly the same problem after his pit stop. Both Haas drivers had done great and were driving in the top 6.
The virtual safety car period was changed in a normal safety car period and in lap 32 the safety car drove into the pit. All drivers now were racing again and British driver Hamilton was giving it all to try and pass the Ferrari of Sebastian Vettel. It was a chase down to the finish line and both drivers were flat out! Vettel was able to maintain the gap between Hamilton above the 1 sec DRS distance. It also helped that Hamilton made a small error in corner 9 and ended up next to the track.
Hamilton's had to stop his attack because his rear tires were overheating and was nursing the car to the finish. Vettel won the first race of 2018, just like he did last year.
See the 2018 Australian F1 GP pictures
See current 2018 F1 Championship Standings
See current 2018 F1 Calendar
See All Time F1 Drivers Rankings
See All Time F1 Driver Records
See All Time F1 Teams Rankings
F1 classification 2018 Australian GP
| P | No | Driver | Team | Time | Laps | Grid | Pts |
| --- | --- | --- | --- | --- | --- | --- | --- |
| 1 | 5 | Sebastian Vettel | Ferrari | 01:29:33.283 | 58 | 3 | 25 |
| 2 | 44 | Lewis Hamilton | Mercedes | 01:29:38.319 | 58 | 1 | 18 |
| 3 | 7 | Kimi Räikkönen | Ferrari | 01:29:39.592 | 58 | 2 | 15 |
| 4 | 3 | Daniel Ricciardo | Red Bull | 01:29:40.352 | 58 | 8 | 12 |
| 5 | 14 | Fernando Alonso | McLaren | 01:30:01.169 | 58 | 10 | 10 |
| 6 | 33 | Max Verstappen | Red Bull | 01:30:02.228 | 58 | 4 | 8 |
| 7 | 27 | Nico Hülkenberg | Renault | 01:30:05.954 | 58 | 7 | 6 |
| 8 | 77 | Valtteri Bottas | Mercedes | 01:30:07.622 | 58 | 15 | 4 |
| 9 | 2 | Stoffel Vandoorne | McLaren | 01:30:08.204 | 58 | 11 | 2 |
| 10 | 55 | Carlos Sainz | Renault | 01:30:19.005 | 58 | 9 | 1 |
| 11 | 11 | Sergio Pérez | Force India | 01:30:20.100 | 58 | 12 | 0 |
| 12 | 31 | Esteban Ocon | Force India | 01:30:33.561 | 58 | 14 | 0 |
| 13 | 16 | Charles Leclerc | Sauber | 01:30:49.042 | 58 | 18 | 0 |
| 14 | 18 | Lance Stroll | Williams | 01:30:51.571 | 58 | 13 | 0 |
| 15 | 28 | Brendon Hartley | Toro Rosso | 01:29:55.759 | 57 | 16 | 0 |
| DNF | 8 | Romain Grosjean | Haas | Wheel nut | 24 | 6 | 0 |
| DNF | 20 | Kevin Magnussen | Haas | Wheel nut | 22 | 5 | 0 |
| DNF | 10 | Pierre Gasly | Toro Rosso | Power unit | 13 | 20 | 0 |
| DNF | 9 | Marcus Ericsson | Sauber | Hydraulics | 5 | 9 | 0 |
| DNF | 35 | Sergey Sirotkin | Williams | Brakes | 4 | 19 | 0 |
Fastest lap:  1:25.945 min by Daniel Ricciardo (Red Bull RB14) on lap 54 @222.128 km/h
Highest speed: 319,7 km/h by Nico Hulkenberg (Renault RS18)
---
✅ Check out more posts with related topics: