Race Results 2022 Abu Dhabi F1 Grand Prix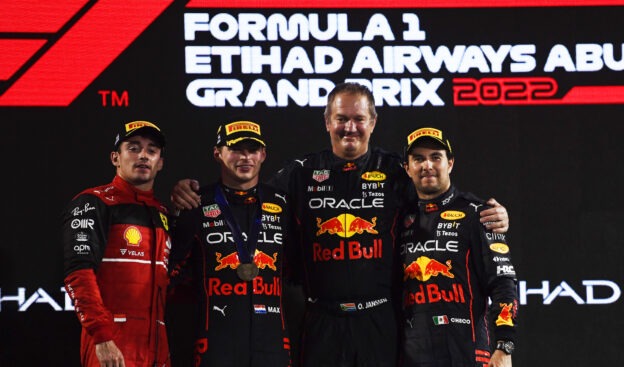 Event: Abu Dhabi Grand Prix
Track: Yas Marina Circuit
Weather: dry 27.9°C
Tarmac: dry  31.7°C
Humidity: 67%
Wind: 2.5 m/s SW
Pressure: 1014 bar
Max Verstappen won his 35th F1 race during the 2022 Abu Dhabi F1 Grand Prix today. The Red Bull driver started from pole position and won on Yas Marina circuit for the third time. It was a record braking 15th win of the season. For his Red Bull Racing F1 team it was the 92nd race win today.
2022 Abu Dhabi F1 GP Race Report
it was Sebastian Vettel's final F1 race. It was the 300th race entry for the four times drivers' world champions. The start of the race was clean and all driver got away great. Both Mercedes drivers had the best start of the top 6 and Mercedes driver Lewis Hamilton passed Ferrari driver Carlos Sainz for P4. The complete top 15 started on the Medium compound Pirelli tyres.
Sergio Pérez almost came close at turn 1 with his Red Bull teammate Max Verstappen, but kept it clean. Then a few turns later in turn 5 Ferrari driver Charles Leclerc who started from P3 and was still fighting for P2 in the F1 drivers' championship, tried to pass his rival right away, but couldn't.
Behind him Mercedes driver Lewis Hamilton and Ferrari driver Carlos Sainz were fighting at the end of the first long straight in the braking sone of turn 6. Sainz did a perfect move and got alongside Hamilton. Hamilton decided to bail out and cut turn 6, just as he did a year before when Max Verstappen did the same move. Hamilton keep in front of Sainz, but had to give up his position to not receive a penalty in lap 5.
McLaren driver Lando Norris had a great start and passed Mercedes driver George Russell for P5. He was repassed by Russell in lap 5. Behind them Aston Martin driver Sebastian Vettel had a great fight with Alpine driver Esteban Ocon for P8. In lap 9 Russell overtook his teammate Hamilton for P5 as Sainz had pulled away from both Mercedes drivers on P4. Hamilton was complaining about losing power towards his team on the radio.
In lap 16 of the race Sergio Pérez was the first to do a pitstop and switched from the Medium to the Hard tyre compounds. Norris and Russell also pitted and Russell received a 5 second penalty for an unsafe release.
Pérez lost a bit of time getting behind Vettel after his pitstop. At that moment Hamilton did his pitstop for a fresh set of Hards. Vettel who was on a one stopper while the rest of the grid was on a two stopper. It looked like it would work out at first, but later on he lost a lot places and even couldn't keep his teammate Lance Stroll behind him.
Halfway the race Verstappen was still in front, while Pérez was second on 2.5 sec. Behind him Leclerc was only 1.7s behind. Sainz was behind him on 2 sec. In lap 34 Pérez pitted for a new set of Hard tyres and came back on a clear piece of track in front of Norris on P6.
Maybe Red Bull expected Leclerc also to pit, but they didn't. In lap 39 Williams Nicholas Latifi got hit at the rear by Mick Schumacher in the Haas at turn 5. Both were able to continue and Schumacher received a 5 second penalty and two points on his licence for it. Sainz who was on P4 did do a second pitstop and returned to the track on P5.
Because Leclerc didn't pit, Pérez had to pass Hamilton for P4 and got tangled in a good fight. It seemed like Hamilton wanted to give him some payback for last year, when his pace got compromised on his run. In lap 55 Hamilton had to retire with a hydraulic issue.
In the last lap Pérez got close to his championship rival Leclerc but couldn't attack him for P2 in the race. Leclerc did everything right by finishing in front of Pérez and secure his second place in the F1 drivers championship.
Classification 2022 Abu Dhabi F1 GP
| P | No | Driver | Team | Time | Laps | Grid | Pts |
| --- | --- | --- | --- | --- | --- | --- | --- |
| 1 | 1 | Max Verstappen | Red Bull | 01:27:45.914 | 58 | 1 | 25 |
| 2 | 16 | Charles Leclerc | Ferrari | 01:27:54.685 | 58 | 3 | 18 |
| 3 | 11 | Sergio Pérez | Red Bull | 001:27:56.007 | 58 | 2 | 15 |
| 4 | 55 | Carlos Sainz | Ferrari | 01:28:10.806 | 58 | 4 | 12 |
| 5 | 63 | George Russell | Mercedes | 01:28:21.802 | 58 | 6 | 10 |
| 6 | 4 | Lando Norris | McLaren | 01:28:42.148 | 58 | 7 | 9 |
| 7 | 31 | Esteban Ocon | Alpine | 01:28:43.154 | 58 | 8 | 6 |
| 8 | 18 | Lance Stroll | Aston Martin | 01:29:02.845 | 58 | 14 | 4 |
| 9 | 3 | Daniel Ricciardo | McLaren | 01:29:09.182 | 58 | 13 | 2 |
| 10 | 5 | Sebastian Vettel | Aston Martin | 01:29:09.812 | 58 | 9 | 1 |
| 11 | 22 | Yuki Tsunoda | AlphaTauri | 01:29:15.285 | 58 | 11 | 0 |
| 12 | 24 | Zhou Guanyu | Alfa Romeo | 01:28:04.964 | 57 | 15 | 0 |
| 13 | 23 | Alex Albon | Williams | 01:28:05.844 | 57 | 19 | 0 |
| 14 | 10 | Pierre Gasly | AlphaTauri | 01:28:06.463 | 57 | 17 | 0 |
| 15 | 77 | Valtteri Bottas | Alfa Romeo | 01:28:15.617 | 57 | 18 | 0 |
| 16 | 47 | Mick Schumacher | Haas | 01:28:29.984 | 57 | 12 | 0 |
| 17 | 20 | Kevin Magnussen | Haas | 01:28:36.642 | 57 | 16 | 0 |
| DNF | 44 | Lewis Hamilton | Mercedes | Hydraulics | 55 | 5 | 0 |
| DNF | 6 | Nicholas Latifi | Williams | Collision damage | 55 | 20 | 0 |
| DNF | 14 | Fernando Alonso | Alpine | Power Unit | 27 | 10 | 0 |
Fastest lap: 1:28.3391 by Lando Norris, McLaren #4 in lap 44 @215.085 km/h
✅ Check out F1 Standings 2022 Championship
✅ Check out F1 Super Licence Penalty Points Overview
✅ Check out F1 2022 Calendar
✅ Check out All Time F1 Drivers Rankings
✅ Check out All Time F1 Driver Records
✅ Check out All Time F1 Teams Ranking
---
✅ Check out more posts with related topics: