Race Results 2021 Russian F1 Grand Prix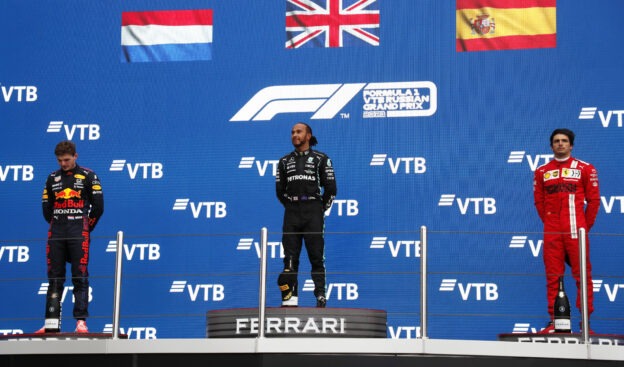 Event: Russian Grand Prix
Track: Sochi Street circuit
Weather: dry/wet  17.4°C
Tarmac: dry/wet  19.0°C
Humidity: 72.1%
Wind: 0.3 m/s N
Pressure: 1023.1 bar
Lewis Hamilton scored his 100th race win today. The British champ won the Russian F1 GP for the 5th time. It was also his 5th race win of the 2021 season. The Mercedes driver started from P4 and kept his head cool when the rain came, and took the lead from Norris just three laps before the finish. It was the 120th race win for Mercedes.
Race Report 2021 Russian F1 GP
At the start of the race the track was dry, although the weather predictions showed the chance of rain was still huge. All cars were fitted with dry slick tyres, the top 5 had chosen for the medium tyres. The back of the grid with Ferrari driver Charles Leclerc, Red Bull championship leader Max Verstappen and Mercedes driver Valtteri Bottas all had chosen for the hard tyre.
The top three of the grid with Lando Norris (McLaren) on pole, Carlos Sainz (Ferrari) 2nd and George Russell (Williams) third, all had never won a GP. The last time the top three of the start grid had never won a race, was back in 1975.
All cars got away clean and the top 3 had a great getaway. Mercedes driver Lewis Hamilton did not have a good start again, but was able to get a great tow behind the McLaren of Daniel Ricciardo who had passed him at the start towards turn 1. Hamilton also got a tow of Lando Norris, who started from P1, but could not make the most of it, because Norris blocked him. Ferrari driver Carlos Sainz was able to make the most of his P2 start and past Norris to snatch the lead coming on to turn 2.
Alpine driver Fernando Alonso had to go wide at turn 2 to avoid a collision with Russell in the braking zone of turn 2, he slammed the gas on the escape road and got back on track as 5th. In lap 1 Hamilton was a bit to cautious and ended up as 6th.
Aston Martin driver Lance Stroll had a great first lap and won 3 places to run around on P4. Championship leader Max Verstappen who started as death last also had past several cars and was driving on P17 after the first lap.
In lap 2 Hamilton overtook Alonso for P5 and Verstappen overtook Haas driver Nikita Mazepin for P15. One lap later Mercedes driver Valtteri Bottas drove the fastest lap of the race up till then. The Finn who started from P16 had a strong start of the race but wasn't able to hold of charging Red Bull Racing driver Verstappen for long and saw him come along side in lap 6 to overtake him for P14.
The Dutchman was on a mission to get to the podium and passed is old teammate Pierre Gasly in the AlphaTauri for P13 in lap 9. Meanwhile a battle for the lead was going on between Norris and Sainz, Norris was able to use DRS now, but still wasn't able to pass his former teammate.
In lap 10 Verstappen almost lost his front wing, when Aston Martin driver Sebastian Vettel and Ferrari driver Leclerc had a fierce fight for P10. His amazing reaction time saved his front wing, when Leclerc almost pushed him into the wall. The Dutchman was patient enough and avoid a collision and overtook Leclerc at turn 13 a few moments later.
One lap later Norris did all he could and even drove the fastest lap of the race to get in front of Sainz. In lap 13 the other Aston Martin driver Lance Stroll was the first to pit for a fresh set of tyres. The Canadian driver switched from Medium to Hard tyres and lost 10 places and return to the track as 15th. At the same moment Norris passed Sainz for the lead at turn 13 with DRS. On the same lap Verstappen passed Vettel for P10 at the same corner.
One lap later P3 started George Russell pitted with the Williams still from P3. He also switched from the Mediums to the Hard tyres and dropped back to P15. Sainz did the same one lap later, but came back to the track on P13 right in front of Stroll. One lap after that Verstappen clocked the fastest lap of the race with a 1:40.295 min.
the other McLaren driver Ricciardo had a slow pitstop to get a set of hard tyres and dropped from P2 to P14 in lap 23. Verstappen was complaining the next lap about his car on the radio and said he was having trouble to turn the car.
Ricciardo who had a new set of tyres clocked the quickest lap at the same time to lift it up to 1:39.124 min. Hamilton and Verstappen did their one and only pitstop of the race. Hamilton switched from medium to hard, while Verstappen switched from hard to medium tyres a few moments later on the same lap. Hamilton was dropped back from P2 to P9 and Verstappen dropped back from P6 to P12.
Hamilton was now just behind Sainz Ferrari. Race leader Norris did his pitstop a few lap later in Lap 28 and also swtiched from mediums to hard tyres. He only lost 3 places and got back on the track on P4.
The other Mercedes driver Bottas made his pitstop in lap 29 to switch from hard to medium and dropped back to P16 again, while Verstappen clocked the fastest lap again.
Now Hamilton was flying around the Sochi street track and  passed Sainz for P6 in lap 30 and got Gasly one lap later for P5. Ricciardo who was also going strong overtook Stroll for P8 in lap 32, the Australian couldn't do nothing about Hamilton getting fastest lap, who clocked a 1:38.009. Verstappen followed Ricciardo's example and also passed Stroll to get P9 in the same lap.
After his pitstop Hamilton was 13 sec. behind the the virtual race leader Norris, but in lap 32 the 7 times champ had reduced his gap to only 6s.
In lap 34 Gasly did his pitstop to go from medium to hard tyres and Mick Schumacher was asked to retire the Haas car with a technical problem. On the track Hamilton was powering down his gap to Leclerc and passed the Monegasque Ferrari driver for P4. Leclerc had enough and did his pitstop to also switch from the Hard tyres to the Mediums. His pitstop was a bit slow and took 4.8 sec. He dropped from P4 to P13. Alonso and Perez followed his example and also made their pitstop. Alonso had a quick good stop of only 3s. while Perez his stop took 8.9s and dropped back to P15.
The race went on and all drivers seem to settle a bit to save fuel and tyres when Leclerc told his team on the radio he experienced light drops. Norris was still able to drive the quickest race lap of the race. The gap between him and Hamilton now had shrunk to only 1.2 sec., his fellow countryman was sniffing for an opportunity, but couldn't get close enough to overtake Norris.
The rain was clearly on the horizon, but it wasn't until lap 43 when Russell told his team he saw raindrops in turn 10. Perez overtook Ricciardo for P4 in this lap. Two laps later in lap 46, you could see the crowd reach for their umbrellas and raincoats. All driver still were driving on dry weather slick tyres, but Norris did go wide at turn 10 and Hamilton now was right on his tail.
Perez was going great and in lap 48 the Mexican now even had passed Sainz for P3. The rain got heavier each second, but Norris and Hamilton still didn't pit for intermediate tyres, while several driver did. One lap later in lap 49 Hamilton did listen to his team and pitted for a set of intermediate tyres.
Race leader Norris refused and gave his team a "NO", when they asked him to pit for intermediates. The young driver had it wrong and drove into a wall of water a few moments later. Hamilton who now was driving on a set of new intermediates took the lead, while Norris spun on his slicks at turn 4. Norris now was even struggling to the power down.
Verstappen who also pitted for intermediates at a perfect moment passed a lot of cars and drove on P3, was also on the tail of Norris at the end of lap 51. When Norris pitted the Dutch driver who start as death last on P20 now moved up to finish as second.
Classification 2021 Russian GP
| P | No | Driver | Team | Time | Laps | Grid | Pts |
| --- | --- | --- | --- | --- | --- | --- | --- |
| 1 | 44 | Lewis Hamilton | Mercedes | 01:30:41.001 | 53 | 4 | 25 |
| 2 | 33 | Max Verstappen | Red Bull | 01:31:34.272 | 53 | 20 | 18 |
| 3 | 55 | Carlos Sainz | Ferrari | 01:31:43.476 | 53 | 2 | 15 |
| 4 | 3 | Daniel Ricciardo | McLaren | 01:31:46.608 | 53 | 5 | 12 |
| 5 | 77 | Valtteri Bottas | Mercedes | 01:31:48.534 | 53 | 5 | 10 |
| 6 | 14 | Fernando Alonso | Alpine | 01:32:02.322 | 53 | 6 | 8 |
| 7 | 4 | Lando Norris | McLaren | 01:32:08.225 | 53 | 1 | 7 |
| 8 | 7 | Kimi Räikkönen | Alfa Romeo | 01:32:09.956 | 53 | 13 | 4 |
| 9 | 11 | Sergio Pérez | Red Bull | 01:32:11.077 | 53 | 8 | 2 |
| 10 | 63 | George Russell | Williams | 01:32:21.552 | 53 | 3 | 1 |
| 11 | 18 | Lance Stroll | Aston Martin | 01:32:37.199 | 53 | 7 | 0 |
| 12 | 5 | Sebastian Vettel | Aston Martin | 01:30:42.256 | 52 | 10 | 0 |
| 13 | 10 | Pierre Gasly | AlphaTauri | 01:31:17.819 | 0 | 11 | 0 |
| 14 | 31 | Esteban Ocon | Alpine | 01:31:30.744 | 52 | 9 | 0 |
| 15 | 16 | Charles Leclerc | Ferrari | 01:31:38.660 | 52 | 19 | 0 |
| 16 | 99 | Antonio Giovinazzi | Alfa Romeo | 01:32:03.513 | 52 | 17 | 0 |
| 17 | 22 | Yuki Tsunoda | AlphaTauri | 01:32:22.488 | 52 | 12 | 0 |
| 18 | 9 | Nikita Mazepin | Haas | 01:30:57.024 | 51 | 15 | 0 |
| DNF | 6 | Nicholas Latifi | Williams | Collision damage | 47 | 18 | 0 |
| DNF | 47 | Mick Schumacher | Haas | Technical | 32 | 14 | 0 |
Penalties:
Lance Stroll, Aston Martin (no.18) - 10 second time penalty - Causing a collision
Fastest lap: 1:37.423 min by Lando Norris, McLaren (no.4) in lap 39 @216.096 km/h
✅ Check out F1 Standings 2021 Championship
✅ Check out F1 Teams & Drivers 2021 Overview
✅ Check out F1 2021 Calendar
✅ Check out All Time F1 Drivers Rankings
✅ Check out All Time F1 Driver Records
✅ Check out All Time F1 Teams Ranking
---
✅ Check out more posts with related topics: