Race Results 2018 Brazilian F1 Grand Prix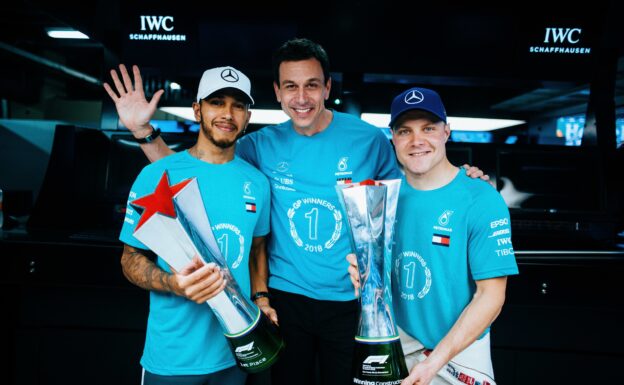 Event: Brazilian Grand Prix
Track: Autodromo Interlagos
Weather:  Dry,  24ºC
Tarmac: Dry 43ºC
Wind speed: 9.7 km/h
Humidity: 73%
Lewis Hamilton won the 2018 Brazilian Formula 1 Grand Prix for the second time in his career  It was his 72nd win, his 10th win of the 2018 season and the 86th victory for Mercedes. The Mercedes F1 team also won the constructors title by finishing on P1 & P5.
The track was dry at the start of the 2018 Brazilian  Formula 1 Grand Prix. The complete grid started without any collisions. Max Verstappen overtook the Ferrari of Kimi Raikkonen in the SS's but Raikkonen claimed his P4 back at the back straight.
In lap 2 Verstappen overtook Raikkonen for P4 and also claimed P3 of Vettel in turn 1 of lap 3. Vettel's team mate Raikkonen also passed Vettel in turn 5.
Max Verstappen was pushing hard and was on full attack to get P2 from Bottas. In turn 1 of lap 10 Verstappen passed the Finnish driver with a brave move and drove away to go and attack P1 from Hamilton.
In lap 16 Fernando Alonso was the first to do a pit stop with the McLaren. In lap 19 it was Valtteri Bottas who pitted to switch from Supersoft to Medium tyres. Hamilton went in the next lap and also switched from Supersoft to Medium (white) tyres. He fell back to P7 and Verstappen got the lead and improved the quickest lap time of the race.
Marcus Ericsson saw his best grid spot (P6) going up in smoke and retired in lap 22 because of to much collision damage on the Sauber. Sebastian Vettel pitted in lap 28. He also switched to Medium tyres in a very quick pitstop of 1.9 seconds. Raikkonen did his pitstop in lap 32 and also got fitted with Medium tyres.
Renault called-in Nico Hulkenberg in lap 34 for scenario 12; retirement. In lap 35 race leader Verstappen switched from Supersoft to Soft (yellow) tyres. His pitstop was quite slow with 3 sec., he returned to the track on P2 right behind Hamilton. In lap 40 the Dutchman passed the Mercedes of Hamilton for the lead again.
In lap 44 race leader Verstappen spun when he got hit by lapped Esteban Ocon's Force India. The Frenchman didn't leave enough space for Verstappen and also spun. Hamilton got the lead as a present from the Mercedes powered Force India driver.
Vettel did a second pitstop in lap 54. He switched from Medium to Supersoft. Hamilton's tyres also didn't look very fresh, but he stayed out. Ricciardo showed again a great move on Bottas and claimed P4 from the Mercedes driver. The Finn got fresh tyres ride away to cover his P5 to Vettel.
In the last stage of the race we saw Daniel Ricciardo pushing for the podium place of Raikkonen who was driving in front of the Red Bull on less of a second. Verstappen had closed the gap to race leader Hamilton to 1.6 seconds in the penultimate lap.
✅ Check out 2018 Brazilian F1 GP pictures
✅ Check out 2018 F1 Championship Standings
✅ Check out 2018 F1 Calendar
✅ Check out 2018 Used F1 Power Unit Elements
✅ Check out All Time F1 Drivers Rankings
✅ Check out All Time F1 Teams Rankings
✅ Check out All Time Country Rankings
✅ Check out All F1 Drivers Records
F1 classification 2018 Brazilian GP
| P | No | Driver | Team | Time | Laps | Grid | Pts |
| --- | --- | --- | --- | --- | --- | --- | --- |
| 1 | 44 | Lewis Hamilton | Mercedes | 01:27:09.066 | 71 | 1 | 25 |
| 2 | 33 | Max Verstappen | Red Bull | 01:27:10.535 | 71 | 5 | 18 |
| 3 | 7 | Kimi Räikkönen | Ferrari | 01:27:13.830 | 71 | 4 | 15 |
| 4 | 3 | Daniel Ricciardo | Red Bull | 01:27:14.259 | 71 | 11 | 12 |
| 5 | 77 | Valtteri Bottas | Mercedes | 01:27:32.009 | 71 | 3 | 10 |
| 6 | 5 | Sebastian Vettel | Ferrari | 01:27:36.063 | 71 | 2 | 8 |
| 7 | 16 | Charles Leclerc | Sauber | 01:27:53.265 | 71 | 7 | 6 |
| 8 | 8 | Romain Grosjean | Haas | 01:28:00.296 | 71 | 8 | 4 |
| 9 | 20 | Kevin Magnussen | Haas | 01:28:01.923 | 71 | 10 | 2 |
| 10 | 11 | Sergio Pérez | Racing Point | 01:27:17.886 | 70 | 12 | 1 |
| 11 | 28 | Brendon Hartley | Toro Rosso | 01:28:08.494 | 70 | 16 | 0 |
| 12 | 55 | Carlos Sainz | Renault | 01:28:09.355 | 70 | 15 | 0 |
| 13 | 10 | Pierre Gasly | Toro Rosso | 01:28:12.798 | 70 | 9 | 0 |
| 14 | 31 | Esteban Ocon | Racing Point | 01:28:15.651 | 70 | 18 | 0 |
| 15 | 2 | Stoffel Vandoorne | McLaren | 01:28:19.332 | 70 | 20 | 0 |
| 16 | 35 | Sergey Sirotkin | Williams | 01:27:25.980 | 69 | 14 | 0 |
| 17 | 14 | Fernando Alonso | McLaren | 01:27:32.461 | 69 | 17 | 0 |
| 18 | 18 | Lance Stroll | Williams | 01:27:44.176 | 69 | 19 | 0 |
| DNF | 27 | Nico Hülkenberg | Renault | Power unit | 43 | 13 | 0 |
| DNF | 9 | Marcus Ericsson | Sauber | Collisiion damage | 22 | 6 | 0 |
Notes:
Car 14 - Fernando Alonso (McLaren) received a 5 sec. time penalty for ignoring blue flags
Car 2 -Stoffel Vandoorne (McLaren) received a 5 sec. time penalty for ignoring blue flags
---
Fastest lap: 1:10.540 min by Valtteri Bottas (Mercedes) on lap 65 @219.909 km/h
Highest speed: 345.8 km/h by Esteban Ocon (Force India)
---
✅ Check out more posts with related topics: