Race Results 2017 Mexico F1 grand prix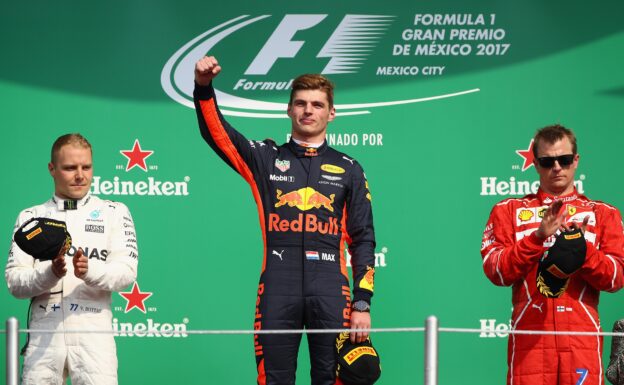 Event: Mexico Grand Prix  
Track: Autodromo Hermanos Rodriguez.
Weather: 21°C dry & sunny
Tarmac: 41°C dry
Max Verstappen won his 3rd race in his F1 career and the 2nd of the 2017 season. The Dutch driver started the 2017 Mexican GP as 2nd and passed pole sitter Sebastian Vettel in the first chicane.
In this chicane Sebastian Vettel hit Max Verstappen and Lewis Hamilton with his front wing on their rear right tyre. Hamilton got a puncture because of this action of Vettel and had to pit and got soft (yellow) tyres and rejoined the race as last.
Vettel also had to pit to replace his damaged front wing on the Ferrari SF70H and also got soft tyres and rejoined as 19th. He charged to pass as much drivers as he could and was driving as 15th in lap 15. He then kept on passing cars, because this was this was a unique opportunity to hold off Hamilton from his 4th drivers title. If Vettel was able to finish 2nd and Hamilton scored no points it would all come done to the last 2 races.
Hamilton could not get up to speed on the soft tyres and it took several laps before he even could pass the Saubers. He also seemed to have a lot of downforce loss, when approaching cars in front of him. Eventually he pitted and got up to speed on the super soft Pirelli's  He could pass a lot of cars with DRS on the long straight and had a great fight with Fernando Alonso in the McLaren.
Hamilton finished 9th and Vettel 4th. This 9th place of Hamilton was enough to win his 4th drivers title. The point difference of 55 points between them did the trick. In the last 2 races on the calendar there are 50 points to win when finishing 1st. So if Hamilton would retire 2 times and Vettel would win both races he would not win enough points to be pass him in the drivers standings.
F1 classification 2017 Mexico GP
| P | No | Driver | Team | Time | Laps | Grid | Pts |
| --- | --- | --- | --- | --- | --- | --- | --- |
| 1 | 33 | Max Verstappen | Red Bull | 01:36:26.552 | 71 | 2 | 25 |
| 2 | 77 | Valtteri Bottas | Mercedes | 01:36:46.230 | 71 | 4 | 18 |
| 3 | 7 | Kimi Räikkönen | Ferrari | 01:37:20.559 | 71 | 5 | 15 |
| 4 | 5 | Sebastian Vettel | Ferrari | 01:37:36.630 | 71 | 1 | 12 |
| 5 | 31 | Esteban Ocon | Force India | 01:36:37.375 | 70 | 6 | 10 |
| 6 | 18 | Lance Stroll | Williams | 01:36:38.802 | 70 | 11 | 8 |
| 7 | 11 | Sergio Pérez | Force India | 01:36:41.739 | 70 | 9 | 6 |
| 8 | 20 | Kevin Magnussen | Haas | 01:37:14.863 | 70 | 14 | 4 |
| 9 | 44 | Lewis Hamilton | Mercedes | 01:37:15.476 | 70 | 3 | 2 |
| 10 | 14 | Fernando Alonso | McLaren | 01:37:18.358 | 70 | 18 | 1 |
| 11 | 19 | Felipe Massa | Williams | 01:37:22.845 | 70 | 10 | 0 |
| 12 | 2 | Stoffel Vandoorne | McLaren | 01:37:23.430 | 70 | 19 | 0 |
| 13 | 10 | Pierre Gasly | Toro Rosso | 01:37:41.491 | 70 | 20 | 0 |
| 14 | 94 | Pascal Wehrlein | Sauber | 01:36:40.751 | 69 | 13 | 0 |
| 15 | 8 | Romain Grosjean | Haas | 01:36:54.068 | 69 | 15 | 0 |
| DNF | 55 | Carlos Sainz | Renault | Steering | 59 | 8 | 0 |
| DNF | 9 | Marcus Ericsson | Sauber | Power unit | 55 | 12 | 0 |
| DNF | 28 | Brendon Hartley | Toro Rosso | Power unit | 30 | 17 | 0 |
| DNF | 27 | Nico Hülkenberg | Renault | Power unit | 24 | 7 | 0 |
| DNF | 3 | Daniel Ricciardo | Red Bull | Turbo failure | 5 | 16 | 0 |
Fastest lap: 1:18.785 min in lap 68 by Sebastian Vettel, Ferrari SF70H
Highest speed: 362.4 km/h by Sebastian Vettel, Ferrari SF70H
✅ Check out 2017 F1 Championship Standings
✅ Check out 2017 F1 Teams & Drivers
✅ Check out All Time F1 Drivers Rankings
✅ Check out All Time F1 Driver Records
✅ Check out All Time F1 Teams Rankings
---
✅ Check out more posts with related topics: