Race Results 2017 British F1 Grand Prix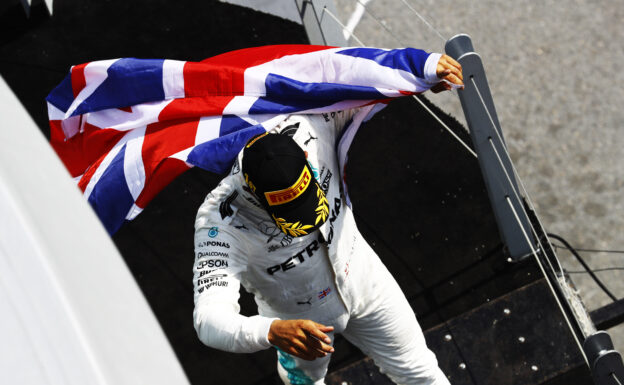 Event: British Grand Prix
Track: Silverstone Circuit
Weather: Sunny, Clear Sky, 23ºC
Tarmac: Dry 30ºC
Lewis Hamilton won the 2017 British grand prix for the 4th consecutive time today. He won his home grand prix for the 5th in total just like Alain Prost did.
It was Hamilton's 57th F1 race win and the 70th for the Mercedes F1 team. He also made it a perfect weekend by setting the qualification lap and fastest race lap ever on the "new" Silverstone circuit in lap 48. He broke the previous lap record of 2011, set by Mark Webber with the Red Bull RB7 with almost 3 seconds and average speed of 7 km/h faster.
His team mate Valteri Bottas made it a dream result by finishing second to score 1-2 finish number 38 for Mercedes. Bottas drove a very strong race, by starting on 9th place and finishing second behind his Mercedes team mate.
Kimi Raikkonen completed the podium for Ferrari by finishing 3rd. He aimed to finish 2nd, but a flat tyre spoiled his goal. Just as his team mate the Finn got a puncture and had to settle for 3rd. Vettel even had some more bad luck, after having a bad start, he ended up behind Max Verstappen.
Although Vettel was much faster than the Dutchman, he was having a hard time passing the Red Bull teenager. Vettel's luck changed when he pitted and Verstappen followed him the next lap. The pit stop of Red Bull was poor which cost him a second and Vettel could pass him and drive away.
In lap 49 Vettel got a puncture and had to pit, to drop from 3rd to 7th. He even got passed by Ricciardo who was having a great race by starting 19th on the grid and crossed the finish line as 5th.
F1 Classification 2017 British GP
| P | No | Driver | Team | Time | Laps | Grid | Pts |
| --- | --- | --- | --- | --- | --- | --- | --- |
| 1 | 44 | Lewis Hamilton | Mercedes | 01:21:27.430 | 51 | 1 | 25 |
| 2 | 77 | Valtteri Bottas | Mercedes | 01:21:41.493 | 51 | 9 | 18 |
| 3 | 7 | Kimi Räikkönen | Ferrari | 01:22:04.000 | 51 | 2 | 15 |
| 4 | 33 | Max Verstappen | Red Bull | 01:22:19.555 | 51 | 4 | 12 |
| 5 | 3 | Daniel Ricciardo | Red Bull | 01:22:33.385 | 51 | 19 | 10 |
| 6 | 27 | Nico Hülkenberg | Renault | 01:22:35.539 | 51 | 5 | 8 |
| 7 | 5 | Sebastian Vettel | Ferrari | 01:23:01.419 | 51 | 3 | 6 |
| 8 | 31 | Esteban Ocon | Force India | 01:21:29.920 | 50 | 7 | 4 |
| 9 | 11 | Sergio Pérez | Force India | 01:21:31.922 | 50 | 6 | 2 |
| 10 | 19 | Felipe Massa | Williams | 01:21:31.922 | 50 | 14 | 1 |
| 11 | 2 | Stoffel Vandoorne | McLaren | 01:21:36.659 | 50 | 8 | 0 |
| 12 | 20 | Kevin Magnussen | Haas | 01:21:42.959 | 50 | 16 | 0 |
| 13 | 8 | Romain Grosjean | Haas | 01:21:57.262 | 50 | 10 | 0 |
| 14 | 9 | Marcus Ericsson | Sauber | 01:21:57.262 | 50 | 18 | 0 |
| 15 | 26 | Daniil Kvyat | Toro Rosso | 01:22:19.190 | 50 | 12 | 0 |
| 16 | 18 | Lance Stroll | Williams | 01:22:27.376 | 50 | 15 | 0 |
| 17 | 94 | Pascal Wehrlein | Sauber | 01:22:29.106 | 50 | 17 | 0 |
| DNF | 14 | Fernando Alonso | McLaren | Technical | 32 | 20 | 0 |
| DNF | 55 | Carlos Sainz | Toro Rosso | Collision with Kvyat | 0 | 13 | 0 |
| DNF | 30 | Jolyon Palmer | Renault | Hydraulic | 0 | 11 | 0 |
Fastest lap:  1:30.621 min by Lewis Hamilton, Mercedes W08 @ 234.025 km/h
Highest speed:  330.6 km/h by Valtteri Bottas, Mercedes W08
✅ Check out 2017 F1 Championship Standings
✅ Check out 2017 F1 Teams & Drivers
✅ Check out All Time F1 Drivers Rankings
✅ Check out All Time F1 Driver Records
✅ Check out All Time F1 Teams Rankings
---
✅ Check out more posts with related topics: