2014 Australian Grand Prix F1 Race Results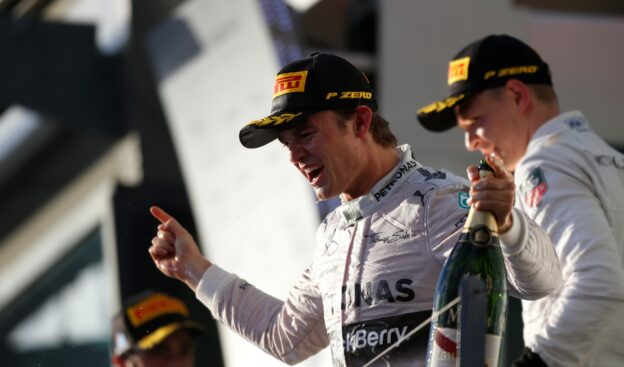 Event: Australian Grand Prix
Track: Albert Park Circuit
Weather: Dry
The first Formula 1 race of the 2014 F1 season is won by Nico Rosberg for the Mercedes F1 team. It's his 4th win of a F1 Grand Prix race and the 14th win for his team.
The 2014 Australian Grand Prix started of with a strange two out laps in which the two Marussia F1 drivers stalled their car and had to start from the pit lane.
After 4 laps pole sitter Lewis Hamilton retired with his Mercedes W05 and stopped in the pit.
One lap later 4 times World Champion Sebastian Vettel did the same with his Red Bull RB10. Both cars had to stop to save the engine. Drivers now only may use 5 new engines instead of 8 of last year.
Home racer Australian Daniel Ricciardo who replaced Mark Webber at Red Bull Racing this season, scored his first ever podium by finishing 2nd.
McLaren's Danish driver Kevin Magnussen also scored his first ever podium, but also raced his first race of his F1 career in Melbourne.
Unfortunately Daniel Ricciardo's Red Bull RB10 was disqualified due to new fuel flow regulations. Red Bull appealed to his disqualification. The hearing for this appeal will be on April 14th 2014 at FIA's headquarter in Paris.
Classification 2014 Australian F1 GP
| P | No | Driver | Team | Time | Laps | Grid | Pts |
| --- | --- | --- | --- | --- | --- | --- | --- |
| 1 | 6 | Nico Rosberg | Mercedes | 01:32:58.710 | 57 | 3 | 25 |
| 2 | 20 | Kevin Magnussen | McLaren | 01:33:25.487 | 57 | 4 | 18 |
| 3 | 22 | Jenson Button | McLaren | 01:33:28.737 | 57 | 10 | 15 |
| 4 | 14 | Fernando Alonso | Ferrari | 01:33:33.994 | 57 | 5 | 12 |
| 5 | 77 | Valtteri Bottas | Williams | 01:33:46.349 | 57 | 15 | 10 |
| 6 | 27 | Nico Hülkenberg | Force India | 01:33:49.428 | 57 | 7 | 8 |
| 7 | 7 | Kimi Räikkönen | Ferrari | 01:33:56.385 | 57 | 11 | 6 |
| 8 | 25 | Jean-Eric Vergne | Toro Rosso | 01:33:59.151 | 57 | 6 | 4 |
| 9 | 26 | Daniil Kvyat | Toro Rosso | 01:34:02.295 | 57 | 8 | 2 |
| 10 | 11 | Sergio Pérez | Force India | 01:34:24.626 | 57 | 16 | 1 |
| 11 | 99 | Adrian Sutil | Sauber | 01:33:06.852 | 56 | 13 | 0 |
| 12 | 21 | Esteban Gutierrez | Sauber | 01:33:12.956 | 56 | 20 | 0 |
| 13 | 4 | Max Chilton | Manor | 01:33:21.069 | 55 | 17 | 0 |
| NC | 17 | Jules Bianchi | Manor | +8 laps | 49 | 18 | 0 |
| DNF | 8 | Romain Grosjean | Lotus F1 | ERS | 43 | 22 | 0 |
| DNF | 13 | Pastor Maldonado | Lotus F1 | ERS | 29 | 21 | 0 |
| DNF | 9 | Marcus Ericsson | Caterham | Oil pressure | 27 | 19 | 0 |
| DNF | 1 | Sebastian Vettel | Red Bull | Power unit | 3 | 12 | 0 |
| DNF | 44 | Lewis Hamilton | Mercedes | Engine | 2 | 1 | 0 |
| DNF | 19 | Felipe Massa | Williams | Collision | 0 | 9 | 0 |
| DNF | 10 | Kamui Kobayashi | Caterham | Collision | 0 | 14 | 0 |
| DSQ | 3 | Daniel Ricciardo | Red Bull | Fuel flow rate | 57 | 2 | 0 |
Notes:
Valterri Bottas (Williams) qualified P10, but dropped 5 places due to gearbox change penalty.
Esteban Gutierrez (Sauber) qualified P19, but dropped 5 place due to gearbox change penalty.
Pastor Maldonado (Lotus) did not set Q3 time within 107%, but started the race at stewards' discretion.
Romain Grosjean (Lotus) started from pit lane due to parc ferme changes.
Daniel Ricciardo (Red Bull) was disqualified due to high fuel flow
Highest speed: 317 km/h by Valterri Bottas, Williams FW36
Fastest lap: 1:32,468 min by Nico Rosberg on lap 19
✅ Check out 2014 F1 drivers championship
✅ Check out 2014 F1 constructors championship
✅ Check out 2014 F1 Teams & Drivers
✅ Check out All Time F1 Drivers Rankings
✅ Check out All Time F1 Driver Records
✅ Check out All Time F1 Teams Rankings
---
✅ Check out more posts with related topics: