Race Report & Results 2023 Singapore F1 Grand Prix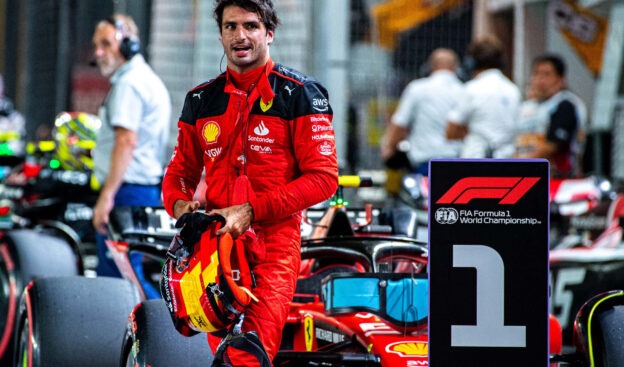 Event: Singapore Grand Prix
Track: Marina Bay Circuit
Weather: dry  29°C
Tarmac: dry  36°C
Humidity : 77%
Wind : 1 km/h S
Pressure: 1010 bar
Carlos Sainz won his 2nd F1 race at the 2023 Singapore F1 GP today. The Ferrari driver started from pole position and won on the Marina Bay circuit for the first time. It was also his 1st win of the season. Scuderia Ferrari scored their 243th race win.
Singapore Grand Prix Race Report
The Singapore Grand Prix under the lights delivered its usual mix of drama, strategy and intensity. Here's a race report of the thrilling action:
LAP 32-35: The narrative surrounding tyre wear took center stage with drivers like Verstappen lamenting the hard tyre's performance. Most of the drivers found the hard tyres challenging, comparing them to "driving on ice." Russell radioed his eagerness for a win, but his strategy and the difficulty in overtaking limited his options. At this point, the tension among teams about tire strategy and a potential late Safety Car added an element of unpredictability.
LAP 36-40: Red Bull's strategy was under the microscope. Verstappen and Perez's struggles showcased the difficulty of the Singapore Grand Prix. Perez's 250th race wasn't turning out as planned, as he was continuously overtaken. On the 40th lap, Red Bull made a pivotal decision, with Perez pitting for medium tyres. This raised questions about when Verstappen would come in and if Perez would undercut him.
LAP 41-45: Verstappen's pit-stop saw him barely avoiding a mistake as he almost crossed the white line. Despite a relatively slow pit stop for Red Bull standards, he still managed to rejoin ahead of Perez and Sargeant. As the race moved on, the Virtual Safety Car (VSC) was deployed due to Ocon's car emitting smoke, adding another layer of strategy into the mix. This VSC period saw teams like Mercedes making crucial pit decisions which shuffled the pack.
LAP 46-50: As the race resumed, Ferrari seemed in a strong position with Sainz leading and the Silver Arrows (Mercedes) trying to play catch-up. The gaps began to shrink, particularly as Mercedes cars showed tremendous pace, lapping considerably faster than the Ferraris. By the 50th lap, a potentially controversial pit exit incident was noted involving Perez and Albon.
LAP 51-55: Verstappen, on his fresh mediums, continued to claw his way through the field. Up front, Russell's gap to leader Sainz was diminishing at a rapid pace. However, Norris was proving to be an effective buffer for Ferrari, with his car positioned between the hard-charging Mercedes of Russell and leader Sainz.
LAP 56-59: The race was heading for a thrilling conclusion. Bottas retired with a gear shift issue, further underscoring the demanding nature of the Singapore circuit. The top four cars were all closely packed, and every move had implications for the race win. A stoppage by Albon added further tension but did not lead to a Safety Car.
LAP 60-62: With just a few laps to go, Sainz used his experience and strategy to back Norris into the Mercedes, using the DRS to his advantage. With Norris and Russell battling, it became clear that the Mercedes was struggling in the Ferrari's dirty air. With the intense squabbles and cars sliding around, Sainz looked to have sealed his victory, owing Norris a huge thank you.
FINAL LAP: In a season dominated by Red Bull, it was clear this race wasn't going their way. As Sainz began the final lap, drama struck when Russell, in a desperate attempt to overtake Norris, ended up crashing into the wall at Turn 10. This sealed the deal for Sainz and Ferrari, providing an unexpected yet thrilling end to a dramatic race under the Singapore lights.
This Singapore Grand Prix will surely be remembered not just for its intense on-track battles but also the strategic decisions made off it. A masterclass in tire strategy, teamwork, and the unpredictable nature of racing.
Classification 2023 Singapore F1 GP
| P | No | Driver | Team | Time | Laps | Grid | Pts |
| --- | --- | --- | --- | --- | --- | --- | --- |
| 1 | 55 | Carlos Sainz | Ferrari | 01:46:37.418 | 62 | 1 | 25 |
| 2 | 4 | Lando Norris | McLaren | +0 laps | 62 | 4 | 18 |
| 3 | 44 | Lewis Hamilton | Mercedes | +0 laps | 62 | 5 | 16 |
| 4 | 16 | Charles Leclerc | Ferrari | +0 laps | 62 | 3 | 12 |
| 5 | 1 | Max Verstappen | Red Bull | +0 laps | 62 | 11 | 10 |
| 6 | 10 | Pierre Gasly | Alpine | +0 laps | 62 | 12 | 8 |
| 7 | 81 | Oscar Piastri | McLaren | +0 laps | 62 | 17 | 6 |
| 8 | 11 | Sergio Pérez | Red Bull | +0 laps | 62 | 13 | 4 |
| 9 | 40 | Liam Lawson | AlphaTauri | +0 laps | 62 | 10 | 2 |
| 10 | 20 | Kevin Magnussen | Haas | +0 laps | 62 | 6 | 1 |
| 11 | 23 | Alex Albon | Williams | +0 laps | 62 | 14 | 0 |
| 12 | 24 | Zhou Guanyu | Alfa Romeo | +0 laps | 62 | | 0 |
| 13 | 27 | Nico Hülkenberg | Haas | +0 laps | 62 | 9 | 0 |
| 14 | 2 | Logan Sargeant | Williams | +0 laps | 62 | 18 | 0 |
| 15 | 14 | Fernando Alonso | Aston Martin | +0 laps | 62 | 7 | 0 |
| DNF | 63 | George Russell | Mercedes | Crashed | 61 | 2 | 0 |
| DNF | 77 | Valtteri Bottas | Alfa Romeo | Technical | 51 | 16 | 0 |
| DNF | 31 | Esteban Ocon | Alpine | Gearbox | 42 | 8 | 0 |
| DNF | 22 | Yuki Tsunoda | AlphaTauri | Collision damage | 0 | 15 | 0 |
| DNS | 18 | Lance Stroll | Aston Martin | Crashed in Q1 | 0 | 20 | 0 |
Fastest lap: 1:35.867 min by Lewis Hamilton, Mercedes W14 #44 on lap 47
✅ Check out F1 Standings 2023 Championship
✅ Check out F1 2023 Calendar
✅ Check out All Time F1 Drivers Rankings
✅ Check out All Time F1 Driver Records
✅ Check out All Time F1 Teams Ranking
---
✅ Check out more posts with related topics: