2015 Italian Grand Prix F1 Race Results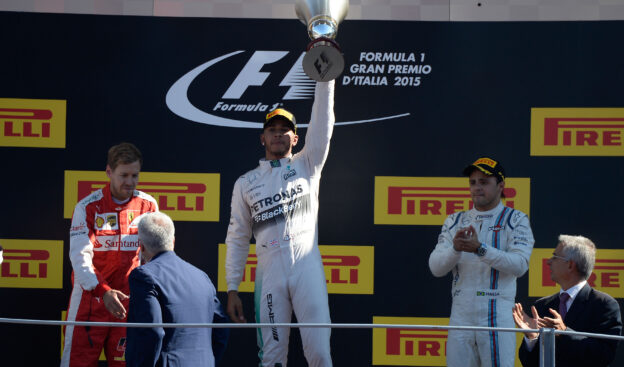 Event: Italian Grand Prix
Track: Autodromo Nazionale Monza
Weather: Dry, clear sky 22ºC
Tarmac: 38ºC
Lewis Hamilton has won the 2015 Italian F1 Grand Prix today with a big gap of 25 seconds to 2nd place finisher Ferrari driver Sebastian Vettel. The podium was completed by Williams driver Felipe Massa. Mercedes driver Nico Rosberg was driving on 3rd position when on lap 51 his power unit blew up.
British driver Hamilton won his 40th Formula 1 grand prix and the 39th race win for Mercedes. He now only has one race win less then legend Ayrton Senna had.
Kimi Raikkonen who qualified 2nd, his best qualifying since China 2013, had a very bad start that put him into last place in the first chicane. After 20 laps he passed a lot of cars and was driving on the 5th position already. Read more about the 2015 Italian Formula 1 grand prix race report.
Classification 2015 Italian F1 GP
| P | No | Driver | Team | Time | Laps | Grid | Pts |
| --- | --- | --- | --- | --- | --- | --- | --- |
| 1 | 44 | Lewis Hamilton | Mercedes | 01:18:00.688 | 53 | 1 | 25 |
| 2 | 5 | Sebastian Vettel | Ferrari | 01:18:25.730 | 53 | 3 | 18 |
| 3 | 19 | Felipe Massa | Williams | 01:18:48.323 | 53 | 5 | 15 |
| 4 | 77 | Valtteri Bottas | Williams | 01:18:48.684 | 53 | 6 | 12 |
| 5 | 7 | Kimi Räikkönen | Ferrari | 01:19:09.548 | 53 | 2 | 10 |
| 6 | 11 | Sergio Pérez | Force India | 01:19:13.471 | 53 | 7 | 8 |
| 7 | 27 | Nico Hülkenberg | Force India | 01:18:03.505 | 52 | 9 | 6 |
| 8 | 3 | Daniel Ricciardo | Red Bull | 01:18:04.250 | 52 | 19 | 4 |
| 9 | 9 | Marcus Ericsson | Sauber | 01:18:04.008 | 52 | 12 | 2 |
| 10 | 26 | Daniil Kvyat | Red Bull | 01:18:11.576 | 52 | 18 | 1 |
| 11 | 55 | Carlos Sainz | Toro Rosso | 01:18:15.250 | 52 | 17 | 0 |
| 12 | 33 | Max Verstappen | Toro Rosso | 01:18:31.117 | 52 | 20 | 0 |
| 13 | 12 | Felipe Nasr | Sauber | 01:18:52.603 | 52 | 11 | 0 |
| 14 | 22 | Jenson Button | McLaren | 01:19:15.105 | 52 | 15 | 0 |
| 15 | 28 | Will Stevens | Manor | 01:19:03.683 | 51 | 13 | 0 |
| 16 | 98 | Roberto Merhi | Manor | 01:19:16.777 | 51 | 14 | 0 |
| 17 | 6 | Nico Rosberg | Mercedes | Power unit | 50 | 4 | 0 |
| 18 | 14 | Fernando Alonso | McLaren | Electrical control board | 47 | 16 | 0 |
| DNF | 8 | Romain Grosjean | Lotus F1 | Collision damage | 1 | 8 | 0 |
| DNF | 13 | Pastor Maldonado | Lotus F1 | Broken chassis | 1 | 10 | 0 |
Fastest lap: Lewis Hamilton, Mercedes W06 - 1:26.672 on lap 48, average speed 240.617 km/h
✅ Check out 2015 F1 drivers championship
✅ Check out 2015 F1 constructors championship
✅ Check out 2015 F1 Teams & Drivers
✅ Check out All Time F1 Drivers Rankings
✅ Check out All Time F1 Driver Records
✅ Check out All Time F1 Teams Rankings
---
✅ Check out more posts with related topics: