Lap times 1st practice 2014 Monaco F1 Grand Prix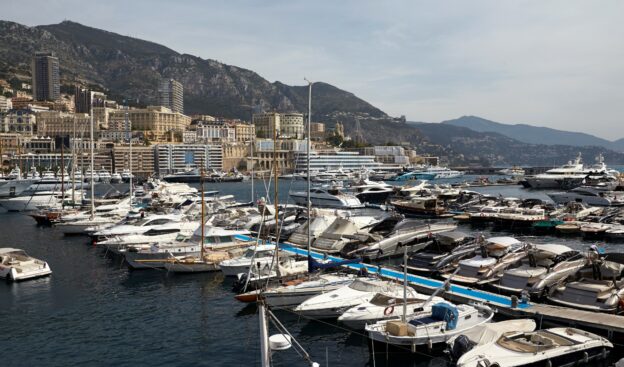 Event: Monaco Grand Prix
Track: Monaco Circuit
The first practice for the 2014 Monaco Formula 1 Grand Prix started off with "slow" driving cars. Because of the tail happy 2014 F1 cars, the first laps were driven more then 10 seconds slower than last years FP1 fastest lap time.
Nico Rosberg was the first to drive quicker lap times. It seems to take 3 laps before the Pirelli tyres are on working temperature. In this early part of the session Mercedes was more then 2 seconds faster then the rest of the field. But this big difference was taken away Daniel Ricciardo who was quickest for a couple of laps.
Ferrari looks to be closer to championship leaders Mercedes and Red Bull. Only Marussia driver Max Chilton and Sauber driver Adrian Sutil spun out of the session. At the end Lewis Hamilton was 0,2 sec quicker then his Mercedes team mate Nico Rosberg. Daniel Ricciardo was 3rd fastest.
FP1 Lap Times 2014 Monaco GP
| | | | | | | |
| --- | --- | --- | --- | --- | --- | --- |
| Pos | No | Driver | Team | Lap Time | 1st Gap | Laps |
| 1 | 44 | Lewis Hamilton | Mercedes | 1:18,271 | | 32 |
| 2 | 6 | Nico Rosberg | Mercedes | 1:18,303 | 0,032 | 31 |
| 3 | 3 | Daniel Ricciardo | Red Bull | 1:18,506 | 0,235 | 37 |
| 4 | 14 | Fernando Alonso | Ferrari | 1:18,930 | 0,659 | 31 |
| 5 | 1 | Sebastian Vettel | Red Bull | 1:19,043 | 0,772 | 33 |
| 6 | 7 | Kimi Räikkönen | Ferrari | 1:19,467 | 1,196 | 31 |
| 7 | 77 | Valtteri Bottas | Williams | 1:19,494 | 1,223 | 31 |
| 8 | 11 | Sergio Pérez | Force India | 1:19,666 | 1,395 | 29 |
| 9 | 20 | Kevin Magnussen | McLaren | 1:19,789 | 1,518 | 29 |
| 10 | 27 | Nico Hülkenberg | Force India | 1:19,856 | 1,585 | 38 |
| 11 | 22 | Jenson Button | McLaren | 1:20,033 | 1,762 | 35 |
| 12 | 21 | Esteban Gutierrez | Sauber | 1:20,118 | 1,847 | 33 |
| 13 | 8 | Romain Grosjean | Lotus F1 | 1:20,207 | 1,936 | 33 |
| 14 | 13 | Pastor Maldonado | Lotus F1 | 1:20,241 | 1,970 | 38 |
| 15 | 25 | Jean-Eric Vergne | Toro Rosso | 1:20,260 | 1,989 | 36 |
| 16 | 19 | Felipe Massa | Williams | 1:20,517 | 2,246 | 25 |
| 17 | 99 | Adrian Sutil | Sauber | 1:20,736 | 2,465 | 18 |
| 18 | 26 | Daniil Kvyat | Toro Rosso | 1:20,914 | 2,643 | 37 |
| 19 | 17 | Jules Bianchi | Manor | 1:21,310 | 3,039 | 27 |
| 20 | 9 | Marcus Ericsson | Caterham | 1:22,063 | 3,792 | 40 |
| 21 | 10 | Kamui Kobayashi | Caterham | 1:22,492 | 4,221 | 38 |
| 22 | 4 | Max Chilton | Manor | 1:25,817 | 7,546 | 7 |
Highest speed: 288,3 km/h - Nico Hulkenberg, Force India VJM07
---
✅ Check out more posts with related topics: