Starting Grid 2017 Bahrain F1 GP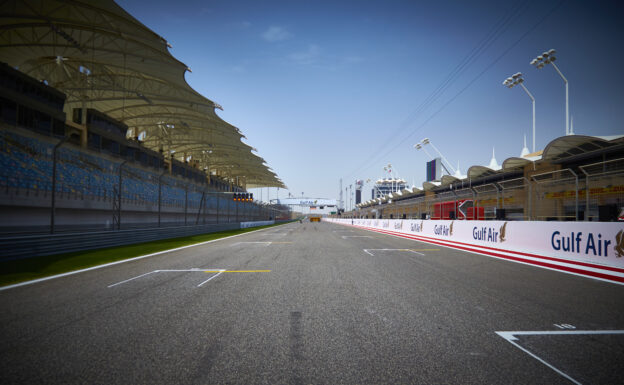 Event: Bahrian Grand Prix
Track: Bahrain International Circuit
2017 Bahrain Grand Prix Tyre Compounds
Bahrain uses the same three compounds selected for China: the first back to back races of the season. Sakhir is a circuit that above all tests traction, and it's also the first night race of the year, starting and finishing in the evening under the floodlights. As a result, the pattern of tyre behaviour and track evolution isn't exactly the same as it would be during a conventional afternoon race. Last year, the winning strategy was a three-stopper, with the same three compounds nominated as this year.

THE CIRCUIT FROM A TYRE POINT OF VIEW
Pirelli knows Sakhir well, as a favoured year-round test venue for different series.
Tactics can be varied: there were nine different strategies in the top 10 last year.
Surface is granite but not very abrasive: thermal degradation is a bigger factor.
Falling track temperatures in each session mean that the surface tends to get faster.
Rear-limited, due to traction demands.
One of three night races scheduled for this year, along with Singapore and Abu Dhabi.
MARIO ISOLA - HEAD OF CAR RACING AT PIRELLI
"The biggest gains at Sakhir are all to be found in traction: it is quite a stop-start circuit, so getting the power down properly and keeping the rear tyres in good condition is very important. Last year we found quite a high degree of wear and degradation, so it will be interesting to see how this has changed with the introduction of our 2017-specification tyres. The second free practice session will be particularly important, as it is the only one held in representative conditions of qualifying and the race."
F1 Grid 2017 Bahrain Grand Prix
| | | | | | |
| --- | --- | --- | --- | --- | --- |
| Pos | No | Driver | Team | Lap Time | 1st Gap |
| 1 | 77 | Valtteri Bottas | Mercedes | 1:28,769 | |
| 2 | 44 | Lewis Hamilton | Mercedes | 1:28,792 | 0,023 |
| 3 | 5 | Sebastian Vettel | Ferrari | 1:29,247 | 0,478 |
| 4 | 3 | Daniel Ricciardo | Red Bull | 1:29,545 | 0,776 |
| 5 | 7 | Kimi Räikkönen | Ferrari | 1:29,567 | 0,798 |
| 6 | 33 | Max Verstappen | Red Bull | 1:29,687 | 0,918 |
| 7 | 27 | Nico Hülkenberg | Renault | 1:29,842 | 1,073 |
| 8 | 19 | Felipe Massa | Williams | 1:30,074 | 1,305 |
| 9 | 8 | Romain Grosjean | Haas | 1:30,763 | 1,994 |
| 10 | 30 | Jolyon Palmer | Renault | 1:31,074 | 2,305 |
| 11 | 26 | Daniil Kvyat | Toro Rosso | 1:30,923 | 2,154 |
| 12 | 18 | Lance Stroll | Williams | 1:31,168 | 2,399 |
| 13 | 94 | Pascal Wehrlein | Sauber | 1:31,414 | 2,645 |
| 14 | 31 | Esteban Ocon | Force India | 1:31,684 | 2,915 |
| 15 | 14 | Fernando Alonso | McLaren | no time | - |
| 16 | 55 | Carlos Sainz | Toro Rosso | 1:32,118 | 3,349 |
| 17 | 2 | Stoffel Vandoorne | McLaren | 1:32,313 | 3,544 |
| 18 | 11 | Sergio Pérez | Force India | 1:32,318 | 3,549 |
| 19 | 9 | Marcus Ericsson | Sauber | 1:32,543 | 3,774 |
| 20 | 20 | Kevin Magnussen | Haas | 1:32,900 | 4,131 |
---
✅ Check out more posts with related topics: