Race Results 2017 Bahrain F1 Grand Prix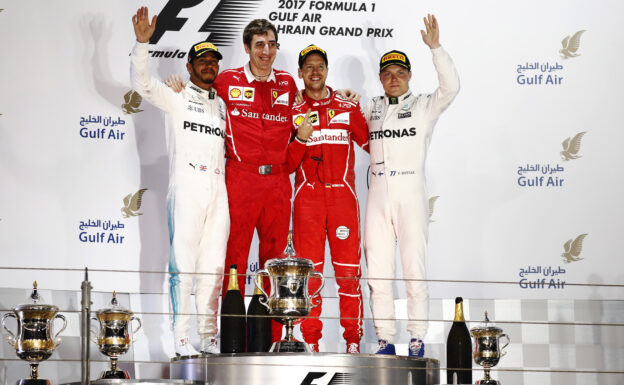 Event: Bahrain Grand Prix
Track: Bahrain International Circuit
Weather: 31ºC, dry
Tarmac: 32ºC, dry
Sebastian Vettel won the 2017 Bahrain Grand Prix today for Ferrari. It was his 2nd win of the season and number 44 of his F1 career.
Vettel started as 3rd on the grid and drove 2nd after the first corner right after the start.
He was able to follow the Mercedes W08 of Valtteri Bottas in the early stages of the race. Vettel pitted early to virtually pass Bottas, which was a gamble and turned out as very well. After all pitstops were done, he came out as no. 1.
Max Verstappen who had a perfect start of the race and turned up 4th after first corner. He also pitted early in lap 12 but had a brake failure right after it and had to retire.
Later on Lance Stroll's Williams FW40 was torpedoed by Daniil Kvyat's Toro Rosso STR12 and had to retire, while Kvyat could go on. A safety car period was also a result to clean up the track.
Half way Lewis Hamilton was charging to take the lead from Vettel and passed his team mate Bottas. But came out short due to a 5 second penalty and had to settle for 2nd. Valtteri Bottas finished 3rd.
F1 classification 2017 Bahrain GP
| P | No | Driver | Team | Time | Laps | Grid | Pts |
| --- | --- | --- | --- | --- | --- | --- | --- |
| 1 | 5 | Sebastian Vettel | Ferrari | 01:33:53.374 | 57 | 3 | 25 |
| 2 | 44 | Lewis Hamilton | Mercedes | 01:34:00.034 | 57 | 2 | 18 |
| 3 | 77 | Valtteri Bottas | Mercedes | 01:34:13.771 | 57 | 1 | 15 |
| 4 | 7 | Kimi Räikkönen | Ferrari | 01:34:15.849 | 57 | 5 | 12 |
| 5 | 3 | Daniel Ricciardo | Red Bull | 01:34:32.720 | 57 | 4 | 10 |
| 6 | 19 | Felipe Massa | Williams | 01:34:47.700 | 57 | 8 | 8 |
| 7 | 11 | Sergio Pérez | Force India | 01:34:55.980 | 57 | 18 | 6 |
| 8 | 8 | Romain Grosjean | Haas | 01:35:08.239 | 57 | 9 | 4 |
| 9 | 27 | Nico Hülkenberg | Renault | 01:35:08.239 | 57 | 7 | 2 |
| 10 | 31 | Esteban Ocon | Force India | 01:35:13.562 | 57 | 14 | 1 |
| 11 | 94 | Pascal Wehrlein | Sauber | 01:35:29.085 | 56 | 13 | 0 |
| 12 | 26 | Daniil Kvyat | Toro Rosso | 01:34:04.802 | 56 | 11 | 0 |
| 13 | 30 | Jolyon Palmer | Renault | 01:34:12.636 | 56 | 10 | 0 |
| 14 | 14 | Fernando Alonso | McLaren | Power unit | 54 | 15 | 0 |
| DNF | 9 | Marcus Ericsson | Sauber | Gearbox | 50 | 19 | 0 |
| DNF | 55 | Carlos Sainz | Toro Rosso | Collision | 12 | 16 | 0 |
| DNF | 18 | Lance Stroll | Williams | Collision | 12 | 12 | 0 |
| DNF | 33 | Max Verstappen | Red Bull | Brakes | 11 | 6 | 0 |
| DNF | 20 | Kevin Magnussen | Haas | Technical | 8 | 20 | 0 |
| DNS | 2 | Stoffel Vandoorne | McLaren | Engine | 0 | 17 | 0 |
Fastest lap: 1:32.798 min (209.952 km/h) lap 46 by Lewis Hamilton, Mercedes W08
✅ Check out 2017 F1 Championship Standings
✅ Check out 2017 F1 Teams & Drivers
✅ Check out All Time F1 Drivers Rankings
✅ Check out All Time F1 Driver Records
✅ Check out All Time F1 Teams Rankings
---
✅ Check out more posts with related topics: