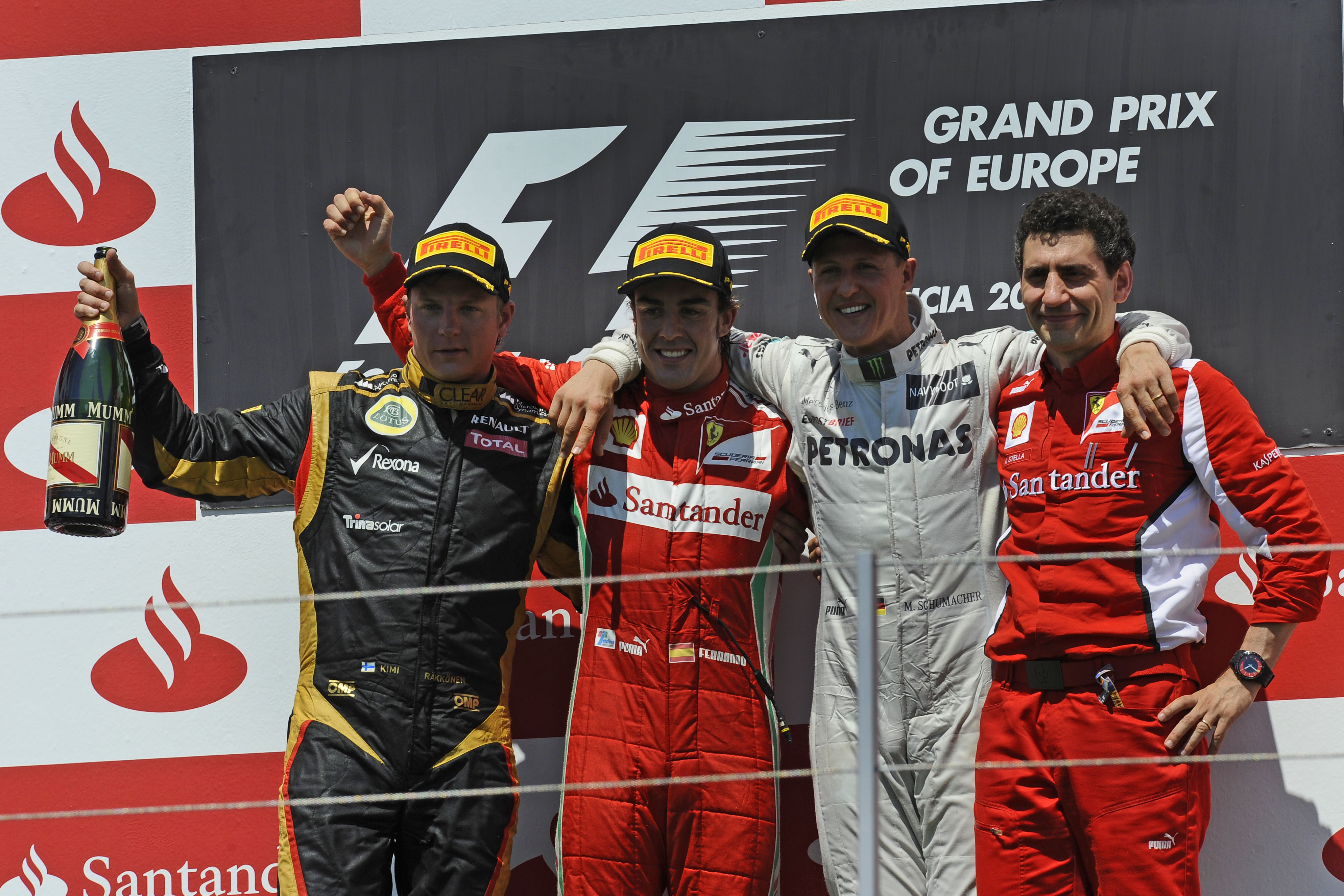 Event: European Grand Prix
Track: Valencia Street Circuit
Earlier European Formula 1 Grand Prix where not very exciting, but the 2012 version was very entertaining. the whole Grand Prix was full of action with a lot of overtaking, accidents and drama.
In the last lap Lewis Hamilton collided with Pastor Maldonado. Hamilton had to retire, but classified as 19th. Pastor Maldonado got a 20 seconds penalty and dropped out of the top 10 the 12th place. Michael Schumacher managed to finish 3rd and got his first podium since 2006.
Race Classification
F1 Classification 2012 European GP
| Pos | No | Driver | Team | Time | Laps | Grid | Pts |
| --- | --- | --- | --- | --- | --- | --- | --- |
| 1 | 5 | Fernando Alonso | Ferrari | 01:44:16.649 | 57 | 11 | 25 |
| 2 | 9 | Kimi Räikkönen | Lotus F1 | 01:44:23.070 | 57 | 5 | 18 |
| 3 | 7 | Michael Schumacher | Mercedes | 01:44:29.288 | 57 | 12 | 15 |
| 4 | 2 | Mark Webber | Red Bull | 01:44:30.277 | 57 | 19 | 12 |
| 5 | 12 | Nico Hülkenberg | Force India | 01:44:37.642 | 57 | 8 | 10 |
| 6 | 8 | Nico Rosberg | Mercedes | 01:44:37.825 | 57 | 6 | 8 |
| 7 | 11 | Paul di Resta | Force India | 01:44:39.515 | 57 | 10 | 6 |
| 8 | 3 | Jenson Button | McLaren | 01:44:41.302 | 57 | 9 | 4 |
| 9 | 15 | Sergio Pérez | Sauber | 01:44:44.426 | 57 | 15 | 2 |
| 10 | 19 | Bruno Senna | Williams | 01:44:52.610 | 57 | 14 | 1 |
| 11 | 16 | Daniel Ricciardo | Toro Rosso | 01:44:53.690 | 57 | 17 | 0 |
| 12 | 18 | Pastor Maldonado | Williams | 01:45:11.279 | 57 | 3 | 0 |
| 13 | 21 | Vitaly Petrov | Caterham | 01:45:32.520 | 57 | 20 | 0 |
| 14 | 20 | Heikki Kovalainen | Caterham | 01:45:51.303 | 57 | 16 | 0 |
| 15 | 25 | Charles Pic | Manor | 01:45:53.200 | 57 | 23 | 0 |
| 16 | 6 | Felipe Massa | Ferrari | 01:44:19.382 | 56 | 13 | 0 |
| 17 | 22 | Pedro de la Rosa | HRT | 01:44:28.435 | 56 | 21 | 0 |
| 18 | 23 | Narain Karthikeyan | HRT | 01:44:37.702 | 56 | 22 | 0 |
| 19 | 4 | Lewis Hamilton | McLaren | 01:40:50.272 | 55 | 2 | 0 |
| DNF | 10 | Romain Grosjean | Lotus F1 | Alternator | 40 | 4 | 0 |
| DNF | 1 | Sebastian Vettel | Red Bull | Alternator | 33 | 1 | 0 |
| DNF | 14 | Kamui Kobayashi | Sauber | Collision | 33 | 7 | 0 |
| DNF | 17 | Jean-Eric Vergne | Toro Rosso | Collision | 26 | 18 | 0 |
| DNS | 24 | Timo Glock | Manor | Collision | 0 | 24 | 0 |
Fastest lap: 1:42.163 min by Nico Rosberg (Mercedes WO3) in lap 54
Qualifying Results
Qualifying Times 2012 European GP
| Pos | No | Driver | Team | $n | $n | $n | Laps |
| --- | --- | --- | --- | --- | --- | --- | --- |
| 1 | 1 | Sebastian Vettel | Red Bull | {$times[$row[0]->id_driver][$session_name]} | {$times[$row[0]->id_driver][$session_name]} | {$times[$row[0]->id_driver][$session_name]} | 15 |
| 2 | 4 | Lewis Hamilton | McLaren | {$times[$row[0]->id_driver][$session_name]} | {$times[$row[0]->id_driver][$session_name]} | {$times[$row[0]->id_driver][$session_name]} | 17 |
| 3 | 18 | Pastor Maldonado | Williams | {$times[$row[0]->id_driver][$session_name]} | {$times[$row[0]->id_driver][$session_name]} | {$times[$row[0]->id_driver][$session_name]} | 21 |
| 4 | 10 | Romain Grosjean | Team Lotus | {$times[$row[0]->id_driver][$session_name]} | {$times[$row[0]->id_driver][$session_name]} | {$times[$row[0]->id_driver][$session_name]} | 16 |
| 5 | 9 | Kimi Räikkönen | Team Lotus | {$times[$row[0]->id_driver][$session_name]} | {$times[$row[0]->id_driver][$session_name]} | {$times[$row[0]->id_driver][$session_name]} | 16 |
| 6 | 8 | Nico Rosberg | Mercedes | {$times[$row[0]->id_driver][$session_name]} | {$times[$row[0]->id_driver][$session_name]} | {$times[$row[0]->id_driver][$session_name]} | 17 |
| 7 | 14 | Kamui Kobayashi | Sauber | {$times[$row[0]->id_driver][$session_name]} | {$times[$row[0]->id_driver][$session_name]} | {$times[$row[0]->id_driver][$session_name]} | 12 |
| 8 | 12 | Nico Hülkenberg | Force India | {$times[$row[0]->id_driver][$session_name]} | {$times[$row[0]->id_driver][$session_name]} | {$times[$row[0]->id_driver][$session_name]} | 19 |
| 9 | 3 | Jenson Button | McLaren | {$times[$row[0]->id_driver][$session_name]} | {$times[$row[0]->id_driver][$session_name]} | {$times[$row[0]->id_driver][$session_name]} | 16 |
| 10 | 11 | Paul di Resta | Force India | {$times[$row[0]->id_driver][$session_name]} | {$times[$row[0]->id_driver][$session_name]} | {$times[$row[0]->id_driver][$session_name]} | 18 |
| 11 | 5 | Fernando Alonso | Ferrari | {$times[$row[0]->id_driver][$session_name]} | {$times[$row[0]->id_driver][$session_name]} | | 14 |
| 12 | 7 | Michael Schumacher | Mercedes | {$times[$row[0]->id_driver][$session_name]} | {$times[$row[0]->id_driver][$session_name]} | | 12 |
| 13 | 6 | Felipe Massa | Ferrari | {$times[$row[0]->id_driver][$session_name]} | {$times[$row[0]->id_driver][$session_name]} | | 14 |
| 14 | 19 | Bruno Senna | Williams | {$times[$row[0]->id_driver][$session_name]} | {$times[$row[0]->id_driver][$session_name]} | | 15 |
| 15 | 15 | Sergio Pérez | Sauber | {$times[$row[0]->id_driver][$session_name]} | {$times[$row[0]->id_driver][$session_name]} | | 14 |
| 16 | 20 | Heikki Kovalainen | Caterham | {$times[$row[0]->id_driver][$session_name]} | {$times[$row[0]->id_driver][$session_name]} | | 11 |
| 17 | 16 | Daniel Ricciardo | Toro Rosso | {$times[$row[0]->id_driver][$session_name]} | {$times[$row[0]->id_driver][$session_name]} | | 12 |
| 18 | 17 | Jean-Eric Vergne | Toro Rosso | {$times[$row[0]->id_driver][$session_name]} | | | 9 |
| 19 | 2 | Mark Webber | Red Bull | {$times[$row[0]->id_driver][$session_name]} | | | 7 |
| 20 | 21 | Vitaly Petrov | Caterham | {$times[$row[0]->id_driver][$session_name]} | | | 8 |
| 21 | 22 | Pedro de la Rosa | HRT | {$times[$row[0]->id_driver][$session_name]} | | | 7 |
| 22 | 23 | Narain Karthikeyan | HRT | {$times[$row[0]->id_driver][$session_name]} | | | 8 |
| 23 | 25 | Charles Pic | Manor | {$times[$row[0]->id_driver][$session_name]} | | | 10 |
| DNS | 24 | Timo Glock | Manor | {$times[$row[0]->id_driver][$session_name]} | | | 0 |
Check out 2012 F1 Championship Standings

Check out 2012 F1 Teams & Drivers
 Check out All Time F1 Drivers Rankings

 Check out All Time F1 Driver Records

 Check out All Time F1 Teams Rankings
---
Check out more items on this website about:
---