2012 British Grand Prix F1 Race Results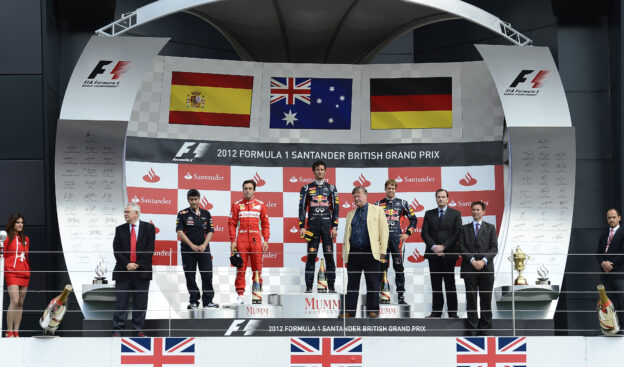 Event: British Grand Prix
Track: Silverstone Circuit
Mark Webber won the 2012 #F1 Grand Prix of Britain after working hard to keep Ferrari driver Alonso in his sights. Fernando Alonso was the only driver in the top 5 who started on the harder of the 2 compounds and managed to get a gap of 5seconds between him and Webber.
The whole race until lap 38 Alonso was able to maintain his lead. In lap 38 Ferrari pilot Alonso went to the pit to get the softer compound. There is a rule in F1 that you have to use both compounds in the race.
After he got his new tyres, the gap with Webber was closed real quick and Mark Webber got the lead to win the British F1 GP for the second time in his F1 career of his 9 victories overall. Sebastian Vettel had quite a decent race. He started 3rd and managed to pass Michael Schumacher after the first pit stop. He then drove to the finish as third, while Schumacher had to settle for 7th.
Race Classification
F1 classification 2012 British F1 GP
| P | No | Driver | Team | Time | Laps | Grid | Pts |
| --- | --- | --- | --- | --- | --- | --- | --- |
| 1 | 2 | Mark Webber | Red Bull | 01:25:11.288 | 52 | 2 | 25 |
| 2 | 5 | Fernando Alonso | Ferrari | 01:25:14.348 | 52 | 1 | 18 |
| 3 | 1 | Sebastian Vettel | Red Bull | 01:25:16.124 | 52 | 4 | 15 |
| 4 | 6 | Felipe Massa | Ferrari | 01:25:20.807 | 52 | 5 | 12 |
| 5 | 9 | Kimi Räikkönen | Lotus F1 | 01:25:21.602 | 52 | 6 | 10 |
| 6 | 10 | Romain Grosjean | Lotus F1 | 01:25:28.389 | 52 | 9 | 8 |
| 7 | 7 | Michael Schumacher | Mercedes | 01:25:40.441 | 52 | 3 | 6 |
| 8 | 4 | Lewis Hamilton | McLaren | 01:25:47.751 | 52 | 8 | 4 |
| 9 | 19 | Bruno Senna | Williams | 01:25:54.635 | 52 | 13 | 2 |
| 10 | 3 | Jenson Button | McLaren | 01:25:55.732 | 53 | 16 | 1 |
| 11 | 14 | Kamui Kobayashi | Sauber | 01:25:56.658 | 52 | 17 | 0 |
| 12 | 12 | Nico Hülkenberg | Force India | 01:25:59.144 | 52 | 14 | 0 |
| 13 | 16 | Daniel Ricciardo | Toro Rosso | 01:26:02.529 | 52 | 12 | 0 |
| 14 | 17 | Jean-Eric Vergne | Toro Rosso | 01:26:04.601 | 52 | 23 | 0 |
| 15 | 8 | Nico Rosberg | Mercedes | 01:26:08.682 | 52 | 11 | 0 |
| 16 | 18 | Pastor Maldonado | Williams | 01:25:49.169 | 51 | 7 | 0 |
| 17 | 20 | Heikki Kovalainen | Caterham | 01:25:58.502 | 51 | 19 | 0 |
| 18 | 24 | Timo Glock | Manor | 01:26:22.764 | 51 | 20 | 0 |
| 19 | 25 | Charles Pic | Manor | 01:26:43.189 | 51 | 24 | 0 |
| 20 | 22 | Pedro de la Rosa | HRT | 01:25:26.713 | 50 | 21 | 0 |
| 21 | 23 | Narain Karthikeyan | HRT | 01:25:39.267 | 50 | 22 | 0 |
| DNF | 15 | Sergio Pérez | Sauber | collision | 11 | 15 | 0 |
| DNF | 11 | Paul di Resta | Force India | Puncture | 2 | 10 | 0 |
| DNS | 21 | Vitaly Petrov | Caterham | engine | 0 | 18 | 0 |
Fastest lap: 1:34.661 min by Romain Grosjean (Lotus F1 E20) in lap 50
Qualifying Results
Qualifying Times 2012 British F1 GP
| P | No | Driver | Team | $n | $n | $n | Laps |
| --- | --- | --- | --- | --- | --- | --- | --- |
| 1 | 5 | Fernando Alonso | Ferrari | {$times[$row[0]->id_driver][$session_name]} | {$times[$row[0]->id_driver][$session_name]} | {$times[$row[0]->id_driver][$session_name]} | 25 |
| 2 | 2 | Mark Webber | Red Bull | {$times[$row[0]->id_driver][$session_name]} | {$times[$row[0]->id_driver][$session_name]} | {$times[$row[0]->id_driver][$session_name]} | 23 |
| 3 | 7 | Michael Schumacher | Mercedes | {$times[$row[0]->id_driver][$session_name]} | {$times[$row[0]->id_driver][$session_name]} | {$times[$row[0]->id_driver][$session_name]} | 22 |
| 4 | 1 | Sebastian Vettel | Red Bull | {$times[$row[0]->id_driver][$session_name]} | {$times[$row[0]->id_driver][$session_name]} | {$times[$row[0]->id_driver][$session_name]} | 23 |
| 5 | 6 | Felipe Massa | Ferrari | {$times[$row[0]->id_driver][$session_name]} | {$times[$row[0]->id_driver][$session_name]} | {$times[$row[0]->id_driver][$session_name]} | 24 |
| 7 | 18 | Pastor Maldonado | Williams | {$times[$row[0]->id_driver][$session_name]} | {$times[$row[0]->id_driver][$session_name]} | {$times[$row[0]->id_driver][$session_name]} | 25 |
| 8 | 4 | Lewis Hamilton | McLaren | {$times[$row[0]->id_driver][$session_name]} | {$times[$row[0]->id_driver][$session_name]} | {$times[$row[0]->id_driver][$session_name]} | 25 |
| 9 | 12 | Nico Hülkenberg | Force India | {$times[$row[0]->id_driver][$session_name]} | {$times[$row[0]->id_driver][$session_name]} | {$times[$row[0]->id_driver][$session_name]} | 22 |
| 11 | 11 | Paul di Resta | Force India | {$times[$row[0]->id_driver][$session_name]} | {$times[$row[0]->id_driver][$session_name]} | | 19 |
| 12 | 14 | Kamui Kobayashi | Sauber | {$times[$row[0]->id_driver][$session_name]} | {$times[$row[0]->id_driver][$session_name]} | | 18 |
| 13 | 8 | Nico Rosberg | Mercedes | {$times[$row[0]->id_driver][$session_name]} | {$times[$row[0]->id_driver][$session_name]} | | 17 |
| 14 | 16 | Daniel Ricciardo | Toro Rosso | {$times[$row[0]->id_driver][$session_name]} | {$times[$row[0]->id_driver][$session_name]} | | 18 |
| 15 | 19 | Bruno Senna | Williams | {$times[$row[0]->id_driver][$session_name]} | {$times[$row[0]->id_driver][$session_name]} | | 19 |
| 16 | 17 | Jean-Eric Vergne | Toro Rosso | {$times[$row[0]->id_driver][$session_name]} | {$times[$row[0]->id_driver][$session_name]} | | 18 |
| 17 | 15 | Sergio Pérez | Sauber | {$times[$row[0]->id_driver][$session_name]} | {$times[$row[0]->id_driver][$session_name]} | | 19 |
| 18 | 3 | Jenson Button | McLaren | {$times[$row[0]->id_driver][$session_name]} | | | 12 |
| 19 | 21 | Vitaly Petrov | Caterham | {$times[$row[0]->id_driver][$session_name]} | | | 10 |
| 20 | 20 | Heikki Kovalainen | Caterham | {$times[$row[0]->id_driver][$session_name]} | | | 10 |
| 21 | 24 | Timo Glock | Manor | {$times[$row[0]->id_driver][$session_name]} | | | 10 |
| 22 | 22 | Pedro de la Rosa | HRT | {$times[$row[0]->id_driver][$session_name]} | | | 11 |
| 23 | 23 | Narain Karthikeyan | HRT | {$times[$row[0]->id_driver][$session_name]} | | | 10 |
| DNQ | 25 | Charles Pic | Manor | {$times[$row[0]->id_driver][$session_name]} | | | 10 |
✅ Check out 2012 F1 Championship Standings
✅ Check out 2012 F1 Teams & Drivers
✅ Check out All Time F1 Drivers Rankings
✅ Check out All Time F1 Driver Records
✅ Check out All Time F1 Teams Rankings
---
✅ Check out more posts with related topics: