Race Results 2019 Hungarian F1 Grand Prix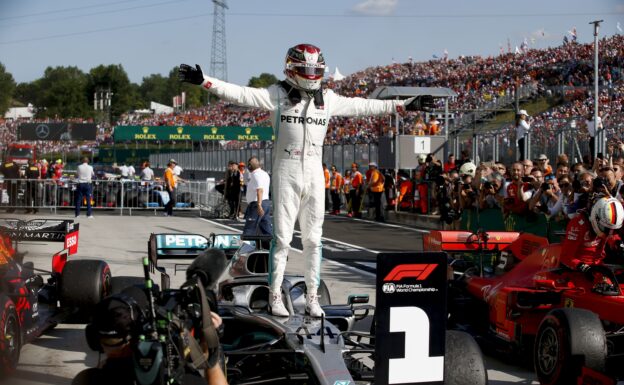 Event: Hungarian Grand Prix
Track: Hungaroring
Weather: Dry 26.8°C
Tarmac: Dry 48.0-42.9°C
Humidity: 32.5%
Wind: 1.6 m/s W
Pressure: 986.6 bar
Lewis Hamilton scored his 81st F1 victory and the 97th win for Mercedes today. It was the 8th race win of the season for Hamilton.
The start of the 34th Hungarian Formula 1 Grand Prix was under perfect weather conditions. Max Verstappen who was on pole position for the first time in his F1 career with the Red Bull. Wen the lights went out all cars got away perfectly. Max Verstappen defended the inside line against both Mercedes cars with more horsepower. Max Verstappen, Valtteri Bottas and Lewis Hamilton drove side by side into turn 1 and came very close. Verstappen was able to pull away, while Bottas and Hamilton battled for 2nd, were Hamilton came out as 2nd coming out of turn 3. Bottas had damaged his front wing slightly but was able to go on.
Bottas also lost places to both Ferrari drivers Charles Leclerc and Sebastian Vettel and was 5th at the beginning after turn 1 of lap 2. Daniel Ricciardo was the only driver who started on the slowest and most durable hard tyres. He had to start from the back due to using more than 3 additional power unit elements.
In lap 6 Bottas decided to come in for a new front wing, because his wing end plate was broken on the right-side of his front wing. He returned to the track as dead last 49 seconds behind race leader Verstappen.
Pierre Gasly in the Red Bull didn't have a great start on the medium tyres and was driving around on P8 and had lost 2 places against both McLaren drivers who started on the quicker soft tyres. Williams drivers George Russel was driving who started on P15 had also gained a position by Bottas his pitstop and was driving around on P14 battling in the midfield.
Verstappen had a gap of 2 seconds to Hamilton after 10 laps and seemed to have everything under control. Hamilton was pushing hard to try and catch Verstappen and drove the quickest lap time so far in lap 11.
In lap 18 Hamilton was pushing hard to get closer to Verstappen and the gap was getting smaller to 1.7 sec. Both Toro Rosso drivers Daniil Kvyat and Alexander Albon had a great fight and drove side by side several corners and kept it clean.
Sergio Pérez was the first to do a pitstop on the medium tyres. He switched to the hard tyre to try and make it to the end. Hamilton had closed the gap to Verstappen at that moment to 1.3 sec. Verstappen was telling his team on the radio that the rear grip was getting less. Bottas who had to fight the Mercedes through the field to score some decent point was driving on P14 at that moment and trying to get passed Daniel Ricciardo in the Renault.
In lap 23 the Mercedes crew did a dummy pitstop to try and fool Red Bull Racing with their pitstop. The backmarkers also had some influence in the gap between Verstappen and Hamilton. Verstappen said on the radio his rear tyres are losing grip. But Red Bull Racing didn't pit yet.
In lap 25 Verstappen did his pitstop and switched to the hard tyres and returned to the track as 2nd. Hamilton was in the lead now and tried to stay in the lead after his own pitstop. Verstappen was flying on the new hard tyres and even improved the quickest lap of the race in lap 27. Verstappen was gaining on Hamilton and the gap reduced from 21 to less than 16 sec. before Hamilton pitted in lap 31 and Verstappen regained the lead and was now even 6 seconds in front.
Hamilton again was pushing very hard to get closer to Verstappen after 5 laps. He already was behind Verstappen in lap 35 to try and pass the Dutch driver on the main straight with DRS in turn 1 of lap 36, but wasn't successful.
In lap 38 Hamilton was very close to Verstappen and both had a great fight for the lead. From turn 1 to 4 Hamilton tried to pass Verstappen several times and they even drove side by side in turn 2 and 4, but Hamilton couldn't pass the 21 year old Dutchman and gone wide in turn 4. Hamilton had to regroup and was looking at a gap of 2 seconds now and had to cool down his engine and brakes before he could have another try.
In lap 48 Mercedes did a surprisingly strategy move when Hamilton pitted for the 2nd time to get new Medium tyres to try and pass Verstappen at the end of the race. The British drivers returned to the track as second with a gap to Verstappen of 21 seconds. Red Bull Racing didn't react with a pitstop and stayed out. Hamilton came on the radio and told his team his had doubts about the plan. Hamilton did try to close the massive gap to Verstappen's tail.
Haas driver Romain Grosjean retired his car in lap 52 with a water leak.It was the 6th retirement of the 2019 season for the French driver.
With 10 laps to go the gap between Verstappen and Hamilton had been reduced to 12 seconds. Hamilton even broke the track record. With 5 laps to go Hamilton was only 3 seconds behind Verstappen and in lap 66 Hamilton was all over the back of the Red Bull of Verstappen who said on the radio his tyres were death.
At the end of the start/finish straight of the beginning of lap 67 Hamilton overtook the Red Bull and drove away. Red Bull even did a pitstop because Verstappen's tyres were gone. He could safely do a pitstop, because he had a huge gap to Leclerc who was on P3 at that moment and was passed by his teammate Sebastian Vettel at the end of the straight also.
Verstappen did score an extra point by driving the quickest lap time on his new soft tyres in the penultimate lap.
Classification 2019 Hungarian GP
| P | No | Driver | Team | Time | Laps | Grid | Pts |
| --- | --- | --- | --- | --- | --- | --- | --- |
| 1 | 44 | Lewis Hamilton | Mercedes | 01:35:03.796 | 70 | 3 | 25 |
| 2 | 33 | Max Verstappen | Red Bull | 01:35:21.592 | 70 | 1 | 19 |
| 3 | 5 | Sebastian Vettel | Ferrari | 01:36:05.229 | 70 | 5 | 15 |
| 4 | 16 | Charles Leclerc | Ferrari | 01:36:09.046 | 70 | 4 | 12 |
| 5 | 55 | Carlos Sainz | McLaren | 01:35:31.121 | 69 | 8 | 10 |
| 6 | 10 | Pierre Gasly | Red Bull | 01:35:32.514 | 69 | 6 | 8 |
| 7 | 7 | Kimi Räikkönen | Alfa Romeo | 01:35:35.188 | 69 | 10 | 6 |
| 8 | 77 | Valtteri Bottas | Mercedes | 01:35:35.924 | 69 | 2 | 4 |
| 9 | 4 | Lando Norris | McLaren | 01:35:41.187 | 69 | 7 | 2 |
| 10 | 23 | Alex Albon | Toro Rosso | 01:36:10.323 | 69 | 12 | 1 |
| 11 | 11 | Sergio Pérez | Racing Point | 01:36:21.366 | 69 | 16 | 0 |
| 12 | 27 | Nico Hülkenberg | Renault | 01:36:22.002 | 69 | 11 | 0 |
| 13 | 20 | Kevin Magnussen | Haas | 01:36:22.759 | 69 | 14 | 0 |
| 14 | 3 | Daniel Ricciardo | Renault | 01:36:22.993 | 69 | 20 | 0 |
| 15 | 26 | Daniil Kvyat | Toro Rosso | 01:35:08.984 | 68 | 13 | 0 |
| 16 | 63 | George Russell | Williams | 01:36:03.701 | 68 | 15 | 0 |
| 17 | 18 | Lance Stroll | Racing Point | 01:36:07.471 | 68 | 18 | 0 |
| 18 | 99 | Antonio Giovinazzi | Alfa Romeo | 01:36:16.660 | 68 | 17 | 0 |
| 19 | 88 | Robert Kubica | Williams | 01:35:14.074 | 67 | 19 | 0 |
| DNF | 8 | Romain Grosjean | Haas | Water leak | 49 | 9 | 0 |
fastest lap: 1:17.103 min by Max Verstappen (33) Red Bull RB15 in lap 69
highest speed: 321 km/h by Daniel Ricciardo (3) Renault RS19
---
Here you can see some highlight footage of the 2019 Hungarian F1 GP
Lewis Hamilton and Mercedes rolled the dice... 🎲

And it paid off!#F1 🇭🇺 #HungarianGP pic.twitter.com/a8CLbgWiEv

— Formula 1 (@F1) August 4, 2019
---
✅ Check out 2019 Hungarian F1 GP Pictures
✅ Check out Timelapse 2019 Hungarian F1 GP
✅ Check out 2019 F1 Championship Standings
✅ Check out 2019 F1 Calendar
✅ Check out All Time F1 Drivers Rankings
✅ Check out All Time F1 Driver Records
✅ Check out All Time F1 Teams Rankings
---
✅ Check out more posts with related topics: