Race Results 2017 Brazilian F1 Grand Prix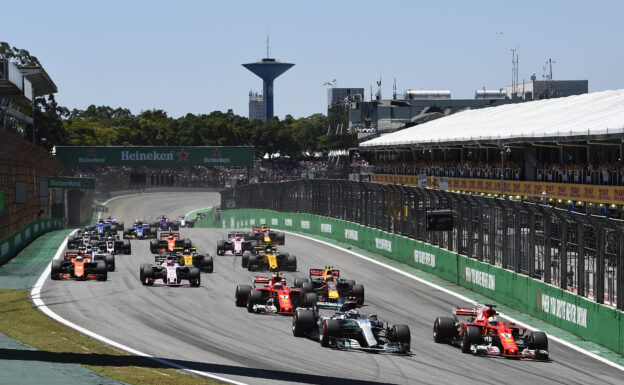 Event: Brazilian Grand Prix
Track: Autodrome Interlagos
Weather: 27°C clear sky and sunny
Tarmac: 60°C dry
Ferrari driver Sebastian Vettel won the 2017 Brazilian grand prix today. It was his 47th F1 victory and his 98th podium finish. It also was the 230th victory for Scuderia Ferrari and their 545th podium.
Vettel won the Brazilian GP for the 3rd time today.. He had a very good start and passed pole sitter Valtteri Bottas right after the start in the first corner of the race.
In the Senna SS-es a few drivers collided and had to retire the race. Daniel Ricciardo who started on 14th place also collided but could go on racing.
Because Lewis Hamilton crashed during qualifying in Q1 he had to start as dead last for today's race. He surely showed his talent and passed the whole grid to even lead the race for several laps, because the top drives pitted early.
The British 4 times wold champ almost finish on the podium. In the stages of the race he was hunting down Kimi Raikkonen for 3rd place, but could not overtake him. The Ferrari SF70H was to quick and Hamilton asked to much of his tyres and had to settle for 4th.
F1 classification 2017 Brazilian GP
| P | No | Driver | Team | Time | Laps | Grid | Pts |
| --- | --- | --- | --- | --- | --- | --- | --- |
| 1 | 5 | Sebastian Vettel | Ferrari | 01:31:26.262 | 71 | 2 | 25 |
| 2 | 77 | Valtteri Bottas | Mercedes | 01:31:29.024 | 71 | 1 | 18 |
| 3 | 7 | Kimi Räikkönen | Ferrari | 01:31:30.862 | 71 | 3 | 15 |
| 4 | 44 | Lewis Hamilton | Mercedes | 01:31:31.730 | 71 | 20 | 12 |
| 5 | 33 | Max Verstappen | Red Bull | 01:31:59.202 | 71 | 4 | 10 |
| 6 | 3 | Daniel Ricciardo | Red Bull | 01:32:14.953 | 71 | 14 | 8 |
| 7 | 19 | Felipe Massa | Williams | 01:32:35.144 | 71 | 9 | 6 |
| 8 | 14 | Fernando Alonso | McLaren | 01:32:35.625 | 71 | 6 | 4 |
| 9 | 11 | Sergio Pérez | Force India | 01:32:35.762 | 71 | 5 | 2 |
| 10 | 27 | Nico Hülkenberg | Renault | 01:31:43.880 | 70 | 7 | 1 |
| 11 | 55 | Carlos Sainz | Renault | 01:31:50.426 | 70 | 8 | 0 |
| 12 | 10 | Pierre Gasly | Toro Rosso | 01:32:07.102 | 70 | 19 | 0 |
| 13 | 9 | Marcus Ericsson | Sauber | 01:32:24.548 | 70 | 17 | 0 |
| 14 | 94 | Pascal Wehrlein | Sauber | 01:32:33.405 | 70 | 15 | 0 |
| 15 | 8 | Romain Grosjean | Haas | 01:31:47.048 | 69 | 11 | 0 |
| 16 | 18 | Lance Stroll | Williams | 01:32:12.329 | 69 | 16 | 0 |
| DNF | 28 | Brendon Hartley | Toro Rosso | Power unit | 40 | 18 | 0 |
| DNF | 31 | Esteban Ocon | Force India | Collision damage | 0 | 10 | 0 |
| DNF | 2 | Stoffel Vandoorne | McLaren | Collision damage | 0 | 12 | 0 |
| DNF | 20 | Kevin Magnussen | Haas | Collision damage | 0 | 13 | 0 |
Fastest lap:  1:11.044 min by Max Verstappen, Red Bull RB13 on lap 64
Highest speed: 350.3 km/h by Sergio Pérez, Force India VJM10
✅ Check out 2017 F1 Championship Standings
✅ Check out 2017 F1 Teams & Drivers
✅ Check out All Time F1 Drivers Rankings
✅ Check out All Time F1 Driver Records
✅ Check out All Time F1 Teams Rankings
---
✅ Check out more posts with related topics: