Race Results 2017 Abu Dhabi F1 Grand Prix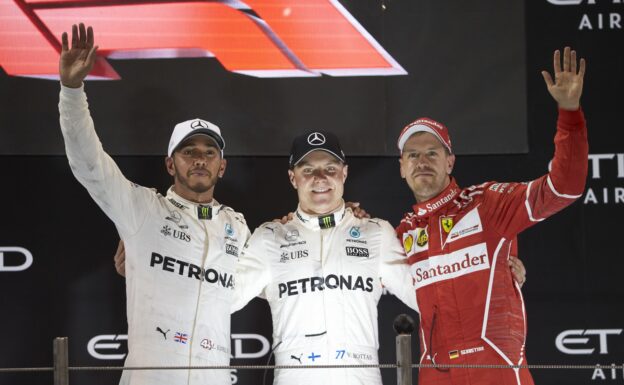 Event: Abu Dhabi Grand Prix
Track: Yas Marina Circuit
Weather: 24°C dry & sunny
Tarmac: 31-27°C dry
Valtteri Bottas won the 2017 Abu Dhabi grand prix. It was his 3rd F1 race win and the 76th Formula 1 race win for his team Mercedes.
The race start without any incident at the start. The top 6 started with exactly the same speed and made no mistakes.
The top 12 didn't even change places until the first pit stops. The first one to retire was Red Bull Racing driver Daniel Ricciardo. He got an hydraulic problem after his pit stop in lap 21.
In lap 32 Carlos Sainz had a dramatic pit stop with his Renault. During his pit stop the wheel nut of the front left tyre wasn't fixed correctly. When he drove away to rejoin the track he almost hit the wall entering the pit tunnel. Moments later the wheel nut flew away and Carlos had to retire the RS16.
F1 classification 2017 Abu Dhabi GP
| P | No | Driver | Team | Time | Laps | Grid | Pts |
| --- | --- | --- | --- | --- | --- | --- | --- |
| 1 | 77 | Valtteri Bottas | Mercedes | 01:34:14.062 | 55 | 1 | 25 |
| 2 | 44 | Lewis Hamilton | Mercedes | 01:34:17.961 | 55 | 2 | 18 |
| 3 | 5 | Sebastian Vettel | Ferrari | 01:34:33.392 | 55 | 3 | 15 |
| 4 | 7 | Kimi Räikkönen | Ferrari | 01:34:59.448 | 55 | 5 | 12 |
| 5 | 33 | Max Verstappen | Red Bull | 01:35:00.331 | 55 | 6 | 10 |
| 6 | 27 | Nico Hülkenberg | Renault | 01:35:39.775 | 55 | 7 | 8 |
| 7 | 11 | Sergio Pérez | Force India | 01:35:46.124 | 55 | 8 | 6 |
| 8 | 31 | Esteban Ocon | Force India | 01:35:52.973 | 55 | 9 | 4 |
| 9 | 14 | Fernando Alonso | McLaren | 01:34:25.754 | 54 | 11 | 2 |
| 10 | 19 | Felipe Massa | Williams | 01:34:29.157 | 54 | 10 | 1 |
| 11 | 8 | Romain Grosjean | Haas | 01:34:37.108 | 54 | 16 | 0 |
| 12 | 2 | Stoffel Vandoorne | McLaren | 01:35:27.691 | 54 | 13 | 0 |
| 13 | 20 | Kevin Magnussen | Haas | 01:35:28.383 | 54 | 14 | 0 |
| 14 | 94 | Pascal Wehrlein | Sauber | 01:35:29.891 | 54 | 18 | 0 |
| 15 | 28 | Brendon Hartley | Toro Rosso | 01:35:32.019 | 54 | 20 | 0 |
| 16 | 10 | Pierre Gasly | Toro Rosso | 01:35:33.961 | 54 | 17 | 0 |
| 17 | 9 | Marcus Ericsson | Sauber | 01:35:36.526 | 54 | 19 | 0 |
| 18 | 18 | Lance Stroll | Williams | 01:35:44.704 | 54 | 15 | 0 |
| DNF | 55 | Carlos Sainz | Renault | Wheelnut | 32 | 12 | 0 |
| DNF | 3 | Daniel Ricciardo | Red Bull | Hydraulics | 20 | 4 | 0 |
Fastest lap:  1:40.650 min - Valtteri Bottas, Mercedes W08 lap 52
✅ Check out 2017 F1 Championship Standings
✅ Check out 2017 F1 Teams & Drivers
✅ Check out All Time F1 Drivers Rankings
✅ Check out All Time F1 Driver Records
✅ Check out All Time F1 Teams Rankings
---
✅ Check out more posts with related topics: