Race Results 2023 Dutch F1 Grand Prix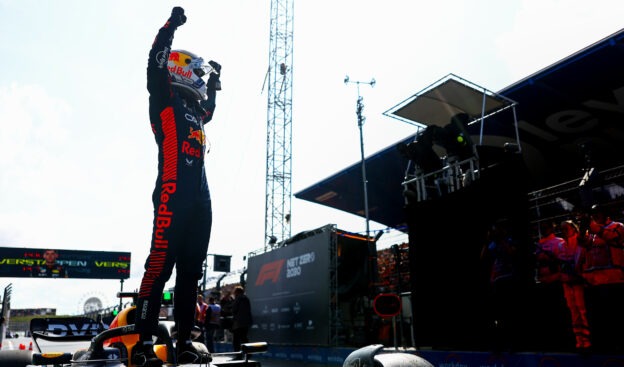 Event: Dutch Grand Prix
Track: Zandvoort circuit
Weather: dry/wet/dry/wet  17°C
Tarmac: dry/wet/dry/wet 23°C
Humidity : 89%
Wind : 3.0 km/h W
Max Verstappen won his 46th F1 race at the 2023 Dutch F1 GP today. The Red Bull driver started from pole position and won on the Zandvoort circuit for the third time in a row. It was his 11th win and the 9th consecutive victory of the season. The Red Bull Racing team scored their 105th race win.
Dramatic Rain-Drenched Dutch Grand Prix Ends with Verstappen on Top
The 2023 Dutch Formula 1 Grand Prix at Zandvoort will undoubtedly be remembered as a race of ever-changing weather conditions and high-stakes strategies. Max Verstappen, driving for Red Bull Racing, emerged victorious after a roller-coaster ride of lead changes, rain delays, and intense battles on the track.
The race began under relatively dry conditions, but rain quickly made its entrance, turning the track into a treacherous and slippery path. Verstappen, starting from pole position, faced immediate pressure from his rivals. Alexander Albon, despite struggling early on, managed to defend his position from Fernando Alonso and Carlos Sainz.
As rain intensified, the entire field found themselves grappling with the decision of when to switch to wet-weather tires. Lap 2 witnessed a chaotic pit sequence, with Charles Leclerc being the unfortunate casualty of Ferrari's ill-timed tire change. Sergio Perez, on the other hand, made a brilliant pit call, allowing him to climb through the ranks and seize the lead.
Verstappen, ever the master of his home circuit, made his move back to the front, overtaking Pierre Gasly and Zhou Guanyu. The battle between Verstappen and Gasly intensified, but Verstappen eventually reclaimed his lead. As the rain continued to play games, pit stops shuffled the running order several times.
Lap 60 brought a dramatic turn as heavy rain arrived, prompting a flurry of pit stops for intermediate tires. Verstappen's timing proved impeccable, allowing him to hold on to his lead. However, just as the race seemed to have settled, a massive downpour forced Perez off the track, triggering a red flag.
With weather conditions too severe for safe racing, the race was temporarily halted. After an anxious wait, the action finally resumed with a rolling start behind the safety car. Verstappen, showing his mastery yet again, managed to keep his lead till the end, claiming a historic victory in front of his ecstatic home crowd.
Alonso's consistent and strategic driving earned him a well-deserved second place, showcasing his prowess in challenging conditions. Gasly, despite a time penalty, managed to secure a remarkable third place for Alpine.
The Dutch Grand Prix will be remembered for its relentless unpredictability, with changing weather turning the tide multiple times. Verstappen's triumph on home turf adds another glorious chapter to his Formula 1 journey, solidifying his status as one of the sport's brightest stars.
Classification 2023 Dutch F1 GP
| P | No | Driver | Team | Time | Laps | Grid | Pts |
| --- | --- | --- | --- | --- | --- | --- | --- |
| 1 | 1 | Max Verstappen | Red Bull | 02:24:04.411 | 72 | 1 | 25 |
| 2 | 14 | Fernando Alonso | Aston Martin | +0 laps | 72 | 5 | 19 |
| 3 | 10 | Pierre Gasly | Alpine | +0 laps | 72 | 12 | 15 |
| 4 | 11 | Sergio Pérez | Red Bull | +0 laps | 72 | 7 | 12 |
| 5 | 55 | Carlos Sainz | Ferrari | +0 laps | 72 | 6 | 10 |
| 6 | 44 | Lewis Hamilton | Mercedes | +0 laps | 72 | 13 | 8 |
| 7 | 4 | Lando Norris | McLaren | +0 laps | 72 | 2 | 6 |
| 8 | 23 | Alex Albon | Williams | +0 laps | 72 | 4 | 4 |
| 9 | 81 | Oscar Piastri | McLaren | +0 laps | 72 | 8 | 2 |
| 10 | 31 | Esteban Ocon | Alpine | +0 laps | 72 | 16 | 1 |
| 11 | 18 | Lance Stroll | Aston Martin | +0 laps | 72 | 11 | 0 |
| 12 | 27 | Nico Hülkenberg | Haas | +0 laps | 72 | 14 | 0 |
| 13 | 40 | Liam Lawson | AlphaTauri | +0 laps | 72 | 20 | 0 |
| 14 | 20 | Kevin Magnussen | Haas | +0 laps | 72 | 17 | 0 |
| 15 | 77 | Valtteri Bottas | Alfa Romeo | +0 laps | 72 | 19 | 0 |
| 17 | 63 | George Russell | Mercedes | +0 laps | 72 | 3 | 0 |
| DNF | 24 | Zhou Guanyu | Alfa Romeo | +10 laps | 62 | 15 | 0 |
| DNF | 16 | Charles Leclerc | Ferrari | +31 laps | 41 | 9 | 0 |
| DNF | 2 | Logan Sargeant | Williams | +58 laps | 14 | 10 | 0 |
Fastest lap: 1:13.837 min by Fernando Alonso, Aston Martin AMR23 #14 in lap 56
✅ Check out F1 Standings 2023 Championship
✅ Check out F1 2023 Calendar
✅ Check out All Time F1 Drivers Rankings
✅ Check out All Time F1 Driver Records
✅ Check out All Time F1 Teams Ranking
---
✅ Check out more posts with related topics: