Race Results 2019 Chinese F1 Grand Prix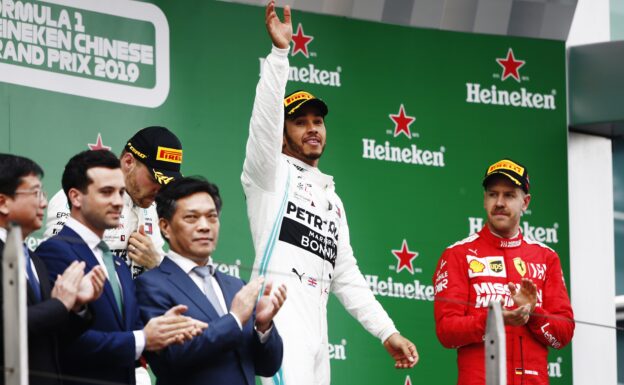 Event: Chinese Grand Prix
Track: Shanghai International Circuit
Weather: Dry 19.3°C
Tarmac: Dry 29.2-25.3°C
Humidity: 45.9%
Wind: 2.3-4.0 m//s
Pressure: 1019.2 bar
Lewis Hamilton won the 1.000th Formula 1 Grand Prix today in China. The British driver scored his 75th race win.  It was the 90th victory for Mercedes and because Valtteri Bottas finished 2nd, the 47th 1-2 finish. Hamilton won the Chinese F1 Grand Prix for the 6th time and scored his 2nd race win of the 2019 season.
The weather was quite chilly in Shanghai and caused Max Verstappen in the Red Bull and Robert Kubica in the Williams spun on the warm up lap.
The start of the 1.000th Formula 1 Grand Prix in China was clean. Lewis Hamilton had a better start than his Mercedes team mate Valtteri Bottas and took the lead going into turn 1. Charles Leclerc passed his team mate Sebastian Vettel int the Ferrari at turn 1.
In turn 6 of the first lap 3 cars collided, first McLaren driver Carlos Sainz and Toro Rosso driver Daniil Kvyat collided, because Kvyat didn't gave Sainz enough space. Kvyat lost control of the STR14 and because of that also collided with McLaren driver Lando Norris who was driving beside him. Both McLaren driver had to come in to check the damage. Sainz had to get a new front wing. The Russian driver Kvyat could go on but received a drive through penalty from the race stewards for causing a collision.
Sergio Pérez had a great first lap in the Racing Point. He passed 4 cars to P8. In lap 10 of the race Leclerc received a team order and had to let his team mate pass for P3. Nico Hulkenberg was the first of the top 10 drivers who made his pit stop in lap 12. He switched from Soft to Hard tyres.
Vettel out braked him self many times driving in front of Leclerc and was not able to pull a gap in front of Leclerc. Max Verstappen in the Red Bull was even able to drove towards both Ferrari's. In lap 17 Nico Hulkenberg retired the Renault RS19 while Norris front wing failed.
Verstappen tried to pass Leclerc with an undercut pitstop in lap 18. Ferrari reacted and pitted Vettel a lap later. When Vettel came out of the pit Verstappen was right behind him. The Dutch driver did try to pass Vettel at the and of the long straight, but couldn't stay ahead. Leclerc didn't do his pitstop while Vettel drove the fastest lap of the race with a 1:36.998 on his medium tyres.
In lap 22 Valtteri Bottas also switched to the Medium tyres and came back on track with Vettel behind him on 4,5 sec. A lap later his team mate Hamilton and Leclerc did their pitstop. Hamilton returned as leader, but Leclerc lost a place and came back on track as 5th.
Kimi Raikkonen in the Alfa Romeo and Romain Grosjean in the Haas had a great fight for P9 in lap 29. Alexander Albon did a great race in the Toro Rosso. He started from the pit lane because of his crash during FP3 yesterday and passed Kevin Magnussen in the Haas on lap 30 for P11.
In lap 35 Verstappen pitted for medium tyres with the Red Bull he dropped from P4 to P5. Vettel reacted with pitstop a lap later. The Ferrari pit crew did a great stop that took only 2.2. sec. One lap later both Mercedes' also pitted for new Medium tyres. Hamilton was fitted a used set op Medium tyres while Bottas got a new set of tyres and could drive to the finish threatened.
At the end of the race Lando Norris retired his McLaren and Red Bull driver Pierre Gasly drove his car into the pits to get a Soft set of tyres and try to drive the fastest lap and get the extra point.
✅ Check out Pictures 2019 Chinese F1 GP
✅ Check out 2019 F1 Championship Standings
✅ Check out 2019 F1 Calendar
✅ Check out All Time F1 Drivers Rankings
✅ Check out All Time F1 Driver Records
✅ Check out All Time F1 Teams Rankings
F1 Classification 2019 Chinese GP
| P | No | Driver | Team | Time | Laps | Grid | Pts |
| --- | --- | --- | --- | --- | --- | --- | --- |
| 1 | 44 | Lewis Hamilton | Mercedes | 01:32:06.350 | 56 | 2 | 25 |
| 2 | 77 | Valtteri Bottas | Mercedes | 01:32:12.902 | 56 | 1 | 18 |
| 3 | 5 | Sebastian Vettel | Ferrari | 01:32:20.094 | 56 | 3 | 15 |
| 4 | 33 | Max Verstappen | Red Bull | 01:32:33.977 | 56 | 5 | 12 |
| 5 | 16 | Charles Leclerc | Ferrari | 01:32:37.626 | 56 | 4 | 10 |
| 6 | 10 | Pierre Gasly | Red Bull | 01:33:35.657 | 56 | 6 | 9 |
| 7 | 3 | Daniel Ricciardo | Renault | 01:32:19.395 | 55 | 7 | 6 |
| 8 | 11 | Sergio Pérez | Racing Point | 01:32:21.383 | 55 | 12 | 4 |
| 9 | 7 | Kimi Räikkönen | Alfa Romeo | 01:32:28.064 | 55 | 13 | 2 |
| 10 | 23 | Alex Albon | Toro Rosso | 01:32:40.655 | 55 | 20 | 1 |
| 11 | 8 | Romain Grosjean | Haas | 01:32:41.675 | 55 | 10 | 0 |
| 12 | 18 | Lance Stroll | Racing Point | 01:32:48.295 | 55 | 16 | 0 |
| 13 | 20 | Kevin Magnussen | Haas | 01:32:49.175 | 55 | 9 | 0 |
| 14 | 55 | Carlos Sainz | McLaren | 01:32:59.099 | 55 | 14 | 0 |
| 15 | 99 | Antonio Giovinazzi | Alfa Romeo | 01:33:02.130 | 55 | 19 | 0 |
| 16 | 63 | George Russell | Williams | 01:32:30.855 | 54 | 17 | 0 |
| 17 | 88 | Robert Kubica | Williams | 01:32:46.919 | 54 | 18 | 0 |
| 18 | 4 | Lando Norris | McLaren | Collision damage | 50 | 15 | 0 |
| DNF | 26 | Daniil Kvyat | Toro Rosso | Collision damage | 41 | 11 | 0 |
| DNF | 27 | Nico Hülkenberg | Renault | MGU-K | 16 | 8 | 0 |
Fastest lap : 1:34.742 by Pierre Gasly - Red Bull RB15 Honda in lap 55.
Highest speed : 338.4 km/h by Alexander Albon - Toro Rosso STR14 Honda
Below you can see a virtual animation of the race at 100x speed:
---
✅ Check out more posts with related topics: