Lap times 1st free practice 2019 Chinese F1 GP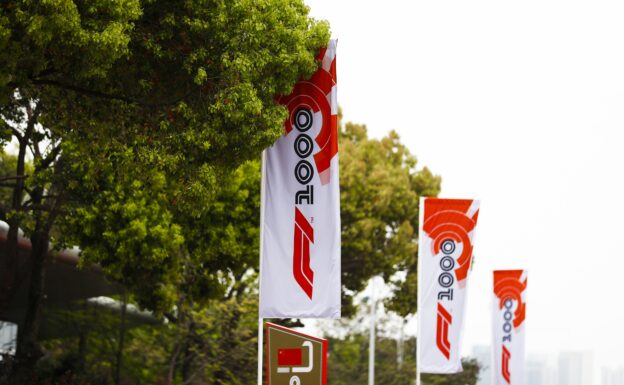 Event: Chinese Grand Prix
Track: Shanghai International Circuit
Weather: 16.0-18.7°C sunny & dry
Tarmac: 30.7-36.8°C dry
Humidity: 45.3%
Wind: 2.2 m//s
Pressure: 1020.6 bar
It took a long time before the first lap time was set in FP1 for the Chinese F1 GP. Teams waited until the track was warmed up to 33 degrees Celsius. After 20 minutes the track was warm enough to start practising. Robert Kubica clocked the first time with a 1:41.339 in the Williams FW42 on Medium tyres.
In the first stint the top teams also gone out to get some lap under their belt. Ferrari was first to have a lap time on the time list with Sebastian Vettel on Medium tyres. He drove a 1:35.988. His team mate Charles Leclerc drove a 1:36.445 also on Mediums. Lewis Hamilton was 0.4 s faster on the Soft compound. Red Bull driver Max Verstappen was 0.7 s slower on the Hard Pirelli tyres. At the end of the first stint we saw Hamilton on top of the time sheet with a 1:35.102.
In the second stint both Mercedes drivers again run their laps on Soft tyres. Both Ferrari driver had Medium tyres fitted on the SF90, just like their 1st stint. With the slower Medium tyres Vettel was the fastest driver in the second stint. He clocked a 1:33.911. Hamilton was on P2 and was 0.207 s slower on the Soft tyres, in the Mercedes.
Max Verstappen was 0.423 on P4 with the Soft tyre compound on the RB15. Best of the rest was Daniel Ricciardo in the Renault. His gap to Vettel's time was 1.328 s. The whole midfield was driving similar lap times. The time difference between P7 and P17 was only 0.4 s.
In the last part of this first free practice for the 2019 Chinese Formula 1 Grand Prix a lot of drivers switch over to do some long runs and didn't improve their lap times much. Antonio Giovinazzi wasn't able to clock a lap time due to a technical problem on his Alfa Romeo C38.
The fastest lap time in last years FP1 was driven by Lewis Hamilton in the Mercedes. He drove a 1:33,999 an almost similar lap time to today's quickest lap time of Vettel.
FP1 Lap Times 2019 Chinese GP
Highlights from the first hour and a half of action in China 👇#ChineseGP 🇨🇳 #Race1000 pic.twitter.com/tqcehEP7nC

— Formula 1 (@F1) April 12, 2019
---
✅ Check out more posts with related topics: