Qualifying Results 2019 Chinese F1 Grand Prix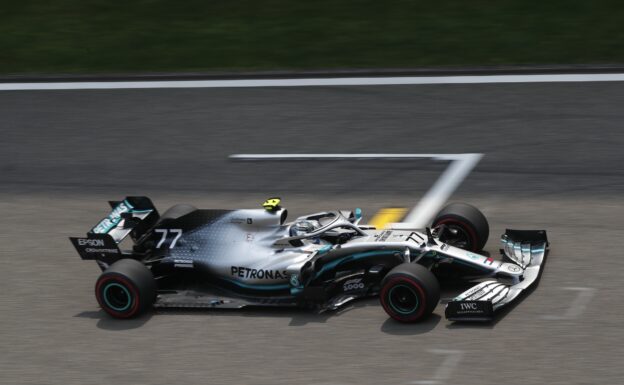 13 April 2019 by
Leopold
3 min read
Event: Chinese Grand Prix
Track: Shanghai International Circuit
Weather: 20.9°C sunny & dry
Tarmac: 36.3°C dry
Humidity: 47.4%
Wind: 1.4 m//s
Pressure: 1015.9 bar
Valtteri Bottas scored pole position for the 1.000th Formula 1 race in China during today's qualifying session. The Mercedes driver scored his 7th Formula 1 pole position. He will start from P1 tomorrow. It's was the 103rd pole and the 58th front row start for the Mercedes team in F1.
Q1 session
Because of his crash in FP3 Alexander Albon couldn't compete with the Toro Rosso and will have to start from the pitlane for tomorrow's race in China. Both Williams drivers hit the Shanghai circuit first to try to get into Q2. The Ferrari drivers Sebastian Vettel and Charles Leclerc went out as first of the top teams> They were followed quickly by both Mercedes drivers. Valtteri Bottas was quickest in the first stint of Q1 with a 1:32.658 on Softs followed by Lewis Hamilton and Max Verstappen in the Red Bull. Antonio Giovinazzi only drove 2 laps and had to come in with an issue on his Alfa Romeo. Lance Stroll (Racing Point), Robert Kubca (Williams), George Russel (Williams), Giovinazzi and Albon were the one to be ousted if they couldn't improve in the second stint..
All drivers except Giovinazzi and Albon did drive a second stint. The slowest drivers of the first stint didn't improve their position. A few drivers did climb up the time sheet. Charles Leclerc even ended up as second with only 0.54 sec.
Q2 session
In the second qualifying session for the Chinese Formula 1 Grand Prix we saw the top 5 drivers going out on Medium tyres. The tyre compound that's used for the quickest lap in Q2 is the tyre the drivers are allowed to start the race on. After the first stint Valtteri Bottas was again quickest with a 1:31.728. Sebastian Vettel was 2nd and Leclerc 3rd. Verstappen was 4th and Lewis Hamilton had a big gap to his team mate of 0.8 sec on P5. Haas driver Romain Grosjean didn't clock a time in the first stint. Sergio Pérez (Racing Point), Carlos Sainz (McLaren), Kimi Raikkonen (Alfa Romeo), Lando Norris (McLaren) and Romain Grosjean (Haas) were the slowest and had to improve their time in the second stint to make it to Q3.
In the second stint Lewis Hamilton improved his time on medium tyres to 1:31.637 and was the quickest. Grosjean was the only driver who could drive quick enough to go to Q1 and pushed out Toro Rosso driver Daniil Kvyat.
Q3 session
Daniel Ricciardo was the first driver in the Renault to try and win pole position for the 1000th race. Valtteri Bottas was quickest with a 1:31.563 after the first stint with only 0.007 sec. to Hamilton. Vettel was 3rd, Verstappen 4th and Leclerc 5th on the leaderboard.
In the second stint Hamilton drove out as first followed by his team mate. All drivers went out for a second run to improve their time. Hamilton scored purple in sector 1. Bottas scored purple in sector 2. Leclerc improved to get P4 from Verstappen who's out lap was to slow to do a run together with his team mate Gasly.
Qualifying Results 2019 Chinese GP
---
✅ Check out more posts with related topics: