Race Results 2018 Japanese F1 Grand Prix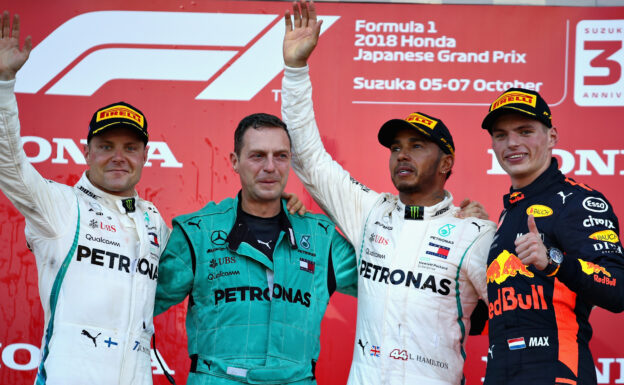 Event: Japanese F1 Grand Prix
Track: Suzuka Circuit
Weather:  Dry  29.4ºC
Tarmac: Dry 41.4ºC
Wind speed: 4.3 km/h
Humidity: 47.4%
Lewis Hamilton added another victory. Today he won the 2018 Japanese Formula 1 Grand Prix for the second time in a row and for the 5th time in his F1 career. It was his 71th formula 1 race win, his 9th win of the 2018 season and the 85th F1 victory for Mercedes.
The start of the race was again clean.  Just after the first lap Sebastian Vettel who started from P8 was already driving on P4. He passed his team mate at the chicane were Max Verstappen out braked himself, could not make the corner and went of the track. He hit the Ferrari of Kimi Raikkonen coming back to the track and received a 5 sec. penalty for not returning to the track safely.
Magnussen got a flat tyre in lap 2 after a hit by the  of Charles Leclerc. In lap 4 the safety car was deployed to clean up debris from Kevin Magnussen's Haas car.
Daniel Ricciardo who started from P15 also gained a lot of places. After the safety car period ended in lap 8 the Australian driver was driving on P10.
In the lap right after the Vettel tried to pass the Red Bull of Verstappen in the inside of Spoon. A point were it's impossible to pass and hit the car of the Dutchman. Vettel spun and returned to the track on P18. Verstappen got floor damage but was able to go on in P3.
In lap 13 Lewis Hamilton told his team on the radio he felt engine power hesitations in turn 2 and 5. Ricciardo had already passed 10 cars in lap 14 and was driving on P5 when he overtook Grosjean's Haas.
Raikkonen was the first to do a pit stop in lap 18. He got rid of his Supersofts and returned to the track on Soft tyres. Lewis Hamilton drove away and had a gap of 5 seconds to Valtteri Bottas.
In lap 24 race leader Hamilton pitted for Medium tyres and returned to the track as leader. Vettel pitted in lap 27 for the same medium tyres.
Vettel arrived on P6 in lap 35 by overtaking Grosjean. He also drove the fastest lap of the race at that moment.
Nico Hulkenberg retired the Renault in lap 38 and Charles Leclerc retired his Sauber in lap 39 and caused a virtual safety car period.
At the end of the race it was Verstappen who came very close a couple of times to pass Bottas for P2, he was on his tail, but his engine power wasn't strong enough to pass him in the DRS zone.
✅ Check out 2018 Japanese F1 GP Pictures
✅ Check out 2018 F1 Championship Standings
✅ Check out 2018 F1 Calendar
✅ Check out 2018 Used F1 Power Unit Elements
✅ Check out All Time F1 Drivers Rankings
✅ Check out All Time F1 Teams Rankings
✅ Check out All Time Country Rankings
✅ Check out All F1 Drivers Records
F1 classification 2018 Japanese GP
| P | No | Driver | Team | Time | Laps | Grid | Pts |
| --- | --- | --- | --- | --- | --- | --- | --- |
| 1 | 44 | Lewis Hamilton | Mercedes | 01:27:17.062 | 53 | 1 | 25 |
| 2 | 77 | Valtteri Bottas | Mercedes | 01:27:29.981 | 53 | 2 | 18 |
| 3 | 33 | Max Verstappen | Red Bull | 01:27:31.357 | 53 | 3 | 15 |
| 4 | 3 | Daniel Ricciardo | Red Bull | 01:27:36.557 | 53 | 15 | 12 |
| 5 | 7 | Kimi Räikkönen | Ferrari | 01:28:08.060 | 53 | 4 | 10 |
| 6 | 5 | Sebastian Vettel | Ferrari | 01:28:26.935 | 53 | 9 | 8 |
| 7 | 11 | Sergio Pérez | Racing Point | 01:28:36.441 | 53 | 9 | 6 |
| 8 | 8 | Romain Grosjean | Haas | 01:28:44.260 | 53 | 5 | 4 |
| 9 | 31 | Esteban Ocon | Racing Point | 01:28:45.117 | 53 | 11 | 2 |
| 10 | 55 | Carlos Sainz | Renault | 01:27:26.104 | 52 | 13 | 1 |
| 11 | 10 | Pierre Gasly | Toro Rosso | 01:27:38.955 | 52 | 7 | 0 |
| 12 | 9 | Marcus Ericsson | Sauber | 01:28:00.266 | 52 | 20 | 0 |
| 13 | 28 | Brendon Hartley | Toro Rosso | 01:28:00.804 | 52 | 6 | 0 |
| 14 | 14 | Fernando Alonso | McLaren | 01:28:01.138 | 52 | 18 | 0 |
| 15 | 2 | Stoffel Vandoorne | McLaren | 01:28:01.966 | 52 | 19 | 0 |
| 16 | 35 | Sergey Sirotkin | Williams | 01:28:04.356 | 52 | 17 | 0 |
| 17 | 18 | Lance Stroll | Williams | 01:28:09.047 | 52 | 14 | 0 |
| DNF | 16 | Charles Leclerc | Sauber | Mechanical | 38 | 10 | 0 |
| DNF | 27 | Nico Hülkenberg | Renault | Rear suspension | 37 | 16 | 0 |
| DNF | 20 | Kevin Magnussen | Haas | Puncture damage | 8 | 12 | 0 |
Fastest lap:  1:32.318 min by Sebastian Vettel (Ferrari) on lap 53
Highest speed: 330.7 km/h by Sebastian Vettel Ferrari SF71H
---
✅ Check out more posts with related topics: