Race results 2018 Chinese F1 grand prix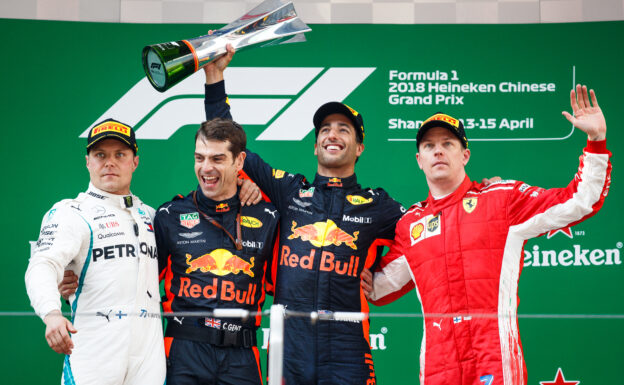 Event: Chinese Grand Prix
Track: Shanghai International Circuit
Weather:  Dry 18.9ºC
Tarmac: Dry 39ºC
Humidity: 23.4%
Daniel Ricciardo won the 2018 Chinese Grand Prix today for Red Bull. It was his 6th F1 race win. And the 56th for Red Bull. It was his first podium and win in China.
The top 4 drivers stated the race on the yellow soft tyres. Both Red Bull's started on the faster ultra soft tyres.
The start of the race was clean and without any collisions. Red Bull driver Max Verstappen who started on P5 passed the Mercedes of Lewis Hamilton and the Ferrari of Kimi Raikkonen in the first 4 corners to go to P3.
Brendon Hartley made the first pitstop to get rid of his ultra soft tyres.
On lap 18 Verstappen and Ricciardo made a pit stop to swap the ultra softs for medium compound tyres. A lap later Hamilton also pitted and swapped the softs for medium tyres. Bottas did the same a lap later.
Sebastian Vettel pitted in lap 21 and when he came out of the pit he was passed by Valtteri Bottas.
In lap 32 the safety car was deployed because the debris on the track after the collision between Toro Rosso drivers Brendon Hartley and Pierre Gasley had to be cleared
Red Bull took this opportunity to pit Ricciardo and Verstappen to get new soft compound tyres to try and move up some places. They both lost a place by doing this, but had a major advantage on the cars in front.
Max Verstappen was in front of Ricciardo but was to brave to try and pass Hamilton on the outside in turn 7. He drove on the rubber marbles and lost control of is car, drove of the track and lost 2 to Ricciardo and Raikkonen.
A few laps later he collided with the Ferrari of Sebastian Vettel in the hairpin at the end of the long straight. Both drivers spun and lost a lot of places. Verstappen lost the podium by this manoeuvre and also received a 10 sec. penalty.
Ricciardo passed all 5 cars in front and took the lead in lap 45 to win the race and also drove the fastest lap.
✅ Check out 2018 Chinese F1 GP Pictures
✅ Check out China 2018 Driver Comments
✅ Check out 2018 F1 Results & Standings
✅ Check out All Time F1 Drivers Rankings
✅ Check out All Time F1 Teams Rankings
✅ Check out All F1 Drivers Records
F1 classification 2018 Chinese GP
| P | No | Driver | Team | Time | Laps | Grid | Pts |
| --- | --- | --- | --- | --- | --- | --- | --- |
| 1 | 3 | Daniel Ricciardo | Red Bull | 01:35:36.380 | 56 | 6 | 25 |
| 2 | 77 | Valtteri Bottas | Mercedes | 01:35:45.274 | 56 | 3 | 18 |
| 3 | 7 | Kimi Räikkönen | Ferrari | 01:35:46.017 | 56 | 2 | 15 |
| 4 | 44 | Lewis Hamilton | Mercedes | 01:35:53.365 | 56 | 4 | 12 |
| 5 | 33 | Max Verstappen | Red Bull | 01:35:56.816 | 56 | 5 | 10 |
| 6 | 27 | Nico Hülkenberg | Renault | 01:35:57.432 | 56 | 7 | 8 |
| 7 | 14 | Fernando Alonso | McLaren | 01:36:07.019 | 56 | 13 | 6 |
| 8 | 5 | Sebastian Vettel | Ferrari | 01:36:11.666 | 56 | 1 | 4 |
| 9 | 55 | Carlos Sainz | Renault | 01:36:12.143 | 56 | 9 | 2 |
| 10 | 20 | Kevin Magnussen | Haas | 01:36:15.974 | 56 | 11 | 1 |
| 11 | 31 | Esteban Ocon | Force India | 01:36:20.430 | 56 | 12 | 0 |
| 12 | 11 | Sergio Pérez | Force India | 01:36:21.105 | 56 | 8 | 0 |
| 13 | 2 | Stoffel Vandoorne | McLaren | 01:36:25.753 | 56 | 14 | 0 |
| 14 | 18 | Lance Stroll | Williams | 01:36:31.870 | 56 | 18 | 0 |
| 15 | 35 | Sergey Sirotkin | Williams | 01:36:34.621 | 56 | 16 | 0 |
| 16 | 9 | Marcus Ericsson | Sauber | 01:36:38.984 | 56 | 20 | 0 |
| 17 | 8 | Romain Grosjean | Haas | 01:36:41.676 | 56 | 10 | 0 |
| 18 | 10 | Pierre Gasly | Toro Rosso | 01:36:42.710 | 56 | 17 | 0 |
| 19 | 16 | Charles Leclerc | Sauber | 01:36:58.955 | 56 | 19 | 0 |
| DNF | 28 | Brendon Hartley | Toro Rosso | Gearbox | 51 | 15 | 0 |
Fastest lap: 135.785 min by Daniel Ricciardo  (Red Bull RB14) in lap 55
Highest speed: 343.8 km/h by Kimi Raikkonen (Ferrari SF71H)
---
✅ Check out more posts with related topics: