Lap times 2nd practice 2018 Chinese F1 Grand Prix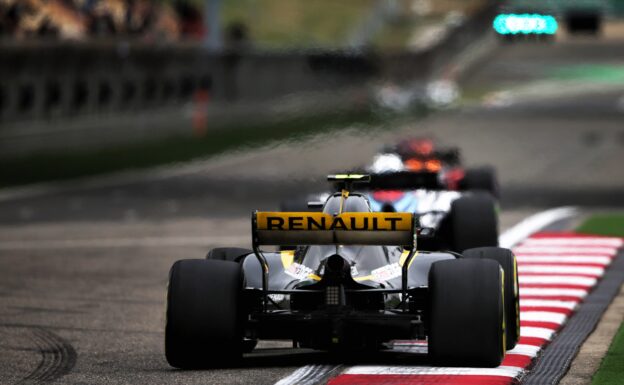 Event: Chinese Grand Prix
Track: Shanghai International Circuit
Weather: Dry to wet, 18 ºC
Tarmac: dry to wet, 20ºC
The second practice started dry and both Haas drivers Romain Grosjean and Kevin Magnussen were the first to go out. All other drivers except Stoffel Vandoorne, Daniel Ricciardo and Max Verstappen also got out of their garage to get some quick lap times on the time sheet.
After 9 minutes in the session Ferrari driver Kimi Raikkonen was called back into garage by his team to check software problem on the SF71H. Lewis Hamilton was again showing a solid performance in the Mercedes and topped the time sheet almost the whole session.
After his last pit stop McLaren driver Stoffel Vandoorne had to stop his car, because a wheel wasn't fitted properly and caused a yellow flag and the FIA started an investigation on this "unsafe release".
All drivers tried out the superfast new purple Ultra soft Pirelli tyres, but nobody was able come close to the 14 years old lap record of Michael Schumacher of 1:32.238 min, set in 2004.
After 1:18 hours into the session Verstappen told his team that it started to drizzel. Later on this drizzel turned into rain and Alonso, Perez, Ocon, Ericsson and Hartley tried out the intermediate tyre.
The drivers of the top 3 teams drove very similar lap times. The lap time differences between Mercedes, Ferrari and Red Bull are very small and according this practice session the race looks very promising.
2nd practice results 2018 Chinese GP
| | | | | | | | |
| --- | --- | --- | --- | --- | --- | --- | --- |
| Pos | No | Driver | Team | Lap Time | 1st Gap | Laps | Tyres |
| 1 | 44 | Lewis Hamilton | Mercedes | 1:33,482 | | 26 | ultra S |
| 2 | 7 | Kimi Räikkönen | Ferrari | 1:33,489 | 0,007 | 26 | ultra S |
| 3 | 77 | Valtteri Bottas | Mercedes | 1:33,515 | 0,033 | 27 | ultra S |
| 4 | 5 | Sebastian Vettel | Ferrari | 1:33,590 | 0,108 | 27 | ultra S |
| 5 | 33 | Max Verstappen | Red Bull | 1:33,823 | 0,341 | 26 | ultra S |
| 6 | 27 | Nico Hülkenberg | Renault | 1:34,313 | 0,831 | 30 | ultra S |
| 7 | 20 | Kevin Magnussen | Haas | 1:34,458 | 0,976 | 26 | ultra S |
| 8 | 55 | Carlos Sainz | Renault | 1:34,473 | 0,991 | 28 | ultra S |
| 9 | 3 | Daniel Ricciardo | Red Bull | 1:34,557 | 1,075 | 26 | ultra S |
| 10 | 14 | Fernando Alonso | McLaren | 1:34,632 | 1,150 | 23 | ultra S |
| 11 | 11 | Sergio Pérez | Force India | 1:34,792 | 1,310 | 30 | ultra S |
| 12 | 10 | Pierre Gasly | Toro Rosso | 1:34,849 | 1,367 | 33 | ultra S |
| 13 | 31 | Esteban Ocon | Force India | 1:34,874 | 1,392 | 30 | ultra S |
| 14 | 2 | Stoffel Vandoorne | McLaren | 1:35,163 | 1,681 | 22 | ultra S |
| 15 | 28 | Brendon Hartley | Toro Rosso | 1:35,333 | 1,851 | 37 | ultra S |
| 16 | 35 | Sergey Sirotkin | Williams | 1:35,340 | 1,858 | 31 | ultra S |
| 17 | 9 | Marcus Ericsson | Sauber | 1:35,624 | 2,142 | 29 | ultra S |
| 18 | 16 | Charles Leclerc | Sauber | 1:35,916 | 2,434 | 26 | ultra S |
| 19 | 8 | Romain Grosjean | Haas | 1:36,471 | 2,989 | 26 | soft |
| 20 | 18 | Lance Stroll | Williams | 1:37,147 | 3,665 | 19 | ultra S |
---
✅ Check out more posts with related topics: