Race Results 2018 Belgian F1 Grand Prix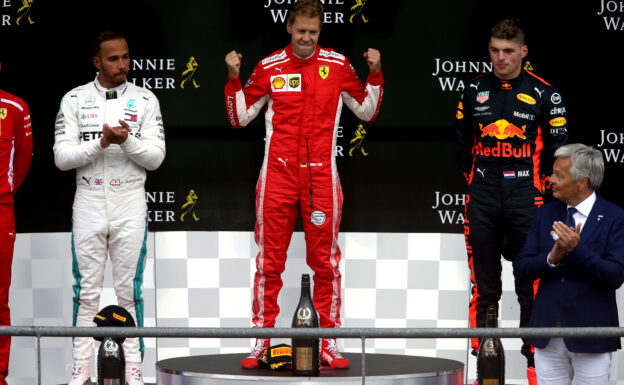 Event: Belgian Grand Prix
Track:  Spa Francorchamps Circuit
Weather:  Dry  17.3ºC
Tarmac: Dry 29.4ºC
Wind speed: 10.8 km/h
Humidity: 38.5%
Sebastian Vettel won his 52nd F1 race today with his victory of the 2018 Belgian F1 GP. He now has passed Alain Prost in the most amount of wins list and holds 3rd place now. Vettel started the race from P2 and lead the race from lap 1 in which he overtook the Mercedes of his championship rival Lewis Hamilton.
It was the 3rd time he won the Grand Prix of Belgium and his 5th victory of the 2018 F1 season. For his team Scuderia Ferrari it was the 234th F1 victory.
The start of the race was full of incidents. Nico Hulkenberg braked to late for the La Source hairpin and hit the McLaren of Fernando Alonso in the back. Because of the collision Alonso's car was pushed over the Sauber of Leclerc and all three cars had to retire due to severe damage.
Even the car Red Bull of Daniel Ricciardo was hit by the McLaren of Alonso. Ricciardo also hit the back of Kimi Raikkonen's Ferrari, due to he got hit by Alonso's car. The Red Bull car of Ricciardo had a broken back wing and got back to the garage. Raikkonen only had a puncture and was able to continue.
The collision debris caused a safety car period of 4 laps. Sebastian Vettel was able to take the lead on Kemmel straight in the first lap and had to defend his P1 to both very quick Force India cars.
After the restart behind the safety car nobody was able to overtake and nothing. Ricciardo was still in the garage to get a new back wing. In the 7th lap Max Verstappen passed the Force India of Esteban Ocon when DRS was enabled. Verstappen passed him at the of Kemmel straight. Raikkonen went again to the pit because he had problems with his DRS. He returned to the track as last, but retired a few laps later.
In lap 10 Verstappen showed the Red Bull had good pace in Spa and even could pass the Force India of Sergio Pérez for P3 in front of tens of thousands Dutch Verstappen fans.
Valtteri Bottas who started on P17 due to replacement of power unit elements was charging up the field and drove already on P7 in lap 22 when his teammate Lewis Hamilton pitted for new soft tyres on his Mercedes. A lap later it was race leader Sebastian Vettel who also got new Soft Pirelli's. Hamilton did win a over a second on Vettel but was unable to attack the Ferrari.
Verstappen who drove in no man's land on P3 pitted in lap 27 for new Soft tyres and returned to the track as 3rd.
After the pitstops Vettel drove away to a gap of 12 seconds on his title rival Hamilton to win the race. Hamilton still leads the championship, but his points lead has shrunk to 17 points.
✅ Check out 2018 Belgian F1 GP Pictures
✅ Check out 2018 F1 Championship Standings
✅ Check out 2018 F1 Calendar
✅ Check out All Time F1 Drivers Rankings
✅ Check out All Time F1 Teams Rankings
✅ Check out All F1 drvers records
F1 classification 2018 Belgian GP
| P | No | Driver | Team | Time | Laps | Grid | Pts |
| --- | --- | --- | --- | --- | --- | --- | --- |
| 1 | 5 | Sebastian Vettel | Ferrari | 01:23:34.476 | 44 | 2 | 25 |
| 2 | 44 | Lewis Hamilton | Mercedes | 01:23:45.537 | 44 | 1 | 18 |
| 3 | 33 | Max Verstappen | Red Bull | 01:24:05.848 | 44 | 7 | 15 |
| 4 | 77 | Valtteri Bottas | Mercedes | 01:24:38.081 | 44 | 17 | 12 |
| 5 | 11 | Sergio Pérez | Racing Point | 01:24:45.499 | 44 | 4 | 10 |
| 6 | 31 | Esteban Ocon | Racing Point | 01:24:53.996 | 44 | 3 | 8 |
| 7 | 8 | Romain Grosjean | Haas | 01:25:00.429 | 44 | 5 | 6 |
| 8 | 20 | Kevin Magnussen | Haas | 01:25:02.115 | 44 | 9 | 4 |
| 9 | 10 | Pierre Gasly | Toro Rosso | 01:25:20.368 | 44 | 10 | 2 |
| 10 | 9 | Marcus Ericsson | Sauber | 01:23:39.447 | 43 | 13 | 1 |
| 11 | 55 | Carlos Sainz | Renault | 01:23:51.895 | 43 | 19 | 0 |
| 12 | 35 | Sergey Sirotkin | Williams | 01:23:54.334 | 43 | 15 | 0 |
| 13 | 18 | Lance Stroll | Williams | 01:23:56.544 | 43 | 16 | 0 |
| 14 | 28 | Brendon Hartley | Toro Rosso | 01:24:12.518 | 43 | 11 | 0 |
| 15 | 2 | Stoffel Vandoorne | McLaren | 01:24:18.767 | 43 | 20 | 0 |
| DNF | 3 | Daniel Ricciardo | Red Bull | Collision damage | 28 | 8 | 0 |
| DNF | 7 | Kimi Räikkönen | Ferrari | Collision damage | 8 | 6 | 0 |
| DNF | 16 | Charles Leclerc | Sauber | Collision damage | 0 | 12 | 0 |
| DNF | 14 | Fernando Alonso | McLaren | Collision damage | 0 | 14 | 0 |
| DNF | 27 | Nico Hülkenberg | Renault | Collision damage | 0 | 18 | 0 |
Notes:
Valtteri Bottas (no. 77) - 5 second time penalty - Causing a collision
---
Fastest lap:  1:46.286 min by Valtteri Bottas - Mercedes W09 lap 32 @237.231 km/h (new lap record)
Highest speed: 345 km/h by Valtteri Bottas - Mercedes W09
---
✅ Check out more posts with related topics: