Race Results 2017 Singapore F1 Grand Prix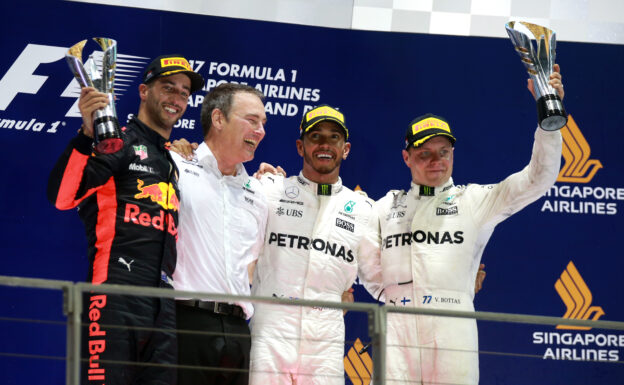 Event: Singapore Grand Prix
Track: Singapore Circuit
Weather: 28°C wet & raining
Tarmac: 30°C wet
Humidity: 100%
Lewis Hamilton won the wet 2017 edition of the Singapore Grand Prix today. It was his 60th Formula 1 victory and the 73rd race win for Mercedes. Daniel Ricciardo who started 3rd could not match the race pace of Hamilton and finished 2nd.
Valtteri Bottas who had a poor weekend until now and started as 6th had a stroke of luck and finished on the podium as 3rd.
The race had a dramatic start. After the start lights turned off all drivers accelerated to the first corner. Vettel and Verstappen got away clean and had an equal pace.
4th place starter Kimi Raikkonen had a much better start then Verstappen. The Fin was able to get alongside Verstappen but could not really pass him.
Vettel, Verstappen and Raikkonen approached the first left corner with the Red Bull driver between both Ferrari drivers when Vettel turned a bit left to hold Verstappen off. At the same moment Raikkonen turned a bit to the right and both Ferrari drivers squeezed the Dutch teenager and even hit each other.
Raikkonen and Verstappen also hit the McLaren of Fernando Alonso, who had a very good start and drove 3rd at the moment that he was collected by the crashing cars. All 4 drivers had to retire their car because collision damage.
F1 classification 2017 Singapore GP
| P | No | Driver | Team | Time | Laps | Grid | Pts |
| --- | --- | --- | --- | --- | --- | --- | --- |
| 1 | 44 | Lewis Hamilton | Mercedes | 02:03:23.544 | 58 | 5 | 25 |
| 2 | 3 | Daniel Ricciardo | Red Bull | 02:03:28.051 | 58 | 3 | 18 |
| 3 | 77 | Valtteri Bottas | Mercedes | 02:03:32.344 | 58 | 6 | 15 |
| 4 | 55 | Carlos Sainz | Toro Rosso | 02:03:46.366 | 58 | 10 | 12 |
| 5 | 11 | Sergio Pérez | Force India | 02:03:48.903 | 58 | 12 | 10 |
| 6 | 30 | Jolyon Palmer | Renault | 02:03:50.803 | 58 | 11 | 8 |
| 7 | 2 | Stoffel Vandoorne | McLaren | 02:03:53.932 | 58 | 9 | 6 |
| 8 | 18 | Lance Stroll | Williams | 02:04:05.240 | 58 | 18 | 4 |
| 9 | 8 | Romain Grosjean | Haas | 02:04:06.826 | 58 | 15 | 2 |
| 10 | 31 | Esteban Ocon | Force India | 02:04:08.339 | 58 | 14 | 1 |
| 11 | 19 | Felipe Massa | Williams | 02:04:10.080 | 58 | 17 | 0 |
| 12 | 94 | Pascal Wehrlein | Sauber | 02:04:50.858 | 58 | 19 | 0 |
| DNF | 20 | Kevin Magnussen | Haas | Power unit | 50 | 16 | 0 |
| DNF | 27 | Nico Hülkenberg | Renault | Oil leak | 48 | 7 | 0 |
| DNF | 9 | Marcus Ericsson | Sauber | Accident | 35 | 20 | 0 |
| DNF | 26 | Daniil Kvyat | Toro Rosso | Crashed | 10 | 13 | 0 |
| DNF | 14 | Fernando Alonso | McLaren | Collision damage | 9 | 8 | 0 |
| DNF | 5 | Sebastian Vettel | Ferrari | Collision | 0 | 1 | 0 |
| DNF | 33 | Max Verstappen | Red Bull | Collision | 0 | 2 | 0 |
| DNF | 7 | Kimi Räikkönen | Ferrari | Collision | 0 | 4 | 0 |
Fastest lap: 1:45.008 min by Lewis Hamilton (Mercedes) on lap 55 @173,643 km/h
Highest speed: 320.5 km/h by Sergio Pérez (Force India)
✅ Check out 2017 F1 Championship Standings
✅ Check out 2017 F1 Teams & Drivers
✅ Check out All Time F1 Drivers Rankings
✅ Check out All Time F1 Driver Records
✅ Check out All Time F1 Teams Rankings
---
✅ Check out more posts with related topics: