Race Results 2017 Canadian F1 Grand Prix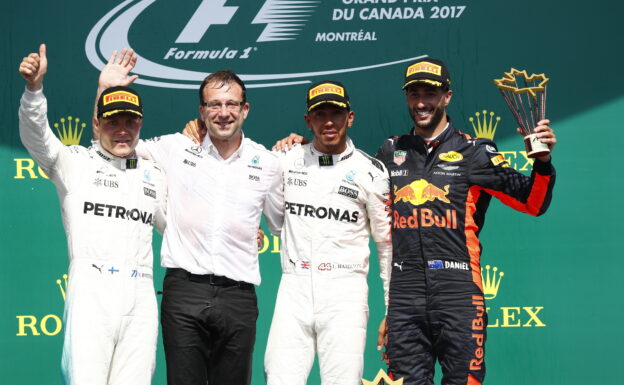 Event: Canadian Grand Prix
Track: Circuit Gilles Villeneuve
Weather: Sunny, Clear Sky, 29ºC
Tarmac: Dry 46ºC
Lewis Hamilton scored the F1 hattrick today during the Canadian Grand Prix. He scored pole, fastest lap and the race win. It was his 56th F1 victory and the 68th for the Mercedes team.
Bottas made it a perfect weekend for Mercedes by finishing second, to make it a 1-2 finish. Mercedes scored 37th 1-2 finish at Canada this weekend, just like Ferrari did last race in Monaco.
Red Bull driver Daniel Ricciardo could witness the Mercedes podium celebrations from the best spot by finish on the podium as 3rd.
The race started dry and Red Bull driver Max Verstappen, who started 5th, had the best start of the front runners and dove into 1st corner as second. He even could attack Lewis Hamilton at the end of the first lap, who was leading the race from start till finish.
Unfortunately Max had to retire in lap 10, again with power unit problems.
Felipe Massa also had some bad luck again in Montreal. He started 7th on the grid and had an ok start, but got hit in the 3rd corner by Carlos Sainz who spun his Toro Rosso on the grass after hitting Haas driver Romain Grosjean. Circuit Gilles Villeneuve isn't Massa's fortunate circuit. He never won a podium here and didn't see the finish 5 times.
F1 Classification 2017 Canadian GP
| P | No | Driver | Team | Time | Laps | Grid | Pts |
| --- | --- | --- | --- | --- | --- | --- | --- |
| 1 | 44 | Lewis Hamilton | Mercedes | 01:33:05.154 | 70 | 1 | 25 |
| 2 | 77 | Valtteri Bottas | Mercedes | 01:33:24.937 | 70 | 3 | 18 |
| 3 | 3 | Daniel Ricciardo | Red Bull | 01:33:40.451 | 70 | 6 | 15 |
| 4 | 5 | Sebastian Vettel | Ferrari | 01:33:41.061 | 70 | 2 | 12 |
| 5 | 11 | Sergio Pérez | Force India | 01:33:45.630 | 70 | 8 | 10 |
| 6 | 31 | Esteban Ocon | Force India | 01:33:45.870 | 70 | 9 | 8 |
| 7 | 7 | Kimi Räikkönen | Ferrari | 01:34:03.786 | 70 | 4 | 6 |
| 8 | 27 | Nico Hülkenberg | Renault | 01:34:05.528 | 70 | 10 | 4 |
| 9 | 18 | Lance Stroll | Williams | 01:33:14.501 | 69 | 17 | 2 |
| 10 | 8 | Romain Grosjean | Haas | 01:33:32.729 | 69 | 14 | 1 |
| 11 | 30 | Jolyon Palmer | Renault | 01:33:33.803 | 69 | 15 | 0 |
| 12 | 20 | Kevin Magnussen | Haas | 01:33:34.219 | 69 | 18 | 0 |
| 13 | 9 | Marcus Ericsson | Sauber | 01:33:51.920 | 69 | 19 | 0 |
| 14 | 2 | Stoffel Vandoorne | McLaren | 01:33:54.493 | 69 | 16 | 0 |
| 15 | 94 | Pascal Wehrlein | Sauber | 01:33:18.373 | 68 | 20 | 0 |
| 16 | 14 | Fernando Alonso | McLaren | Power Unit | 66 | 12 | 0 |
| DNF | 26 | Daniil Kvyat | Toro Rosso | Power Unit | 54 | 11 | 0 |
| DNF | 33 | Max Verstappen | Red Bull | Power Unit | 10 | 5 | 0 |
| DNF | 19 | Felipe Massa | Williams | Collision | 0 | 7 | 0 |
| DNF | 55 | Carlos Sainz | Toro Rosso | Collision | 0 | 13 | 0 |
Fastest lap: 1:14.551 min (210,588 km/h) lap 64 by Lewis Hamilton, Mercedes W08
Highest speed: 344,1 km/h by Sebastian Vettel, Ferrari SF70H
Fastest pit stop: 22.790 sec by Lance Stroll, Williams
✅ Check out 2017 F1 Championship Standings
✅ Check out 2017 F1 Teams & Drivers
✅ Check out All Time F1 Drivers Rankings
✅ Check out All Time F1 Driver Records
✅ Check out All Time F1 Teams Rankings
---
✅ Check out more posts with related topics: