Starting Grid 2019 Azerbaijan F1 GP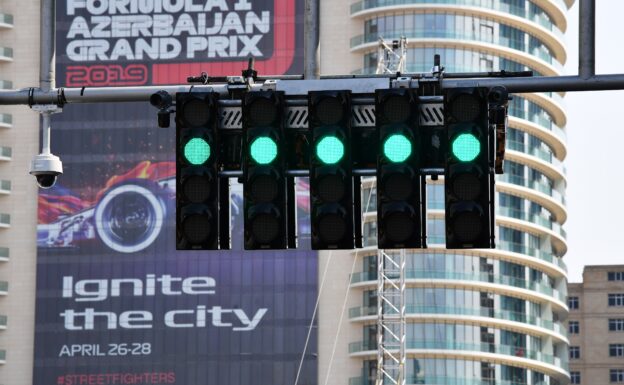 Event: Azerbaijan Grand Prix
Track: Baku street circuit
Start time: 16:10 (local) | 13:10 GMT | 05:10 PT
Although Ferrari was over a second faster in FP3, they didn't score pole position for tomorrow's race. After the exciting and very long qualifying session and penalties the start grid is ready. The start grid for the 2019 Azerbaijan F1 GP in Baku will be:
Start Grid 2019 Azerbaijan F1 GP
Penalties:
Antonio Giovinazzi (Alfa Romeo) 10 places grid penalty for use of additional power unit element.
Pierre Gasly (Red Bull) 5 places grid penalty for an unscheduled gearbox change and has to start race from pit lane for ignoring weighbridge call during FP2.
Kimi Raikkonen (Alfa Romeo) has to start from the pit lane due to car modification in Parc Fermë.
Robert Kubica (Williams) has to start from the pit lane due to car modification in Parc Fermë.
Pierre Gasly (Red Bull) has to start from the pit lane due to car modification in Parc Fermë.
---
Quickest tyre strategy 2019 Azerbaijan GP
A one-stop strategy is the clear choice for this 51-lap race: either going from soft to medium or medium to soft (which makes little difference). If starting on the soft, the best option is to stop on lap 25; if starting on the medium it's best to stop on lap 26. Nonetheless, there's a very wide pit stop window here: effectively from lap 15 onwards, so those numbers can be considered only as a guide. As we've already seen this weekend and from the past, the strategy can be heavily influenced by safety cars, but on paper a two-stopper is slower.

Important Race Notes
The weather. Qualifying took place in a relatively chilly 15 degrees ambient and 26 degrees of track temperature by the end of the session. It may well be quite similar tomorrow, with the race starting just after 4pm.
Safety cars. The Formula 2 race today was dominated by safety cars, and the safety car has been a regular feature of the Baku race in Formula 1 as well. Today was a timely reminder of everything that can happen on a street circuit.
Flexible strategies. Although almost all in the top 10 will start on the soft tyres, strategies will vary considerably depending on potential safety cars and interruptions (in combination with a wide pit stop window). It's a hard one to call.
Rapid speeds. Top speeds of more than 345 km/h were recorded on the start-finish straight, while the pole time was a second faster than last year.
Charles Leclerc. If he starts from 10th on the grid as he was classified, he will be the only one in the top 10 to begin the race on the medium compound.
---
✅ Check out more posts with related topics: