Qualifying Results 2019 Azerbaijan F1 Grand Prix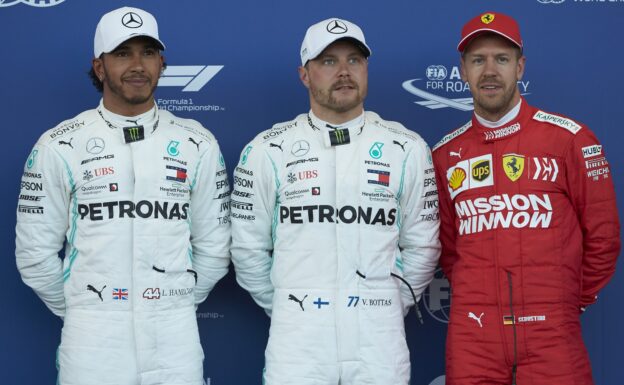 27 April 2019 by
Leopold
3 min read
Event: Azerbaijan Grand Prix
Track: Baku street circuit
Weather: 16.7-14.7°C sunny & dry
Tarmac: 36.7-26.3°C dry
Humidity: 67.9-78.8%
Wind: 1.0 m//s
Pressure: 1023.6 bar
Valtteri Bottas scored pole position during qualifying for the 2019 Azerbaijan F1 GP. The Mercedes driver scored his 8th Formula 1 pole position and his second pole of this season. It was the 103rd pole position for Mercedes.
Q1 session
George Russel drove out his garage as first in the Williams to get a lap time on the time sheet. After the first stint is was Charles Leclerc who was on top with 1:41.426 and was 0.6 sec. quicker than Valtteri Bottas who was on P2 in the Mercedes.
At the end of the session Pierre Gasly had a great tow on the long straight to catapult him to P1. Carlos Sainz did a very good job by being 5th fastest in the McLaren, while Robert Kubica crashed his Williams in turn 9, the tightest section of the circuit. He was unhurt and could walk away. The session was stopped with a red flag to remove the wrecked FW42 and to repair the damaged barrier.
Q1 was again an amazing close session. From P1 to P16 the difference was only 1.3 sec. The exit of Nico Hulkenberg in the Renault wasn't anticipated.
Q2 session
The second session was delayed by 15 minutes because of the barrier repairs caused by Kubica's crash. Carlos Sainz was the first who recorded a lap time. His time was 1:42.398 min. Both Ferrari drivers Leclerc and Sebastian Vettel tried to drive their quickest lap on the Medium tyre, so they can also start on them tomorrow at the race. Leclerc did a good job, until he crashed his Ferrari at the same place as Kubica in turn 9. He was also unhurt, but the front right of the Ferrari was wrecked. The session was red flagged to clear the track and repair the barrier again.
Max Verstappen was quickest in the Red Bull at the time Leclerc crashed. It took a while until the session was restarted. The session was stopped with 7:41 min to go. Because the local time was already 18:30 the ambient temperature had dropped to 15°C and the tarmac already dropped to 28.4°C. Because Vettel was on P12, he had to go out to make it to Q3. He used the red Soft tyres and ended up on P5. The only one who didn't do a second stint was Verstappen.
Sergio Pérez drove a very good qualifying session and scored P4, while his team mate Lance Stroll already was eliminated in Q1. Leclerc also made it to Q3 and will start on P10 with the Medium tyres. The youngest driver of the grid Lando Norris also drove very brave and was again faster than his team mate Carlos Sainz.
Q3 session
It was a very successful session for Alfa Romeo with drivers who made it to Q3. Verstappen was the first who got out to try and score his maiden pole position of his F1 career. He clocked a 1:41.172 min. After the first stint it was Lewis Hamilton who was quickest with a 1:40.703 min and Vettel on P2 who was 0.421 sec. slower. Verstappen stayed out to try and drive a better lap with warm tyres and brakes. His plan worked and he improved from P5 to P2.

The other drivers did a second stint and went out with only 2:30 min. on the clock and Bottas was against all odds the quickest.
Qualifying Results 2019 Azerbaijan GP
Notes:
Antonio Giovinazzi (Alfa Romeo) drops 10 grid places for use of additional power unit element.
Pierre Gasly (Red Bull) penalised 5 places for an unscheduled gearbox change. Gasly to start race from pit lane - penalty for ignoring weighbridge call during FP2.
---
✅ Check out more posts with related topics: