Starting Grid 2018 Spanish F1 GP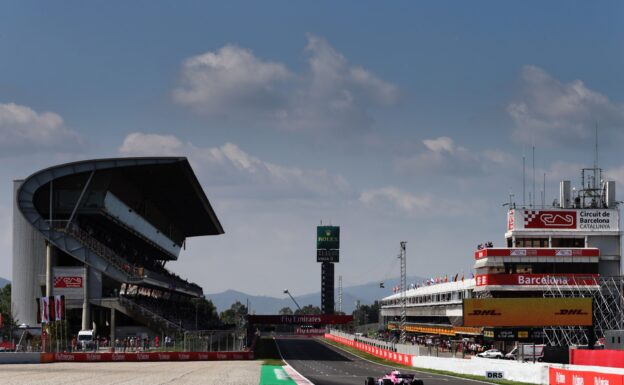 Event: Spanish Grand Prix
Track: Catalunya Circuit
F1 Grid 2018 Spanish Grand Prix
| | | | | | |
| --- | --- | --- | --- | --- | --- |
| Pos | No | Driver | Team | Lap Time | 1st Gap |
| 1 | 44 | Lewis Hamilton | Mercedes | 1:16,173 | |
| 2 | 77 | Valtteri Bottas | Mercedes | 1:16,213 | 0,040 |
| 3 | 5 | Sebastian Vettel | Ferrari | 1:16,305 | 0,132 |
| 4 | 7 | Kimi Räikkönen | Ferrari | 1:16,612 | 0,439 |
| 5 | 33 | Max Verstappen | Red Bull | 1:16,816 | 0,643 |
| 6 | 3 | Daniel Ricciardo | Red Bull | 1:16,818 | 0,645 |
| 7 | 20 | Kevin Magnussen | Haas | 1:17,676 | 1,503 |
| 8 | 14 | Fernando Alonso | McLaren | 1:17,721 | 1,548 |
| 9 | 55 | Carlos Sainz | Renault | 1:17,790 | 1,617 |
| 10 | 8 | Romain Grosjean | Haas | 1:17,835 | 1,662 |
| 11 | 2 | Stoffel Vandoorne | McLaren | 1:18,323 | 2,150 |
| 12 | 10 | Pierre Gasly | Toro Rosso | 1:18,463 | 2,290 |
| 13 | 31 | Esteban Ocon | Force India | 1:18,696 | 2,523 |
| 14 | 16 | Charles Leclerc | Sauber | 1:18,910 | 2,737 |
| 15 | 11 | Sergio Pérez | Force India | 1:19,098 | 2,925 |
| 16 | 27 | Nico Hülkenberg | Renault | 1:18,923 | 2,750 |
| 17 | 9 | Marcus Ericsson | Sauber | 1:19,493 | 3,320 |
| 18 | 18 | Lance Stroll | Williams | 1:20,225 | 4,052 |
| 19 | 35 | Sergey Sirotkin | Williams | 1:19,695 | 3,522 |
| 20 | 28 | Brendon Hartley | Toro Rosso | no time | - |
Note:
Sirotkin penalised three places for causing a collision at the previous round.
Hartley penalised five places for an unscheduled gearbox change. Hartley failed to meet 107%
Tyres available for drivers before Spanish race
The tyre nomination for the Spanish Grand Prix goes softer this year, with the supersoft making its debut on the Circuit de Catalunya alongside the soft and the medium.
The hard tyre has always featured in the past, but this year a new surface – which the teams experienced for the first time in pre-season testing just over two months ago – has altered the complexion of the Barcelona circuit, giving it more grip but with reduced wear and degradation. And that's not the only thing that's new in Barcelona this weekend…
Catalunya Circuit remarks
The surface may be smoother, but the long and high speed corners remain, putting plenty of energy and stress through the tyres: the classic examples are Turn 3 and Turn 9.
Wear and degradation rates will need to be re-assessed. Although the teams tried out the new surface at the start of the year, the weather was much cooler, and the cars were much less evolved. The new surface may have evolved as well.
Conditions tend to be warm – sometimes very warm – during the weekend.
Barcelona contains a good all-round mix of corners and loadings that emphasise every aspect of a car's performance: one of the reasons why it is a popular testing venue.
The new surface has led Pirelli to reduce the tyre tread depth by 0.4 millimetres. This has no effect on performance but helps to control slick tyre temperature.
The front-left tyre is worked hardest, with Catalunya being a front-limited track.
Last year, with harder compounds nominated, the majority of the field stopped twice but with a variety of different strategies: in the past, Spain has also been a three-stop race.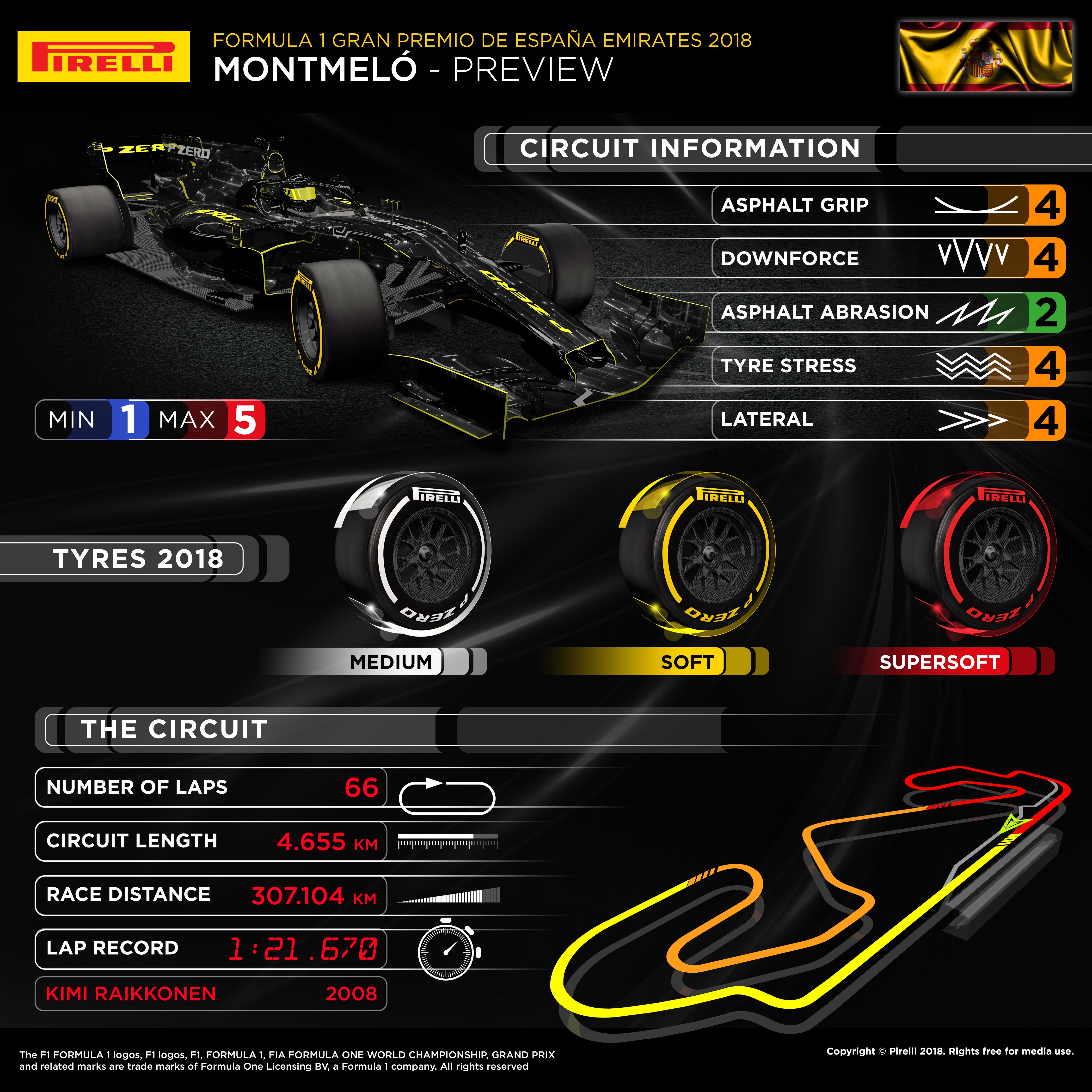 ---
✅ Check out more posts with related topics: