Race results 2018 Spanish F1 grand prix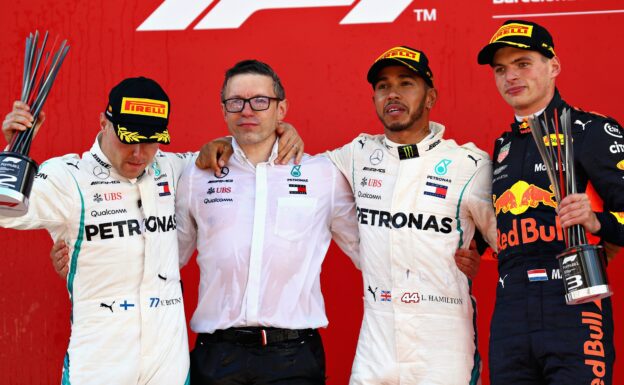 Event: Spanish Grand Prix
Track: Catalunya Circuit
Weather:  Dry  15.4ºC
Tarmac: Dry 34.5ºC
Wind speed: 3.2 km/h
Humidity: 53.8%
Lewis Hamilton won the 2018 Spanish Grand Prix today. It was his 65th F1 win and his 4th in Spain, 2nd win of the season. For Mercedes it was the 79th Formula 1 victory and 42nd 1-2 finish.
The 2018 Spanish Grand Prix started with a big crash in turn 3. After the start Romain Grosjean had to do an avoiding move in the Haas, because hiis team mate Kevin Magnussen lost his rear in turn 3. Grosjean spun and slammed the gas, which caused a cloud of smoke and zero visibility. Nico Hulkenberg in the Renault and Pierre Gasly in the Toro Rosso could not avoid a collision and retired with severe collision damage.
After 5 laps behind the safety car the race resumed. In lap 18 Sebastian Vettel pitted and switched to medium (white) tyres. One lap later Bottas did the same and came close to 2nd place.
in lap 24 Kimi Raikkonen had turbo problem on his Ferrari SF71H. He drove slow on the track, but was able to recover get to the pit and retired.
In lap 41 Esteban Ocon retired with an engine problem and caused a virtual safety car period. During the VSC Vettel pitted and lost his P2 to comeback on the track as 4th. Max Verstappen lost the wing-end plate on the left front wing when he hit Sergey Sirotkin at the end of the VSC period.
Stoffel Vandoorne also had to retire his McLaren with a gearbox problem on the start/finish straight in lap 47.
Lewis Hamilton drove a very strong race and created a 19 second gap to his Mercedes team mate Valtteri Bottas. Bottas scored his 26th podium
After a bad start in the 2018 F1 season Max Verstappen also had a strong performance again and scored his 13th podium.
✅ Check out 2018 F1 Championship Standings
✅ Check out 2018 F1 Calendar
✅ Check out 2018 Used F1 Power Unit Elements
✅ Check out All Time F1 Drivers Rankings
✅ Check out All Time F1 Teams Rankings
✅ Check out All Time Country Rankings
✅ Check out All F1 Drivers Records
Classification 2018 Spanish GP
| P | No | Driver | Team | Time | Laps | Grid | Pts |
| --- | --- | --- | --- | --- | --- | --- | --- |
| 1 | 44 | Lewis Hamilton | Mercedes | 01:35:29.972 | 66 | 1 | 25 |
| 2 | 77 | Valtteri Bottas | Mercedes | 01:35:50.565 | 66 | 2 | 18 |
| 3 | 33 | Max Verstappen | Red Bull | 01:35:56.845 | 66 | 5 | 15 |
| 4 | 5 | Sebastian Vettel | Ferrari | 01:35:57.556 | 66 | 3 | 12 |
| 5 | 3 | Daniel Ricciardo | Red Bull | 01:36:20.030 | 66 | 6 | 10 |
| 6 | 20 | Kevin Magnussen | Haas | 01:35:48.205 | 65 | 7 | 8 |
| 7 | 55 | Carlos Sainz | Renault | 01:36:24.940 | 65 | 9 | 6 |
| 8 | 14 | Fernando Alonso | McLaren | 01:36:28.028 | 65 | 8 | 4 |
| 9 | 11 | Sergio Pérez | Force India | 01:35:30.601 | 64 | 15 | 2 |
| 10 | 16 | Charles Leclerc | Sauber | 01:35:36.153 | 64 | 14 | 1 |
| 11 | 18 | Lance Stroll | Williams | 01:35:40.965 | 64 | 18 | 0 |
| 12 | 28 | Brendon Hartley | Toro Rosso | 01:35:49.920 | 64 | 20 | 0 |
| 13 | 9 | Marcus Ericsson | Sauber | 01:35:53.903 | 64 | 17 | 0 |
| 14 | 35 | Sergey Sirotkin | Williams | 01:35:37.411 | 63 | 19 | 0 |
| DNF | 2 | Stoffel Vandoorne | McLaren | Gearbox | 45 | 11 | 0 |
| DNF | 31 | Esteban Ocon | Force India | Power unit | 38 | 13 | 0 |
| DNF | 7 | Kimi Räikkönen | Ferrari | Turbo | 25 | 4 | 0 |
| DNF | 27 | Nico Hülkenberg | Renault | Collision Grosjean | 0 | 16 | 0 |
| DNF | 10 | Pierre Gasly | Toro Rosso | Collision Grosjean | 0 | 12 | 0 |
| DNF | 8 | Romain Grosjean | Haas | Spun and collision | 0 | 10 | 0 |
Fastest lap: 1:18.441 min by Daniel Ricciardo (Red Bull RB14) in lap 61 @213.638 km/h
Highest speed: 340.1 km/h by Esteban Ocon (Force India VJM11)
---
✅ Check out more posts with related topics: