Lap times 1st practice 2017 Belgian F1 Grand Prix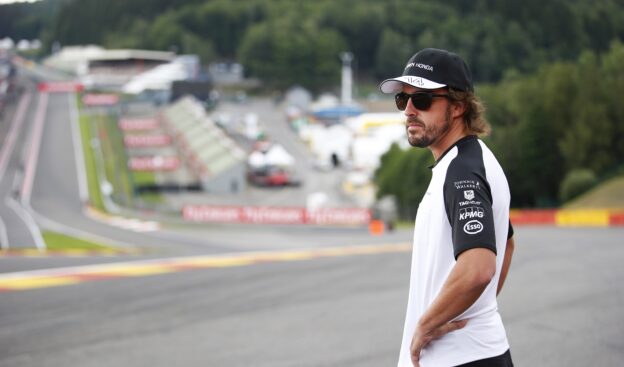 Event: Belgian Grand Prix
Track:  Spa Francorchamps Circuit

Weather: 21°C Dry & Sunny
Tarmac: 28°C Dry
Kimi Räikkönen set the quickest lap of opening practice for the Belgian grand prix, the Finn edging title contender Lewis Hamilton by five hundredths of a second.
Räikkönen, who earlier this weekend was handed a new contract with Ferrari for the 2018 season, set a lap of 1:45.502  to beat Hamilton by 0.053s, though the Finn had to bolt on a set of ultrasoft Pirelli tyres to shade Hamilton, whose best time was set on the soft compound tyre on offer this weekend.
Räikkönen's championship-leading team-mate Sebastian Vettel was third quickest with a lap of 1:46.302 also set on ultrasofts.
Force India's Esteban Ocon set the pace in the opening minutes of the session, but after just 15 minutes the red flags appeared when Williams' Felipe Massa crashed out at on the exit of the Malmedy corner.
When the action resumed it was Red Bull Racing's Daniel Ricciardo who made the most significant move, using ultrasoft tyres to record a time of 1:46.656.
Hamilton, though, was on a march and halfway through the session he used the third compound available this weekend, the supersoft to move into first place with a time of 1:46.439s. As the session moved into its final third he then went even quicker on soft tyres posting a best time of 1:45.555.
Hamilton's Mercedes team-mate Valtteri Bottas was having a less enjoyable time, however. The Finn ran wide and off track at before the Stavelot turn. He skittered across the gravel trap and collided with the barriers. He managed to limp his car back to the pits.
Max Verstappen also employed the ultrasofts for his best time, a lap of 1:46.302 that put him five hundredths clear of Ricciardo with Bottas in sixth place 0.922 behind Räikkönen.
Seventh place in the session went to Toro Rosso's Carlos Sainz. The Spaniard was separated from team-mate Daniil Kvyat by Ocon, whose lap of 1:47.670 was just under two tenths better than Kvyat's best. Tenth place wen to local hero Stoffel Vandoorne who set a time 1:47.865 for McLaren, 2.363 behind Räikkönen.
Vandoorne, Hamilton and Sauber's Marcus Ericsson also the latest itertations of the halo cockpit protection device at the start of FP1, with Vandoorne and Hamilton returning to the pits at the end of their out-lap while Ericsson continued onto a second.

FP1 Lap Times 2017 Belgian GP
| | | | | | | | |
| --- | --- | --- | --- | --- | --- | --- | --- |
| Pos | No | Driver | Team | Lap Time | 1st Gap | Tyres | Laps |
| 1. | 7 | Kimi Räikkönen | Ferrari | 1:45,502 | | Ultra S | 13 |
| 2. | 44 | Lewis Hamilton | Mercedes | 1:45,555 | 0,053 | Soft | 19 |
| 3. | 5 | Sebastian Vettel | Ferrari | 1:45,647 | 0,145 | Ultra S | 13 |
| 4. | 33 | Max Verstappen | Red Bull | 1:46,302 | 0,800 | Ultra S | 18 |
| 5. | 3 | Daniel Ricciardo | Red Bull | 1:46,352 | 0,850 | Ultra S | 22 |
| 6. | 77 | Valtteri Bottas | Mercedes | 1:46,424 | 0,922 | Soft | 20 |
| 7. | 55 | Carlos Sainz | Toro Rosso | 1:47,446 | 1,944 | Ultra S | 22 |
| 8. | 31 | Esteban Ocon | Force India | 1:47,670 | 2,168 | Soft | 27 |
| 9. | 26 | Daniil Kvyat | Toro Rosso | 1:47,851 | 2,349 | Ultra S | 20 |
| 10. | 2 | Stoffel Vandoorne | McLaren | 1:47,865 | 2,363 | Ultra S | 18 |
| 11. | 30 | Jolyon Palmer | Renault | 1:47,930 | 2,428 | Ultra S | 14 |
| 12. | 27 | Nico Hülkenberg | Renault | 1:48,037 | 2,535 | Ultra S | 15 |
| 13. | 14 | Fernando Alonso | McLaren | 1:48,252 | 2,750 | Ultra S | 18 |
| 14. | 11 | Sergio Pérez | Force India | 1:48,452 | 2,950 | Soft | 19 |
| 15. | 18 | Lance Stroll | Williams | 1:48,541 | 3,039 | Super S | 24 |
| 16. | 20 | Kevin Magnussen | Haas | 1:48,615 | 3,113 | Super S | 20 |
| 17. | 8 | Romain Grosjean | Haas | 1:48,626 | 3,124 | Super S | 20 |
| 18. | 9 | Marcus Ericsson | Sauber | 1:50,160 | 4,658 | Super S | 21 |
| 19. | 94 | Pascal Wehrlein | Sauber | 1:51,263 | 5,761 | Super S | 13 |
| 20. | 19 | Felipe Massa | Williams | no time | - | | 3 |
---
✅ Check out more posts with related topics: