Race Results 2019 Australian F1 Grand Prix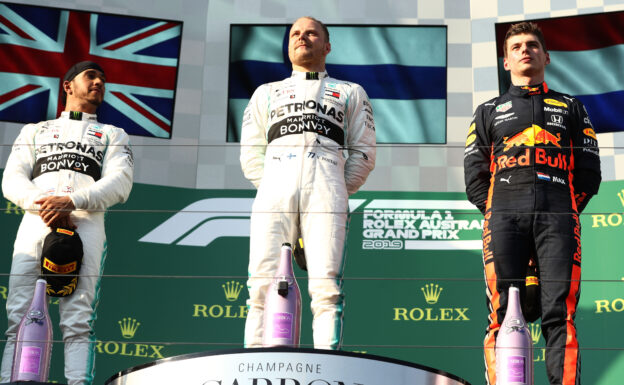 Event: Australian Grand Prix
Track: Albert Park Circuit
Weather: Dry 23.6°C
Tarmac: Dry 43.4-37.1°C
Humidity: 70.3%
Wind: 1.0 m//s
Pressure: 1015.3 bar
Valtteri Bottas won the 35th Australian Formula 1 Grand Prix today. The Finn scored his 4th Formula 1 race win in the Mercedes W10, He scored the 89th F1 victory for Mercedes. His teammate Lewis Hamilton came home 2nd and made it a very successful weekend for Mercedes by scoring their 46th 1-2 finish. 
The start of the Australian Formula 1 Grand Prix was quite clean. The tight first corner didn't cause any incidents. Mercedes driver Lewis Hamilton was slower at the start than his team mate Valtteri Bottas who took the lead.
With the amount of rookies this 2019 season we anticipated some 1st corner collisions, but nothing happened. Daniel Ricciardo and Robert Kubica were the only drivers who got damage and had to go in to the pits to get a new front wing.
McLaren driver Carlos Sainz had to retire his car when his engine blew up in the last part of his 9th lap. Kimi Raikkonen had the honour to have the first pitstop in 2019. He switched from soft to medium tyres in lap 12. Sebastian Vettel pitted in lap 15 and also switched from soft to medium. Lewis Hamilton came in a lap later to get the same compound.
Race leader Bottas did his pitstop at the end of lap 23 to also switch to medium tyres and returned to the track as 2nd. Max Verstappen got the lead in the Red Bull but drove into the pits a lap later to get his medium tyres. Charles Leclerc was one of the last drivers to do his pitstop. He got fresh medium tyres in lap 28.
Verstappen did a great pass on Sebastian Vettel and robbed the podium from the Ferrari driver to drive on P3 in lap 31. In the same lap Ricciardo and Romain Grosjean retired their car.
The Dutchman Verstappen was driving a strong race with the Honda powered Red Bull and even could close the gap to Lewis Hamilton on his fresh tyres. Hamilton could keep the gap above 1 sec. to not give Verstappen a DRS.
Lance Stroll also drove a good GP in the Racing Point RP19 and was holding on to P9. The Canadian driver even was able to put pressure on Alfa Romeo driver Kimi Raikkonen for P8.
Ten lap before the end Verstappen ran wide in turn 1 and left the track and returned to the track unharmed.
Vettel had a bad pace in the Ferrari. His teammate Charles Leclerc closed his 5 sec. gap. He even got DRS but didn't manage to pass the German driver..
At the end of the race a lot of drivers tried to score the extra point for the fastest lap. Verstappen clocked the quickest lap time in lap 56. Bottas answered in lap 57 and grabbed it back.
✅ Check out 2019 Australian F1 GP Pictures
✅ Check out 2019 F1 Championship Standings
✅ Check out 2019 F1 Calendar
✅ Check out All Time F1 Drivers Rankings
✅ Check out All Time F1 Driver Records
✅ Check out All Time F1 Teams Rankings
F1 Classification 2019 Australian GP
| P | No | Driver | Team | Time | Laps | Grid | Pts |
| --- | --- | --- | --- | --- | --- | --- | --- |
| 1 | 77 | Valtteri Bottas | Mercedes | 01:25:27.325 | 58 | 2 | 26 |
| 2 | 44 | Lewis Hamilton | Mercedes | 01:25:48.211 | 58 | 1 | 18 |
| 3 | 33 | Max Verstappen | Red Bull | 01:25:49.845 | 58 | 4 | 15 |
| 4 | 5 | Sebastian Vettel | Ferrari | 01:25:24.434 | 58 | 3 | 12 |
| 5 | 16 | Charles Leclerc | Ferrari | 01:26:25.555 | 58 | 5 | 10 |
| 6 | 20 | Kevin Magnussen | Haas | 01:26:24.481 | 58 | 7 | 8 |
| 7 | 27 | Nico Hülkenberg | Renault | 01:25:32.524 | 57 | 11 | 6 |
| 8 | 7 | Kimi Räikkönen | Alfa Romeo | 01:25:33.709 | 57 | 9 | 4 |
| 9 | 18 | Lance Stroll | Racing Point | 01:25:34.461 | 57 | 16 | 2 |
| 10 | 26 | Daniil Kvyat | Toro Rosso | 01:25:35.160 | 57 | 15 | 1 |
| 11 | 10 | Pierre Gasly | Red Bull | 01:25:35.495 | 57 | 17 | 0 |
| 12 | 4 | Lando Norris | McLaren | 01:26:15.259 | 57 | 8 | 0 |
| 13 | 11 | Sergio Pérez | Racing Point | 01:26:15.789 | 57 | 10 | 0 |
| 14 | 23 | Alex Albon | Toro Rosso | 01:26:16.497 | 57 | 13 | 0 |
| 15 | 99 | Antonio Giovinazzi | Alfa Romeo | 01:26:37.862 | 57 | 14 | 0 |
| 16 | 63 | George Russell | Williams | 01:26:17.005 | 56 | 19 | 0 |
| 17 | 88 | Robert Kubica | Williams | 01:26:19.211 | 55 | 20 | 0 |
| DNF | 8 | Romain Grosjean | Haas | Left front wheel | 29 | 6 | 0 |
| DNF | 3 | Daniel Ricciardo | Renault | Power unit | 28 | 12 | 0 |
| DNF | 55 | Carlos Sainz | McLaren | MGU-K | 9 | 18 | 0 |
Fastest lap : 1.25.580 lap 58 by Valtteri Bottas, Mercedes W10 @ 223.075 km/h
Top speed : 321.9 km/h by Pierre Gasly, Red Bull RB15 Honda
---
Below you can see a virtual animation of the race at 100x speed:
Below you can see some highlight footage of the first race start in 2019:
⚫️⚫️⚫️⚫️⚫️
🔴🔴🔴🔴🔴

A stellar start for Bottas, and a bumpy ride for Ricciardo

Re-live the moment the 2019 season roared into life 📽️#AusGP 🇦🇺 #F1 pic.twitter.com/JDU7umozCT

— Formula 1 (@F1) March 17, 2019
---
✅ Check out more posts with related topics: