Qualifying Results 2019 Canadian F1 Grand Prix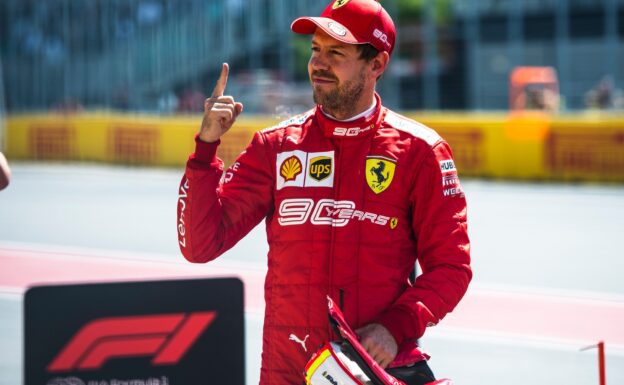 Event: Canadian Grand Prix
Track: Gilles Villeneuve Circuit
Weather: 21.7-23.3°C sunny & dry
Tarmac: 47.2-48.3°C dry
Humidity: 23.9%
Wind: 2.2 m/s
Pressure: 1022.0 bar
Sebastian Vettel scored pole position for the 50th Canadian Formula 1 Grand Prix. The Ferrari driver scored his 56th pole position and his first pole of this season. It was the 221st pole position for the Ferrari F1 team.
Q1
Ferrari and Mercedes showed their real pace already this session. Both Red Bull, Mercedes and Ferrari drivers got very close. The drivers who normally had to fight to get into Q2 were fighting their lap time. With 1:30 min to go we had Lance Stroll (Racing Point) Nico Hulkenberg (Renault), Carlos Sainz (McLaren), Geroge Russel (Williams) and Robert Kubica (Williams) on the wrong side of the edge. After the last car finished Q1 we saw Kimi Raikkonen being out-qualified by his much younger teammate Giovinazzi. It's strange to see both teams that use the Mercedes power units going out in Q1.
Q2
Because the tyre you run your fastest lap on in Q2 is the tyre you can start the race on, we saw both Mercedes drivers going out on the Medium tyres to set a quick lap. After Mercedes we also was both Ferrari drivers going out on the Medium tyres on their first stint Hamilton drove a 1:11.336 on the Mediums..Max Verstappen also tried to put in a quick lap on the Medium tyre, but was 10th after all cars did their first stint and had to go back into the pits to get a run on the Soft tyres.
With 2 minutes to go Max Verstappen (Red Bull), Daniil Kvyat (Torro Rosso), Antonio Giocinazzi (Alfa Romeo), Esteban Albon (Toro Rosso) and Romain Grosjean (Haas) were in the elimination zone. In the dying moments of the session Kevin Magnussen crashed his Haas VF-19 hard into the wall on the start-finish straight and caused a red flag situation. Verstappen therefor could not finish his quickest lap on the soft tyres he was on and had to settle for P11. Because Verstappen can choose the tyres compound he wants he even could have big advantage for tomorrows race.
Q3
Pierre Gasly was the first to go out of the pits and set a lap time as soon as possible. He ended up as 5th. After the first stint it was Hamilton who was fastest with a 1:10.493. Vettel was 2nd and Leclerc 3rd. Nico Hulkenberg was 4th in the Renault. The second stint showed a different picture. Gasly stole P4 away from Hulkenberg, but ended up as 5th. Sebastian Vettel scored pole since 17th grand prix in Germany 2018.
The pole time of last year was set by Sebastian Vettel in the Ferrari to 1:10.764. His pole time of today is the new qualifying record for this circuit in F1.
Qualifying Results 2019 Canadian GP
In the below footage you can see Sebastian Vettel's pole lap in the Ferrari SF90 on Gilles Villeneuve circuit, Montrieal, Canada.
It was Seb's fifth pole in Montreal 👏

Here's how he did it 👀 #Fit4F1 @pirellisport #CanadianGP 🇨🇦 pic.twitter.com/IyIN1yJtYV

— Formula 1 (@F1) June 8, 2019
---
Check out more items on this website about: